Kansas Geological Survey, Open-file Report 2019-22
---
Estimates of Permeability and CO2 Storage Capacity at the Patterson Field Using Analysis of City of Lakin Wastewater Injection Well Characteristics
by Esmail Ansari
KGS Open File Report 2019-22
August 2019
Introduction
Geological modeling and numerical simulation studies for the Patterson site are based on reservoir properties (particularly permeability) inferred from well logs, which did not consider important features of carbonate rocks, such as fractures and vugs, and thus systematically underestimate injectivity and storage capacity. The city of Lakin wastewater injection well (KS-05-093-002) is located in very close proximity to the Patterson site (Kearny County) and offers a great example of an active injection well in the area (Figure 1). Data from this well can be used for injectivity analysis to obtain reservoir-scale Arbuckle properties, compare with nearby wells, history match the pressure increase, and ultimately determine the CO2 storage capacity, as described in this paper.
Figure 1—Wells injecting into the Arbuckle aquifer near the Patterson area (Kearny County) and their lifetime injection volumes. Red upward triangles show Class I (or V) wells operated by the Kansas Department of Health and Environment. Downward triangles show Class II wells operated by the Kansas Corporation Commission; the color of the triangle indicates the well's distance from KS-05-093-002 (circles show 10 km increments). Note that few wells inject into the Arbuckle in the Patterson area. Other nearby Class I wells for which more data are available (KS-01-055-002 and KS-01-055-003, labeled as red upward triangles) are located in Finney County.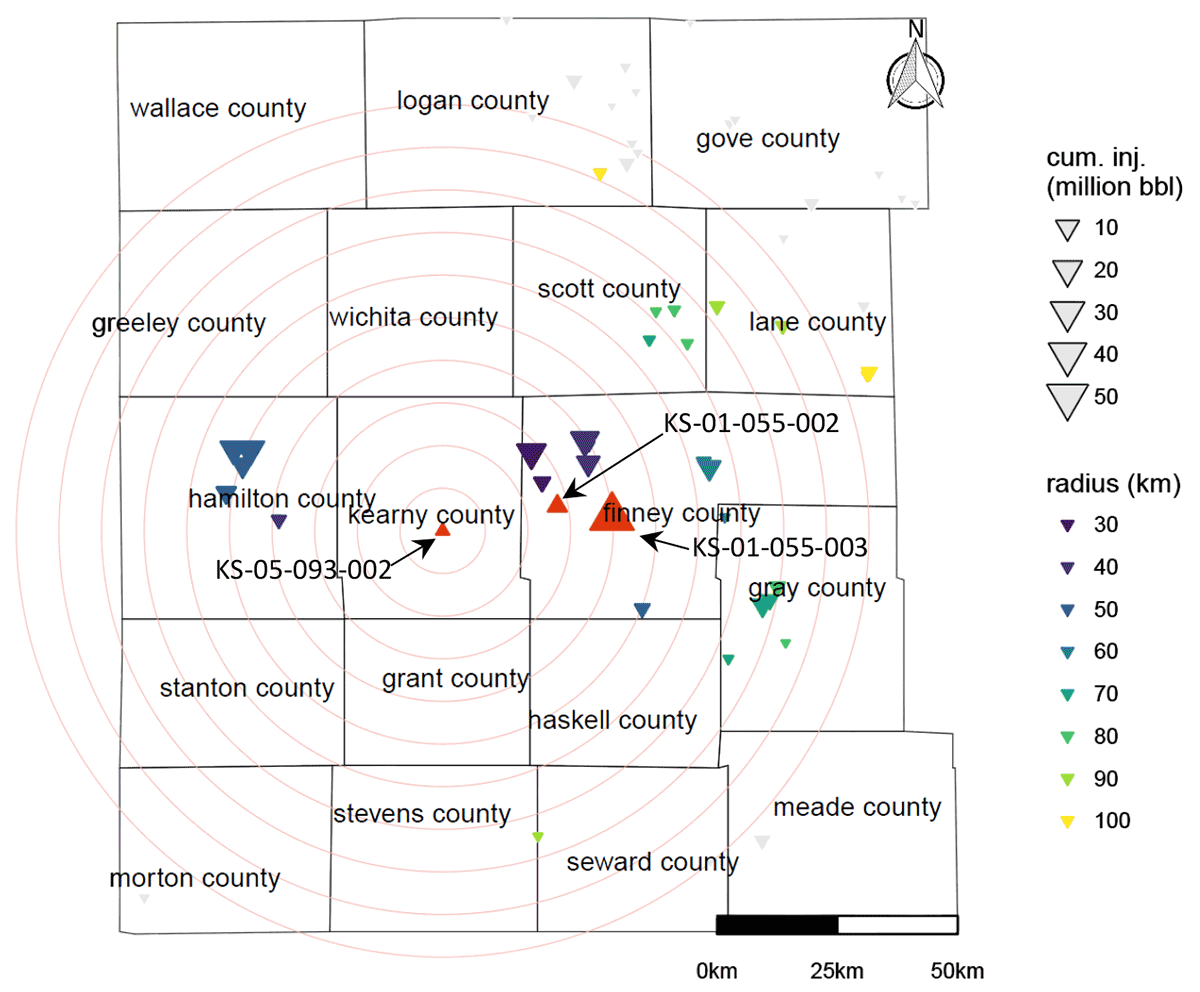 The complete report is available as an Adobe Acrobat PDF file.
To view this report, you will need the Acrobat PDF Reader, available free from Adobe.
---
Kansas Geological Survey
Placed online Aug. 22, 2019
Comments to webadmin@kgs.ku.edu
The URL for this page is http://www.kgs.ku.edu/Publications/OFR/2019/OFR19_22/index.html