Kansas Geological Survey, Open-file Report 2007-22
---
Land Subsidence, Kiowa County, Kansas
by
Michael T. Dealy

KGS Open File Report 2007-22

Site Location
The site was approximately four miles west and 13 miles south of the City of Greensburg, Kansas. The site was located in the Southwest quarter of the Northeast quarter of the Southeast quarter of Section 23, Township 30 South, Range 19 West, Kiowa, County, and was approximately 745 feet west and 2,230 feet north of the southeast corner of the section.
Figure 1--Site Location.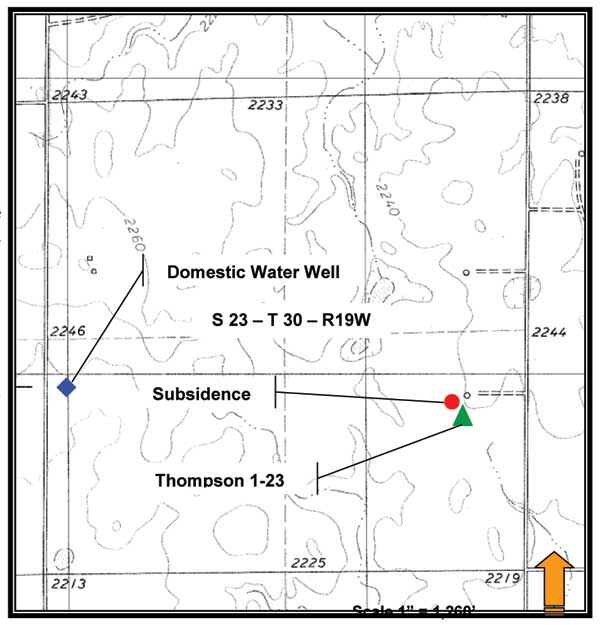 Background Information
The Kansas Geological Survey (KGS) was contacted by State Representative Dennis McKinney, advising KGS of the subsidence and for assistance. On May 2, 2007, a field inspection was conducted by KGS, in cooperation with the property owner, Harold McKinney, and, District Office Supervisor: Steve Durrant, Kansas Corporation Commission (KCC).
The complete paper is available as an Adobe Acrobat PDF file.
Kiowa_sink_report.pdf (1.2 MB)
To read this file, you will need the Acrobat PDF Reader, available free from Adobe.
---
Kansas Geological Survey, Geology
Updated Aug. 29, 2007
Comments to webadmin@kgs.ku.edu
URL http://www.kgs.ku.edu/Publications/OFR/2007/OFR07_22/index.html