A Place to Visit

Rock City

Ottawa County,
Kansas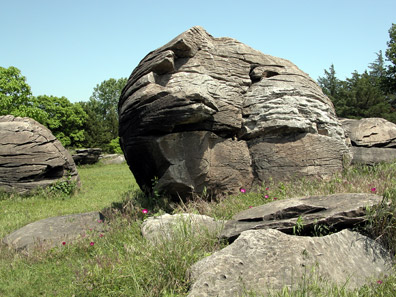 A few miles south of Minneapolis in Ottawa County is an area covered by huge sandstone spheres, known as Rock City. About two hundred of these unusual rocks, some with diameters up to 27 feet, occupy an area roughly the size of two football fields. Called concretions by geologists, the spheres weathered out of the sandstone in the Dakota Formation, deposited about 100 million years ago during the Cretaceous Period. Over time, ground water circulated through the sandy rock and deposited a limy cement that grew outward in all directions from calcite crystals or limy fossil fragments scattered throughout the sandstone. As the softer uncemented portions of the sandy rock weathered away, these spheres of cemented sandstone remained. The concretions show signs of crossbedding, angled lines that formed in the sand as it was deposited, probably by water currents. Similar sandstone concretions can also be seen at Mushroom Rock State Park in Ellsworth County. Rock City is 3.6 miles south of Minneapolis, off Kansas Highway 106, and can be visited throughout the year. Owned by a local non-profit corporation, Rock City is operated as a public park from May 1 to September 1, when a small admission fee is charged.
Upcoming Events
Summer–Fall 2003
July 6–11, 2003, 7th International Conference on Coelenterate Biology, University of Kansas, Lawrence, KS.
September 27, 2003, Kansas Academy of Sciences Fall Field Trip, Tallgrass Prairie National Preserve.
September 29–30, 2003, Kansas Wind Energy 2003, Airport Hilton, Wichita, KS.
October 11, 2003, Geology of Central Kansas—KGS Public Field Trip, Salina, KS.
October 12–18, 2003, Eyes on Planet Earth—Monitoring Our Changing World, Earth Science Week.

Kansas Geological Survey
1930 Constant Avenue, Campus West
Lawrence, Kansas
66047-3726
(785) 864-3965
Kansas Geological Survey Advisory Council
Dennis Clennan, Hutchinson

Sharon Falk, Stafford

Hubert H. Hall, Lecompton

David Heinemann, Chair, Topeka

Mary Hubbard, Manhattan

Sheila Leiker-Page, Victoria

Larry McCants, Goodland

Dennis McKinney, Greensburg

Larry J. Richardson, Wichita

Derek Schmidt, Independence

Sidney T. Warner, Cimarron

Hannes Zacharais, Olathe

William W. Hambleton, Emeritus Member, Lawrence

A. Scott Ritchie, KU Geology Assoc. Rep., Wichita
Editors: Liz Brosius, Robert Sawin, Rex Buchanan
Design: Jennifer Sims
The mission of the Kansas Geological Survey, operated by the University of Kansas in connection with its research and service program, is to conduct geological studies and research and to collect, correlate, preserve, and disseminate information leading to a better understanding of the geology of Kansas, with special emphasis on natural resources of economic value, water quality and quantity, and geologic hazards.
The Geology Extension program furthers the mission of the KGS by developing materials, projects, and services that communicate information about the geology of Kansas, the state's earth resources, and the products of the Kansas Geological Survey to the people of the state.