A Place to Visit

Meade State Park

Chase County,
Kansas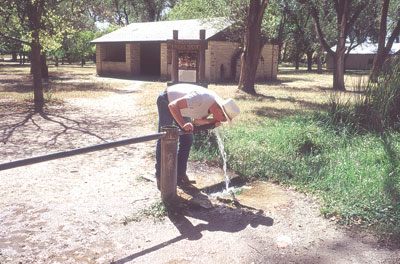 Meade State Park is located in the High Plains of southwest Kansas, just west of the Red Hills. The state park and wildlife area comprise 803 acres of land and water. The dam at Meade State Fishing Lake was built in the 1930's by the Civilian Conservation Corps (CCC). This site was chosen for the lake because of numerous springs in the area; a fault east of the lake has created artesian conditions in this part of Meade County. A test well drilled near the lake in 1939 had an artesian head of 17.4 feet—that is, water rose under its own pressure in a pipe that far above the land surface. Today, because irrigation has lowered the water table, flow from the springs and flowing artesian wells has diminished or stopped altogether. A flowing artesian well in the park (photo) just west of the lake flows at a rate of about 5 gallon per minute. Meade State Park is located eight miles south and five miles west of Meade on Kansas Highway 23. For more information, contact the Kansas Dept. of Wildlife and Parks, Box K, Meade, KS 67864-9801 (620/873-2572).

Kansas Geological Survey
1930 Constant Avenue, Campus West
Lawrence, Kansas
66047-3726
(785) 864-3965
Kansas Geological Survey Advisory Council
Dennis Clennan, Hutchinson

Sharon Falk, Stafford

Hubert H. Hall, Lecompton

David Heinemann, Chair, Topeka

Mary Hubbard, Manhattan

Sheila Leiker-Page, Victoria

Larry McCants, Goodland

Dennis McKinney, Greensburg

Larry J. Richardson, Wichita

Derek Schmidt, Independence

Sidney T. Warner, Cimarron

Hannes Zacharais, Olathe

William Hambleton, Emeritus Member, Lawrence

A. Scott Ritchie, KU Geology Assoc. Rep., Wichita
Editors: Liz Brosius, Robert Sawin, Rex Buchanan
Design: Jennifer Sims
The mission of the Kansas Geological Survey, operated by the University of Kansas in connection with its research and service program, is to conduct geological studies and research and to collect, correlate, preserve, and disseminate information leading to a better understanding of the geology of Kansas, with special emphasis on natural resources of economic value, water quality and quantity, and geologic hazards.
The Geology Extension program furthers the mission of the KGS by developing materials, projects, and services that communicate information about the geology of Kansas, the state's earth resources, and the products of the Kansas Geological Survey to the people of the state.