A Place to Visit

Cheyenne Bottoms

Barton County,
Kansas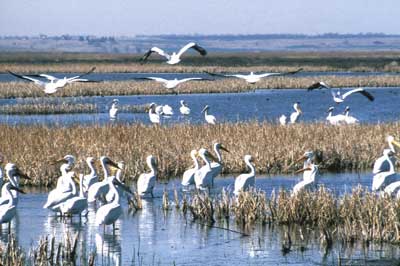 Cheyenne Bottoms contains the largest system of wetlands in Kansas. Covering 64 square miles and lying northeast of Great Bend in Barton County, this natural basin is fringed on the north, south, and west by low sandstone bluffs. The large pools of water and mudflat shallows are alive with foraging birds during the seasonal migrations, when hundreds of thousands of shorebirds, wading birds, and waterfowl stop to rest and feed. Most of Cheyenne Bottoms has been preserved for wildlife; nearly 30 square miles is a wildlife management area maintained by the Kansas Department of Wildlife and Parks (KDWP), and over 11 square miles is owned and managed by The Nature Conservancy.

Cheyenne Bottoms is the top shorebird staging area during migration in the 48 contiguous states, attracting almost half of the North American shorebirds with migration paths east of the Rocky Mountains. Some 320 species of birds frequent Cheyenne Bottoms, including the endangered whooping crane, peregrine falcon, least tern, and piping plover. The peak migration time is late March through late May. Autumn is also a good time to see migrating birds, especially ducks and geese.

To get to KDWP headquarters at Cheyenne Bottoms from Great Bend, drive 6 miles north on U.S. Highway 281 from its junction with U.S. Highway 56, then east 2 miles. The Nature Conservancy has a driving tour of their preserve that starts 8 miles north of Great Bend on U.S. Highway 281. Turn east on NE 80 Road and begin the tour at the kiosk. This route takes you past the KDWP headquarters and back to U.S. Highway 281, 2 miles south of where you started. Photo by Gerald W. Tomanek.

Kansas Geological Survey
1930 Constant Avenue, Campus West
Lawrence, Kansas
66047-3726
(785) 864-3965
Kansas Geological Survey Advisory Council
Tom Collinson, Chair, Pittsburg

Robert Crangle, Lincoln

Dyan Jones, Prairie Village

Sheila Leiker-Page, Victoria

Jeffrey Mason, Goodland

Dennis McKinney, Greensburg

Stephen Morris, Hugoton

Larry J. Richardson, Wichita

John K. Strickler, Manhattan

William Hambleton, Emeritus Member, Lawrence

A. Scott Ritchie, KU Geology Assoc. Rep., Wichita
Editors: Liz Brosius, Robert Sawin, Rex Buchanan
Design: Jennifer Sims
The mission of the Kansas Geological Survey, operated by the University of Kansas in connection with its research and service program, is to conduct geological studies and research and to collect, correlate, preserve, and disseminate information leading to a better understanding of the geology of Kansas, with special emphasis on natural resources of economic value, water quality and quantity, and geologic hazards.
The Geology Extension program furthers the mission of the KGS by developing materials, projects, and services that communicate information about the geology of Kansas, the state's earth resources, and the products of the Kansas Geological Survey to the people of the state.