A Place to Visit

The Ozarks of Kansas

Cherokee County, Kansas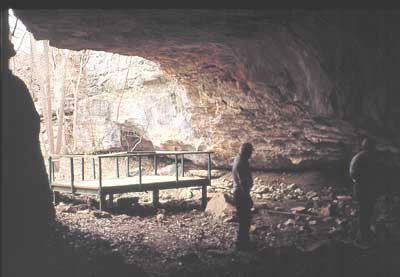 In the southeast corner of Cherokee County, the Kansas landscape changes personality. Known as the Ozarks of Kansas, this region is dotted with caves carved into Mississippian limestone, deposited about 330 million years ago. One of these, Schermerhorn Cave, is located in a city park just south of Galena. The spring that issues from the cave is home to the rare cave salamander. Schermerhorn Park is located one mile south of Galena on the east side of Kansas Highway 26.
Earth Science Week set for October
Earth Science Week, a celebration of public activities in the earth sciences, is set for October 11–17, 1998. Activities for the week have been developed by the American Geological Institute; in Kansas, the week has been recognized by a governor's proclamation. Among the items available from AGI are an Earth Science Week information packet, an 18 by 24-inch color poster on geoscience careers, videos, and student and teacher activities. AGI plans to make Earth Science Week an annual event. Information for Earth Science Week ideas, activities, and special events is available from AGI at www.earthsciweek.org.

Kansas Geological Survey
1930 Constant Avenue, Campus West
Lawrence, Kansas
66047-3726
(785) 864-3965
Kansas Geological Survey Advisory Council
Tom Collinson, Chair, Pittsburg

Robert Crangle, Lincoln

Dyan Jones, Prairie Village

Sheila Leiker-Page, Victoria

Jeffrey Mason, Goodland

Dennis McKinney, Greensburg

Stephen Morris, Hugoton

Larry J. Richardson, Wichita

John K. Strickler, Manhattan

William W. Hambleton, Emeritus Member, Lawrence

A. Scott Ritchie, KU Geology Assoc. Rep., Wichita
---
Director: Lee C. Gerhard

Editors: Liz Brosius, Robert Sawin, Rex Buchanan

Design: Jennifer Sims

The mission of the Kansas Geological Survey, operated by the University of Kansas in connection with its research and service program, is to conduct geological studies and research and to collect, correlate, preserve, and disseminate information leading to a better understanding of the geology of Kansas, with special emphasis on natural resources of economic value, water quality and quantity, and geologic hazards.

The Geology Extension program furthers the mission of the KGS by developing materials, projects, and services that communicate information about the geology of Kansas, the state's earth resources, and the products of the Kansas Geological Survey to the people of the state