From the Director
by Lee C. Gerhard,
Director and State Geologist

Bringing unbiased science to natural resource issues and, ultimately, to the people, is the major part of our mission
My vision of a healthy, relevant, expert, and highly regarded Kansas Geological Survey has been realized, and it's time for someone else to take leadership into the next century. The 1998 Legislature, with the support of Governor Graves and The University of Kansas, funded a study of the Hugoton Natural Gas Area and a program to monitor and analyze the water quality and quantity of western Kansas. These were the remaining major research programs I had envisioned to address significant aspects of the state's future. It took four years to obtain support for the Hugoton study, which seeks to extend the productive life of this national resource, and 10 years to get at the western Kansas water issues. Declines in field pressures in the Hugoton, which meant that gas was no longer available to some agricultural users, helped drive that study; the advent of large-scale corporate animal farming certainly focused attention on the water issues.

The Survey has become a public service, scientific research organization in the truest sense. Our research agenda is driven by public needs for economic development and environmental protection of Kansas's resources and by the need to address resource questions of the future. Our research lies at the intersection of science and public policy. Bringing unbiased science to natural resource issues and, ultimately, to the people, is the major part of our mission. For instance, 11 years ago we asked, what can we learn about the largest potential potable-water aquifer in Kansas that has not yet been exploited? The Dakota aquifer study resulted, and that water resource has since become important to agriculture, industry, and communities of western Kansas. Research begun under Dr. William Hambleton, my predecessor, ultimately resulted in the premier geographic information system of any state in the country.

Today the Survey produces twice as much work with fewer State-funded people than before, using highly sophisticated computer systems to replace brute force. The Survey leverages State funding with Federal and private funds to meet increasing Kansas research needs, and yet has kept its administrative cost under 10 percent. The Survey has instituted a strong public outreach program, featuring field seminars for legislators and State officials, popular topical information circulars, and newsletters about current topics.

I am moving to full-time research with a new title (Principal Geologist). I look forward to continuing my work in natural resource policy and returning to studies of carbonate reservoirs. It's been fun. But it's time for another career for me and a new leader for the Survey.

Lee Gerhard announced in June 1998, that he would step down as State Geologist and director of the Kansas Geological Survey, effective June 30, 1999. He has served in that position since January, 1986.
Water, petroleum, confined livestock operations—natural resource issues in southwestern Kansas were the focus of the Survey's 1998 field conference, held June 3–5. The fourth annual conference brought together legislators, State agency staff, educators, and leaders in business and the environment for a first-hand look at everything from an oil rig to this stop west of Lakin, where the Amazon ditch diverts water from the Arkansas River for irrigation. The conference was cosponsored by the Kansas Corporation Commission, the Kansas Department of Agriculture, and the Kansas Department of Wildlife and Parks.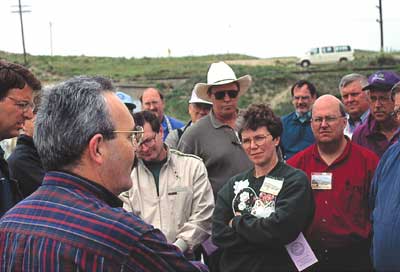 1998 Field conference participants.