---
Figure 21--Diagrammatic cross sections on the west side of the Forest City basin showing the relation of surface anticlines to folds in older rocks where regional tilting to the east is followed by folding and then regional tilting to the northwest. A, Peneplanation of post-Mississippian fold. The folding is not strong enough to cause more than a monoclinal fold in northwestward-dipping pre-Mississippian rocks. B, Pre-Pennsylvanian tilting toward the east during the development of the Forest City basin. The eastward dip nearly destroys the structural closure at the base of the Mississippian, but the monoclinal fold becomes the east flank of an anticline. C, Increased folding during deposition of the Pennsylvanian produces an anticline in the Pennsylvanian rocks. The structural closure in the anticline at the base of the Mississippian is slightly increased and the position of the crest is shifted. Structural closure in pre-Mississippian rocks is increased also. D, Northwestward regional tilting of the entire section of rocks in post-Pennsylvanian time. Structural closure in Pennsylvanian rocks is reduced or destroyed but is increased at the base of the Mississippian. Closure in pre-Mississippian rocks is decreased but not lost.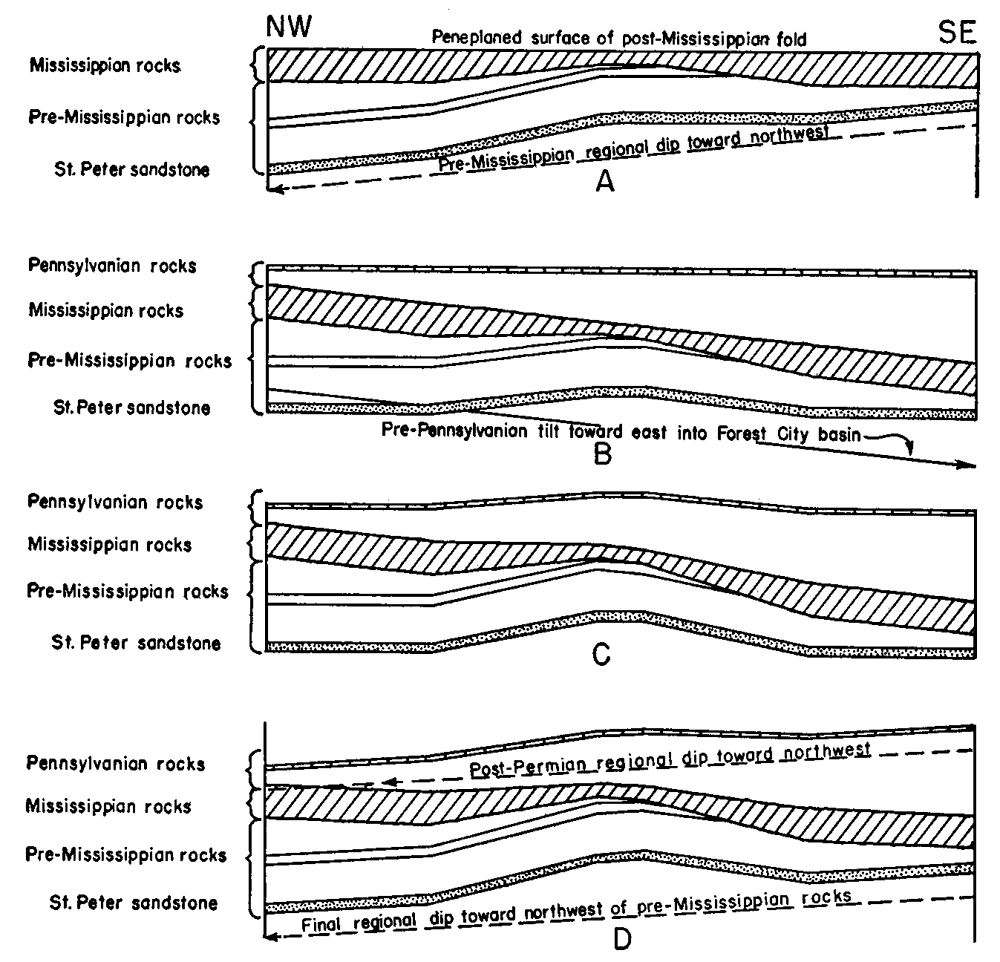 ---
Kansas Geological Survey
, Forest City Basin
Comments to
webadmin@kgs.ku.edu
Web version July 2005. Original publication date Dec. 1943.
URL=http://www.kgs.ku.edu/Publications/Bulletins/51/fig21.html