KGS Home || Annual Report 2005 Home || Director's Report || Introduction || Energy || Subsurface Imaging Techniques
Water || Geology and Stratigraphy || Mapping || Information Dissemination || New Grants || Financial Statement
Kansas Geological Survey--Annual Report 2005
---
Information Dissemination
Publications sales, editing, and library services. The KGS provides reports electronically and in traditional/hard-copy formats with publication production by the KGS editing group. KGS reports and maps as well as U.S. Geological Survey topographic maps are sold through the Publications Sales office in Lawrence and the Wichita Well Sample Library. Unpublished open-file reports are available through the Lawrence office and bibliographic, library, and archive services are located in Lawrence as well.
Geology extension. This program develops material and programs about geology and the KGS for the non-technical public. Each year Geology Extension conducts a field conference on natural-resource topics for the State's decision-makers, including legislators and State officials. The 2005 conference explored water, recreation, and economic development in the Central Great Plains and was cosponsored by the Kansas Department of Agriculture, Division of Water Resources; the Kansas Water Office; and the Kansas Department of Wildlife and Parks.
Data Resources Library. Records for more than 350,000 oil and gas wells and water wells are available in the Data Resources Library, and additional records are added as they become available. In 2004, a new ongoing program was implemented in cooperation with the Kansas Corporation Commission (KCC) to clean up records, scan all paper records, and enter information into a database that can be shared by the two agencies.
KGS web site. The Kansas Geological Survey web site provides insight into the Survey's research; access to databases compiled from that research and from other sources, including oil-and-gas and water-well records; information on geologic, topographic and related maps and publications; and educational material, including online publications and GeoKansas, an information source focusing on rocks and minerals and interesting places to visit in the 11 different physiographic regions of Kansas. A photo library of hundreds of photographs taken throughout the state also can be accessed on the web site.
County bulletins on the web site. Online versions of 27 county bulletins covering 34 counties have been created because the published versions are out of print. In general, they contain the original texts as published. Plates and maps are not usually included, and the information has not been updated. Bulletin 79, Geology and Ground-water Resources of a Part of South-central Kansas (with special reference to the Wichita municipal water supply) by Charles C. Williams and Stanley W. Lohman, has recently become available. Work on the online version of bulletins that include Shawnee and several Flint Hills counties is currently underway.
Data Access and Support Center (DASC). The Data Access and Support Center (DASC), housed at the Kansas Geological Survey, provides access to a core database of information on Kansas collected by a variety of State agencies. It was created by the State of Kansas, Geographic Information Systems (GIS) Policy Board to develop Kansas GIS technology-management policies and direct the Kansas GIS Initiative. The Kansas GeoDatabase, available on the DASC website, is a collection of various digital spatial information that is necessary to conduct spatial analysis.
Wichita Well Sample Library. The Well Sample Library provides access to more than 130,000 rotary-cutting samples from Kansas oil and gas wells and oil-well completion cards from Kansas and surrounding states. Also a retail outlet for KGS maps and publications and US. Geological Survey topographic maps, the Well Sample Library is located at 4150 Monroe Street, Wichita, Kansas 67209, (316) 943-2343.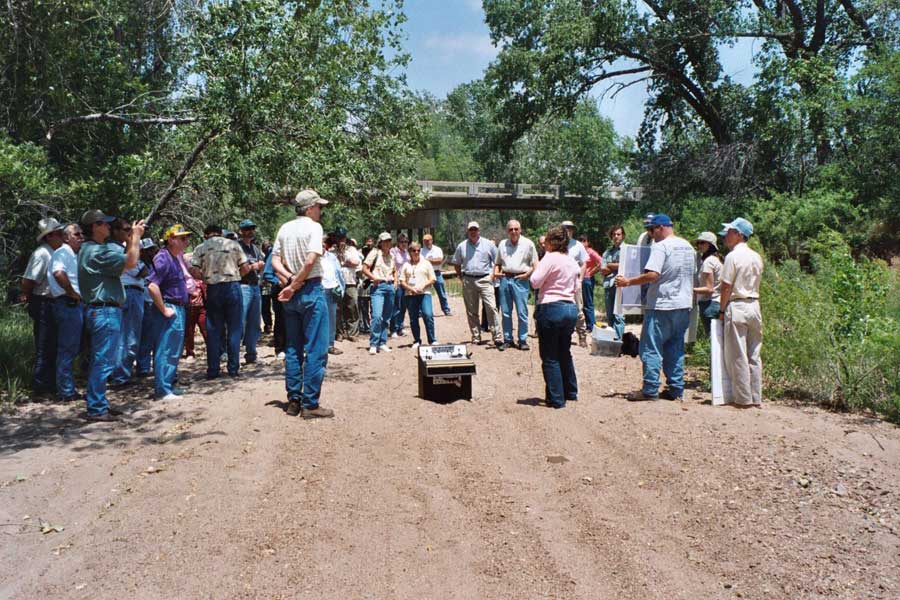 Geology extension field trip stop at Arkansas River near Larned.
---
KGS Home || Annual Report 2005 Home || Director's Report || Introduction || Energy || Subsurface Imaging Techniques
Water || Geology and Stratigraphy || Mapping || Information Dissemination || New Grants || Financial Statement
Online August 28, 2006
Comments to: webadmin@kgs.ku.edu
URL:"http://www.kgs.ku.edu/Publications/AnnRep05/05info.html"