Geologic Setting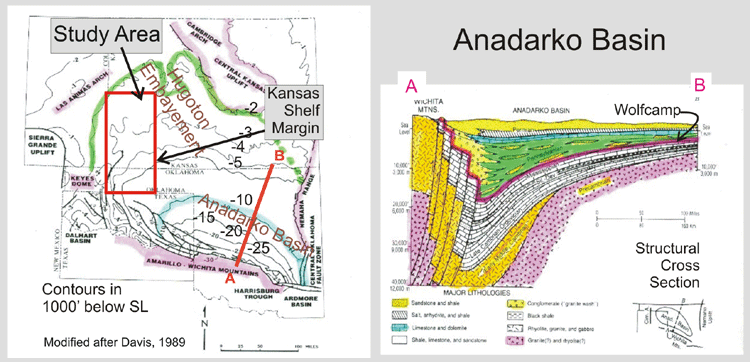 Hugoton and Panoma Fields are situated in the Hugoton Embayment, the shallow shelf portion of the Anadarko basin, and asymmetric foreland basin associated with the Ouchita-Marathon Orogeny.
By Wolfcamp time the Pennsylvanian-aged Anadarko was nearly completely filled and slopes on the Kansas shelf were extremely low.
Glacially driven eustatic sea level changes resulted in fourth order marine-continental (carbonate-siliciclastic) sedimentary cycles on the Kansas shelf during Wolfcamp.
To determine the accommodation and stabilization mechanisms that led to a lateral transition between Permian marine-carbonate-dominated sequences and continental-siliciclastic-dominated sequences at the margin of a giant gas field.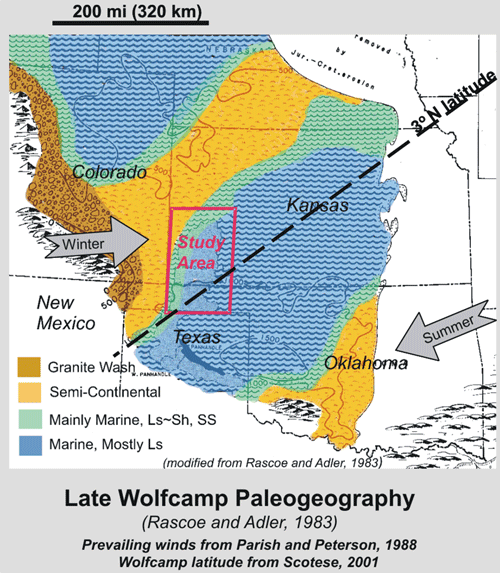 Present Day Structure

Wolfcamp Isopach
Chase to Roca Shale
(most of Wolfcamp)
---
http://www.kgs.ku.edu/PRS/AAPG2005/2005-25/p1-02.html
Last Modified November 2005