Kansas Geological Survey, Open-file Report 2005-26
Part of the Ogallala-High Plains Aquifer Project
---
Hydrogeologic Characteristics and Hydrologic Changes in the Cimarron River Basin, Southwestern Kansas
by
D.P. Young, P.A. Macfarlane, D.O. Whittemore, and B.B. Wilson

KGS Open File Report 2005-26
June 2005
Introduction
The Cimarron River basin lies within the High Plains and Plains Border sections of the Great Plains physiographic province (Fenneman, 1931). The basin covers all or portions of Morton, Stevens, Seward, Meade, Clark, Comanche, Kiowa, Ford, Gray, Haskell, Grant, Stanton, Hamilton, and Kearny counties in southwest Kansas and is approximately 6,800 mi2 in size.
Ground-water table declines in the High Plains aquifer caused by high-volume, consumptive pumping of ground water for irrigation have occurred in the basin. The water-level declines have decreased or eliminated ground-water discharge to the perennial stretches of the Cimarron River, thereby decreasing flow to or shortening the length of the perennial reaches. The primary area of perennial stretch shortening has occurred in northwest Seward County and the main location of current decrease in perennial streamflow is in southeast Seward County and southwest Meade County.
Knowledge of the lithologic characteristics of the High Plains aquifer is necessary for understanding stream/aquifer interactions and water-level changes in the basin. This report focuses on the hydrogeology and hydrologic changes in the portion of the basin where the High Plains aquifer is present below the surface, and particularly along the Cimarron River (Figure 1). A companion report by Whittemore et al. (2005) examines water quality in Seward and Meade counties.
Figure 1. Base map of southwest Kansas showing political and basin boundaries, highways, rivers and streams, the High Plains aquifer extent, and the Bear Creek and Crooked Creek-Fowler fault zones. The study area for this report is the portion in the Cimarron River basin.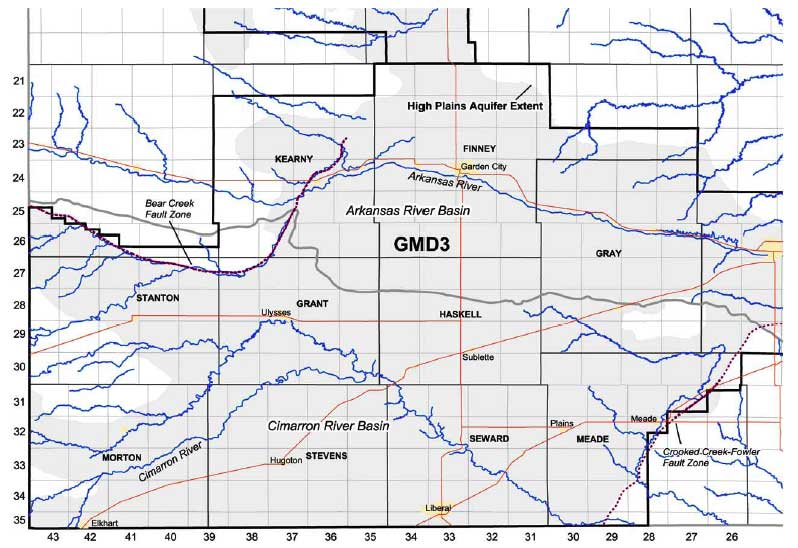 The complete report is available as an Adobe Acrobat PDF file.
OFR2005_26.pdf (3.4 MB)
To read this file, you will need the Acrobat PDF Reader, available free from Adobe.
---
Kansas Geological Survey, Geohydrology
Placed online Oct. 14, 2005
Comments to webadmin@kgs.ku.edu
The URL for this page is http://www.kgs.ku.edu/Hydro/Publications/2005/OFR05_26/index.html