News Release, Kansas Geological Survey, April 22, 2020
---
Kansas Geological Survey gets funding for preservation and to study critical minerals
LAWRENCE — Hundreds of thousands of drilling records and rock cuttings, historical aerial photographs, and other resources housed at the Kansas Geological Survey provide valuable insight into the state's natural resources. To continue long-term efforts to preserve its collections, the KGS will receive increased annual funding from the U.S. Geological Survey. The award also will be used, for the first time, to inventory the state's critical minerals.
The KGS is getting nearly $120,000 from the USGS's National Geological and Geophysical Data Preservation Program (NGGDPP) for a range of preservation and research projects at its offices in Lawrence and Wichita. The support, which has been received since 2012, was increased by about 68% this year. Much of it is used to hire University of Kansas students to work on the projects.
Headquartered at the University of Kansas in Lawrence, the KGS is the state repository for drilling records from more than 450,000 oil and gas wells - some dating to the early 20th century - and 273,000 water wells. Staff in the KGS Data Resources Library update the KGS databases and scan the records. The information is made available, at no cost, to the public through the databases and interactive maps on the KGS website.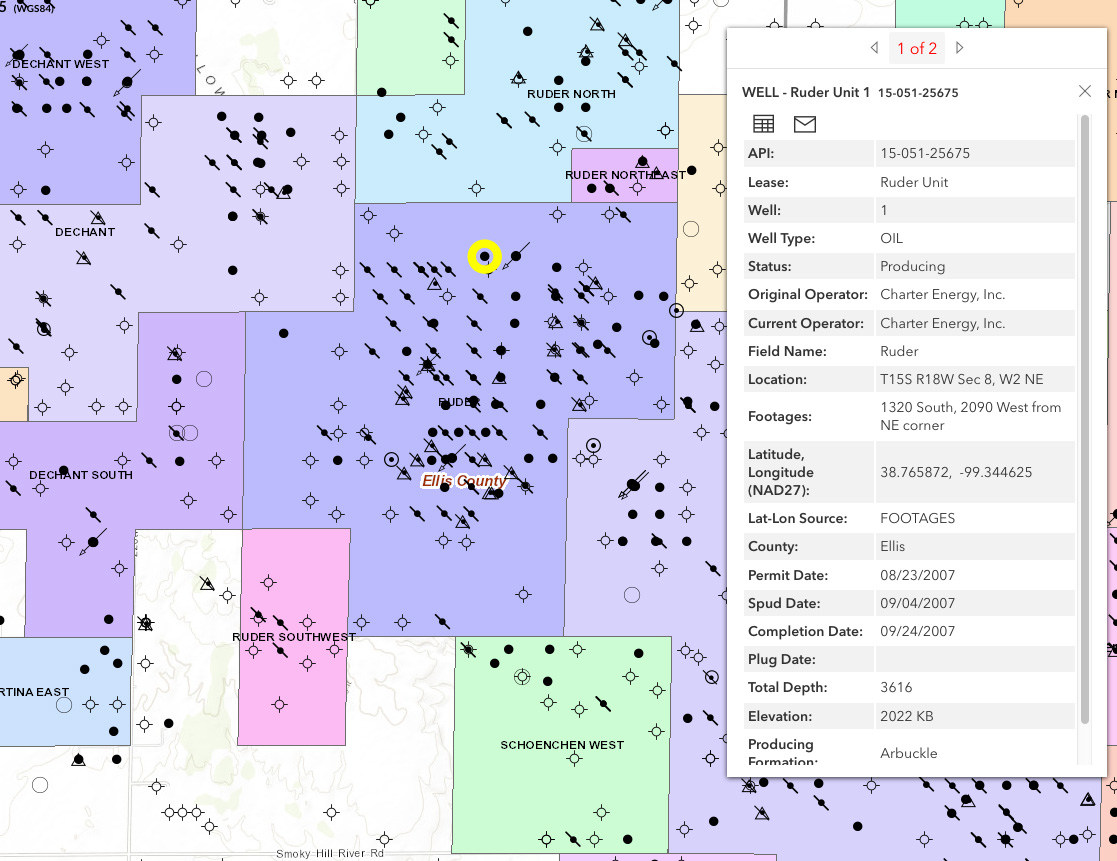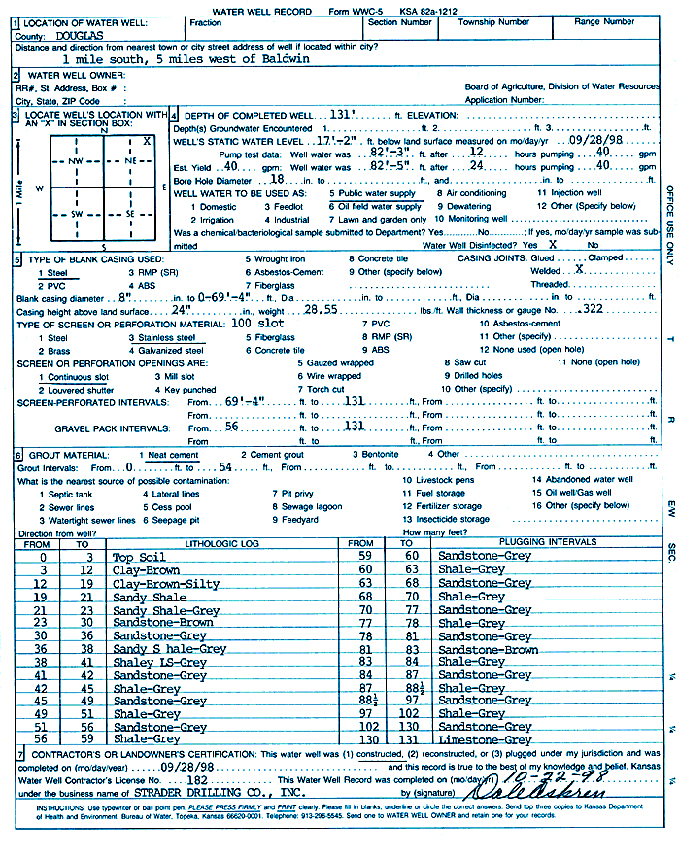 "Kansas has a long history of oil and gas exploration, and we have thousands of paper records in our library that provide useful information," said Deb Stewart, KGS Data Resources Library Specialist and principal investigator for the project. "For two decades we've been moving important, and sometimes deteriorating, documents online to preserve the data and make it more accessible to the public."
"NGGDPP's support is invaluable for this endeavor and the KGS's online databases and interactive mappers are vital resources for our state," she said.
Rock cuttings recovered from more than 145,000 wells and boreholes drilled up to 6,000 feet deep are preserved at the KGS's Kansas Geologic Sample Repository in Wichita. The cuttings provide important clues about deep geologic time and which rock layer are most likely to produce oil. Many boxes containing older samples were in poor condition.
"Without the NGGDPP funds, the number of sample boxes restored would be considerably less than the 15,361 restored to date," said Mike Dealy, manager of the Kansas Geologic Sample Repository. "Additionally, the restoration funding has been instrumental in finding samples from nearly 2,700 wells missing from the repository's sample database."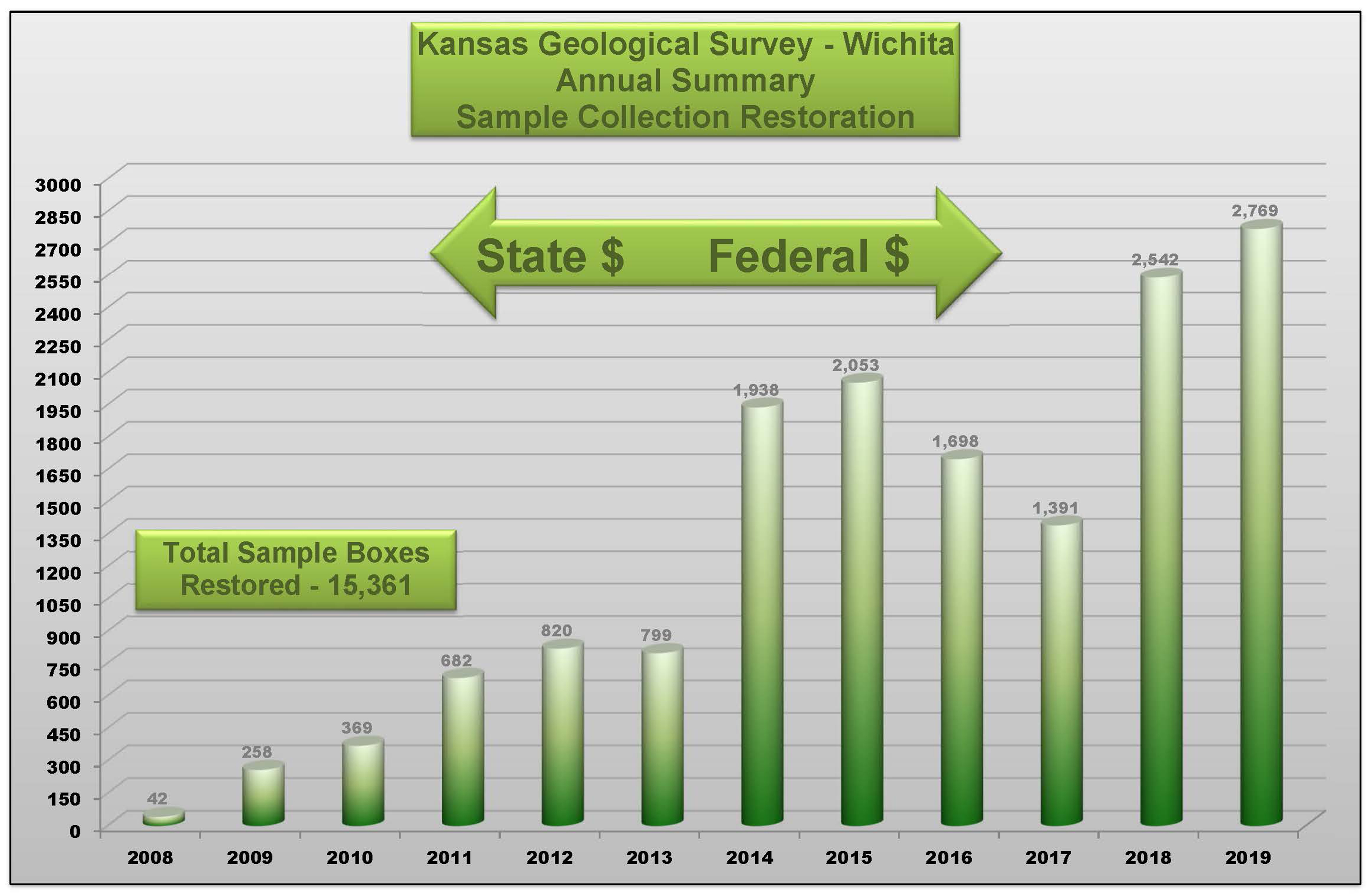 Oil and gas companies, environmental firms, landowners, municipalities, state and federal regulatory officials, and others rely on the drilling-related materials at the KGS to make decisions about drilling, planning, environmental concerns, and groundwater availability and usage. Scientists use the written and rock resources to delineate subsurface layers and structures and to identify the geologic forces and climactic conditions that shaped them.
About 119,000 aerial photographs, including some dating back to 1930, are archived at the KGS in Lawrence. They also are being scanned and made available online.
"Historical aerial photographs have a multitude of uses that range from genealogy research to locating old wells, and even researching such things as how river channels change over time," said KGS librarian and archivist Nikki Potter. "We are posting them in various formats for easy viewing and making them downloadable so they may be imported into other programs."
This is the first year the award will fund an inventory of geologic units in Kansas that could contain any of the 35 critical minerals identified by the U.S. Department of the Interior as vital to the nation's security and economy. The KGS will conduct an in-depth literature search of past reports on the state for references to any of the critical minerals, which include helium, rare earth elements, lithium, magnesium, and uranium.
The minerals on the list are considered essential for manufacturing and national defense. Most occur naturally in North American rocks and were mined there in the past, but dependence on cheaper foreign sources have since led to supply chain vulnerabilities.
"Several on the list were previously produced in Kansas," said KGS geologist Jon Smith. "Helium was first discovered in Kansan deposits of natural gas in 1905 and the state has been the world's largest producer of helium since. There also are reports of rare earth elements (primarily used in batteries and electronics) and other minerals from the Tri-State Mining District, which includes southeast Kansas."
Documents and photographs that have been scanned by the KGS and a database of rock cuttings at the Kansas Geologic Sample Repository can be accessed on the KGS website.
The Kansas Geological Survey is a non-regulatory research and service division of the University of Kansas. KGS researchers study and provide information on the state's geologic resources and hazards, including groundwater, oil and natural gas, rocks and minerals, and earthquakes.
---
Contact: Cathy Evans, Kansas Geological Survey, 785-864-2195, cevans@kgs.ku.edu

Kansas Geological Survey, Public Outreach
URL="http://www.kgs.ku.edu/General/News/2020/nggdpp.html"