---
Guidebook of the 18th Biennial Meeting of the American Quaternary Association
Rolfe D. Mandel, editor
June 25, 28-30, 2004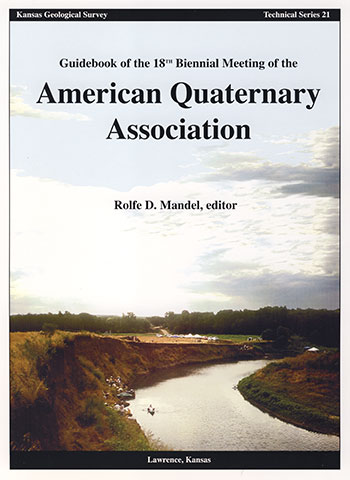 [Originally published in 2006 as Kansas Geological Survey Technical Series 21. This is, in general, the original text as published. The information has not been updated. This publication is also available as an Acrobat PDF file (29 MB).]
Contents
Preface and Acknowledgments
In June 2004, the University of Kansas hosted the 18th Biennial Meeting of the American Quaternary Association (AMQUA). In addition to a technical session, two pre-meeting and post-meeting field trips were held. Although a guidebook was prepared for distribution at the conference, plans were made to revise it after the trips were completed. Specifically, the authors wanted to include feedback from field-trip participants. Also, by publishing the guidebook in the Kansas Geological Survey's Technical Series, peer review of the manuscripts was ensured, and the volume would gain a broader audience. The resulting guidebook is much more than descriptive narratives for localities along routes; it provides a wealth of new information about the glacial history, loess record, archeology, geoarcheology, and late Quaternary paleoecology of the midcontinent of the United States.
Field Trip 1 focuses on the stratigraphy, paleopedology, lithology, and chronology of Last Glacial loess in eastern Nebraska and western Iowa. Joseph Mason and his colleagues shed new light on the history of loess deposition in areas bordering the Missouri River valley. They use loess thickness and grain-size trends to identify sediment sources, and new data are presented for the Loveland Loess type locality as well as other loess sections.
Field Trip 2 focuses on late Quaternary biogeography and paleoecology along the prairie-forest border in the eastern Plains. The dynamics of prairie vegetation (including the effects of fire and bison) and soils are considered at the Konza Prairie Biological Station in northeastern Kansas. In addition, paleoecological evidence (i.e., pollen, phytolith, and plant macrofossil records) indicating late Quaternary bioclimatic change is presented and examined in the South Fork of the Big Nemaha River in southeastern Nebraska.
Field Trip 3 focuses on pre-Illinoian tills and associated sediments and paleosols in northeastern Kansas and central Missouri. Wakefield Dort presents evidence of glaciation and considers the location of the terminal glacial boundary in Kansas. Charles Rovey describes the lithostratigraphy of pre-Illinoian glaciogenic sediments in north-central Missouri and presents the results of recent paleomagnetic studies used to estimate the age of pre-Illinoian tills in north-central Missouri.
Field Trip 4 focuses on late Quaternary alluvial stratigraphy and geoarcheology in the central Great Plains of Kansas and northern Oklahoma. Four early Paleoindian sites--Simshauser, Waugh, Cooper, and Jake Bluff--are included in this trip. Also, the Winger site, a late Paleo indian bison bonebed in southwestern Kansas, and the Claussen site, a stratified Paleoarchaic campsite in northeastern Kansas, are described.
As already noted, all manuscripts contained in this volume were peer-reviewed. A special thanks is extended to these reviewers: Art Bettis, Jeremy Dillon, Jeff Dorale, Glen Fredlund, Andrea Freeman, Tim Kemmis, Lee Nordt, and J. Elmo Rawling. They performed an important duty rarely applied to guidebooks.
I want to thank Rex Buchanan, Associate Director of the Kansas Geological Survey (KGS), for agreeing to publish the 2004 AMQUA field-trip guidebook as a volume in the KGS Technical Series. Other staff members of the KGS also merit recognition. Special thanks go to Marla Adkins-Heljeson for copy-editing and formatting the guidebook, and to Jennifer Sims for preparing many of the illustrations and assisting with other aspects of the guidebook's production. I am also grateful to John Charlton, who prepared many of the photographs.
Thanks also are extended to Amy Macneill and other staff members at KU Continuing Education for assisting with the organization of the field trips. Finally, I am grateful to the landowners, including Verne Claussen, Richard Farwell, Bill Simshauser, Kent and Travis Winger, and Leland Waugh, for allowing us to visit sites on their properties.
Rolfe D. Mandel
Kansas Geological Survey
November 2006
---
Next--Pre-Meeting Field Trip 1
Kansas Geological Survey
Comments to webadmin@kgs.ku.edu
Web version July 7, 2014. Original publication date 2006.
URL=http://www.kgs.ku.edu/Publications/Bulletins/TS21/index.html