Kansas Geological Survey, Subsurface Geology Series 10, originally published in 1988
---
Oil and gas shows in the Salina basin
by K. David Newell, Michael Lambert, and Pieter Berendsen
Kansas Geological Survey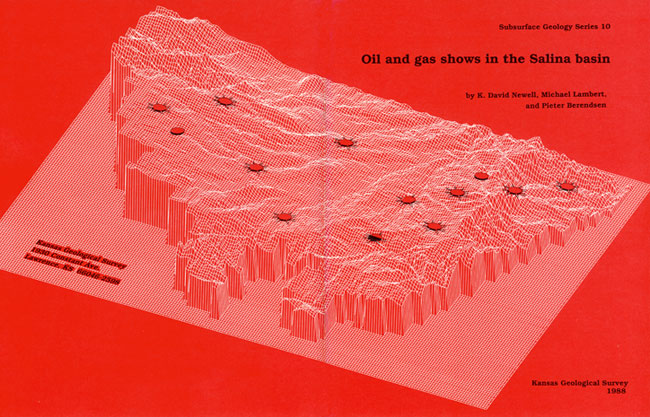 Originally published in 1988 as Kansas Geological Survey Subsurface Geology Series 10. This is, in general, the original text as published. The information has not been updated. An Acrobat PDF file containing the complete report is available (2.5 MB). Plate 1 is in a separate file.
Introduction
Petroleum exploration in the Salina basin in north-central Kansas (Lee, 1956) has met with limited success to date. Except for in its extreme southern end in McPherson and Saline counties and its eastern flank in Clay County, the basin has had no fields discovered in over 60 years of drilling. The failure to find significant reserves in the Salina basin no doubt discourages all but the boldest explorationist. Exploration test wells have been drilled infrequently, and consequently large areas encompassing almost entire counties remain untested. The Salina basin is therefore one of the least-known areas in Kansas with respect to its petroleum potential.
The Salina basin may never be a prolific petroleum province; nevertheless, it could contain oil and gas fields which could be economic and interesting to small oil companies and local communities. The Forest City basin in northeast Kansas is geologically similar in many ways to the Salina basin (Lee, 1956). Many small oil and gas fields are present in the Forest City basin and still more are being discovered. Similar types of fields are therefore possible in the Salina basin.
Wildcatters prospecting for petroleum in areas far from known oil fields must do everything possible to maximize their chances for success. At the same time, they must conserve their expenses in what could be a costly drilling program if no reserves are found. In areas such as the Salina basin, where widely spaced wells limit the amount of geologic control available, gleaning as much information as possible from each well is very important. Hydrocarbon shows that have been logged in previously drilled wells represent a potentially important source of information.
Oil and gas shows per se are not proof that commercial quantities of petroleum will be discovered, but they do indicate where geologic conditions favorable for petroleum formation were fulfilled, if only to a small degree. When used in conjunction with other geologic data, hydrocarbon shows (or the lack of them) can be useful in assessing the petroleum potential of individual prospects or entire basins. Thus, exploration dollars can be spent more wisely if hydrocarbon shows are taken into account.
This data search was initiated in December 1985, to ascertain if any petroleum shows are present in wells drilled in the Salina basin, and, if so, to determine where these shows are concentrated and which stratigraphic horizons generate them. The data sources used in this compilation are available in the Minerals Information Center at the Kansas Geological Survey in Lawrence, Kansas. Three types of source documents were queried for the 1,224 wells in the study area-scout cards, driller's logs, and lithologic-strip logs. Other sources of information such as geologic reports available in the library of the Kansas Geological Society in Wichita may yield additional data but were not included in this report.
The following information was gathered about each show: operator and well name, spot location, county, completion date, surface datum, depth interval, formation, and type of show. The type of show is described using the comments contained in the original source document. Abbreviated oil-field terms are the descriptors commonly used in characterizing these shows [e.g., SSO (slight show oil), OCM (oil-cut mud), GCM (gas-cut mud), etc.]. Wherever possible in this report, the show description is conveyed verbatim from the source document, with perhaps only minor changes in spelling. A glossary of the stratigraphic abbreviations and oil-field terms used in this report (appendix 1) precedes the compilation of hydrocarbon shows (appendix 2).
The shows are separated into three groups according to the nature of the source document (scout card, driller's log, lithologic log). Within each group, shows are separated into those present in the west ranges versus those in the east ranges. Within this hierarchy, wells are filed according to their location by township, range, and section. Shows reported in documents other than scout cards, driller's logs, and lithologic logs are reported at the end of the compilation for the west ranges. Areas close to existing oil fields were ignored by excluding any oil shows found within the quarter-township containing a known oil or gas field, or segment of a field.
The number and distribution of oil shows are, in part, a function of the number and location of wells drilled in the basin. The distribution of dry holes and oil fields within the Salina basin is shown on the map accompanying this report (figure 1; in back pocket). Other information, such as total depth and deepest formation penetrated by each well, are not included. Factors such as experience and alertness of the observer of course cannot be estimated.
Figure 2 is based on figure 1 and graphically summarizes oil shows and drilling density for several subdivisions of the Salina basin. In this figure, the interior of the basin is divided into several subdivisions. Each subdivision is approximately four by four townships (approximately 575 mi2; 1,490 km2) , except where smaller subdivisions were used along the periphery of the study area. The relative number of wells and oil shows in different parts of the basin easily can be compared by inspection of pie charts that summarize drilling in each subdivision.
Figure 2--Summary of oil shows in Salina Basin. Percentage of wells in given area reporting oil shows shown as dark wedge (also expressed as a ratio).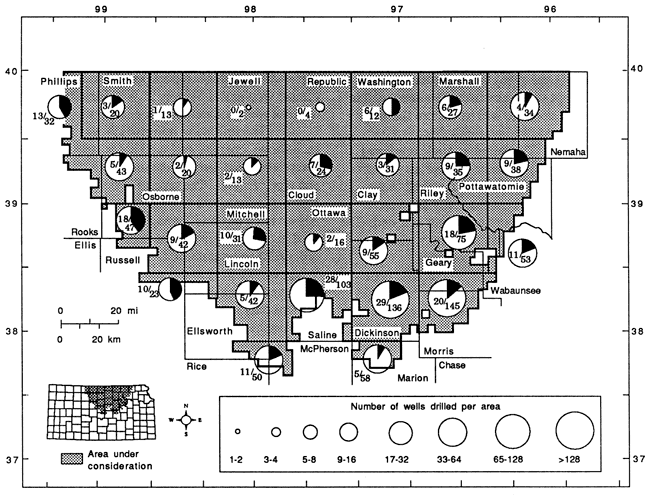 Discussion and conclusions
The number of petroleum shows within this relatively nonproductive basin is surprising. In the west ranges over the deepest part of the basin, most of the oil shows occur in lower Paleozoic units, namely the Simpson, Viola, and Maquoketa formations (Ordovician). These shows appear scattered, but a small group is concentrated just north of the Salina field in northeastern Saline County. The major pay zones in this field are the Maquoketa and Viola formations. Oil and gas shows in the Mississippian "chat," the major reservoir unit farther south in the northern Sedgwick basin, are conspicuously absent in the western part of the Salina basin. Similarly, shows also are rare in the Cambrian-Ordovician Arbuckle Group, a major pay horizon to the west on the Central Kansas uplift. Pennsylvanian Lansing-Kansas City oil shows are common on the extreme western fringe of the Salina basin and are probably related to possible prospective areas peripheral to Lansing-Kansas City production trends on the Central Kansas uplift. Gas shows indicate no discernible trends and are scattered over the Salina basin. Gas shows are most common in Permian units.
The distribution of oil and gas shows indicates that in order to maximize chances of success, a wildcat well in the western and central part of the Salina basin should at least penetrate the top of the Arbuckle Group. By drilling to this horizon, the lower Paleozoic units in which most shows occur will be tested.
Previous investigations by Landes and Jewett (1939) reported several seeps of kerosene-like oil in Smith County in the western side of the Salina basin. These authors attributed these seeps to natural origins, but the transitory occurrence of the seeps and the unusual lightness of the oil militate against their natural occurrence. No good correlation could be established between the well shows in this report and the surface seeps reported by Landes and Jewett (1939).
The best oil show in a well in the west ranges away from the Central Kansas uplift may have occurred in northwestern Lincoln County at the Red Bank Oil #1 Brown well in sec. 35, T. 10 S., R. 10 W. Although Survey records state this well was dry, local residents maintain that the well produced minor amounts of commercial oil that was transported by wagon to a nearby railroad-freight depot until 1926, when the well was shut down due to lack of saltwater-disposal facilities (Les Stephens, personal communication, 1985). This well (renamed the #1 Sulsar) was re-entered in 1985 by Stephens Resource Company, and a minor amount of oil was seen in drilling mud after the well was acidized. The well, however, could not be cleaned out and brought into production. In April 1986, the well was again re-entered and successfully deepened by Mid-American Hydrocarbons Company, but detailed examination of geophysical logs, sidewall cores, and drill cuttings did not reveal any significant shows.
Hydrocarbon shows in the east ranges of the Salina basin are more numerous and complicated than those in the west ranges. Mississippian shows are the most common and are largely concentrated in Dickinson, Clay, Geary, and northern Morris and Marion counties. These shows generally occur near the top of pre-Chesteran Mississippian limestones at the sub-Pennsylvanian unconformity. Several other oil shows are recorded from the Silurian-Devonian "Hunton" group, as well as other lower Paleozoic units. Some of these shows occur where these older units are directly subjacent to the sub-Pennsylvanian angular unconformity.
Several Lansing-Kansas City oil shows occur in the southeastern part of the Salina basin and seem to be spatially coincident with deeper Mississippian shows. These shows, like the Mississippian shows, may be related to concentrations of hydrocarbons along north-northeast-south-southwest-trending structures aligned subparallel to the Nemaha uplift and Humboldt fault zone. Several shows in the Mississippian section along the sub-Pennsylvanian unconformity and within the Pennsylvanian section in the southeast part of the basin are significant (e.g., free oil recovered in drill-stem tests, etc.). These strong shows give encouragement that this area may be prospective for undiscovered oil fields.
Oil shows in the lower Paleozoic section not associated with the sub-Pennsylvanian unconformity in the east ranges are not as common or as strong as the Mississippian and Pennsylvanian shows. Like oil shows in the west ranges though, oil shows in the east ranges are widely scattered and are largely concentrated in the Viola, Maquoketa, and Simpson formations. Gas shows, like those in the west ranges, are mostly concentrated in the Permian strata.
The most surprising oil shows in the east ranges occur in Precambrian clastic rocks possibly associated with the Central North American rift system (CNARS). Wells with Precambrian shows include the Veeder #1 Gravenstein well in sec. 21, T. 8 S., R. 6 E. (Riley County), the Marshall County Syndicate #1 C. Finn well in sec. 4, T. 4 S., R. 7 E. (Marshall County), the Welton Oil #1 Thierer well in sec. 20, T. 10 S., R. 7 E. (Riley County), the Seevers #1 Livingood well in sec. 13, T. 13 S., R. 2 E. (Dickinson County), and the Nemaha Oil and Gas #1 Seneca well in sec. 19, T. 3 S, R. 11 E. (Nemaha County). The #1 C. Finn well reported oil and gas shows in "bituminous shales" and sands over a 600-ft interval. The #1 Seneca well is not located over the trend of the CNARS, therefore the presence of shows in the Precambrian section is unexpected.
Very few wells have been drilled into the Central North American rift system; hence, its hydrocarbon potential is largely unknown. The shows present in these extremely old rocks, although minor, are nevertheless encouraging. Companies generating prospects targeted for potential Paleozoic reservoirs should therefore be cognizant of potentially prospective deeper strata if they are exploring in areas over or near the rift.
Acknowledgments
The authors thank Lea Ann Davidson in the Petroleum Research Section for typing the manuscript and tables in this document; Jennifer Sims of the Editing Department for drafting figures; and Gina Ross in Automated Cartography for preparation of the base maps and digitizing of well locations.
References
Landes, K. K., and Jewett, J. M., 1939, Oil and gas seeps in Smith County, Kansas: Kansas Geological Survey, Mineral Resources Circular 12, (Bulletin of the University of Kansas, v. 40, no. 9), 10 p. [available online]
Landes, K. K., and Ockerman, J. W., 1930, The geology of Mitchell and Osborne counties, Kansas: Kansas Geological Survey, Bulletin 16, 55 p. [available online]
Lee, Wallace, 1956, Stratigraphy and structural development of the Salina basin area: Kansas Geological Survey, Bulletin 121, 167 p. [available online]
Zeller, D. E. (ed.), 1968, The stratigraphic succession in Kansas: Kansas Geological Survey, Bulletin 189, 81 p. [available online]
Plate
Figure 1--Map of oil and gas shows in Salina basin

available as an Acrobat PDF file, 4.6 MB
Appendix 1
Abbreviations and terminology used
Stratigraphic abbreviations
| | |
| --- | --- |
| ABCK | Arbuckle Group (Cambrian-Ordovician) |
| BRGS | Burgess sand (basal Pennsylvanian sandstone) |
| BRN LM | brown lime--an informal term used to describe a limestone in the Douglas Group (Pennsylvanian, Virgilian); or in southeast Kansas, a limestone in the Marmaton Group (Pennsylvanian, Desmoinesian) |
| CG | conglomerate, used with either PENN, MSSP, etc. |
| CGRV | Council Grove Group (Permian, Gearyan) |
| CHER | Cherokee Group (Pennsylvanian, Desmoinesian) |
| CHSE | Chase Group (Permian, Gearyan) |
| DAK | Dakota Formation (Cretaceous) |
| DGLS | Douglas Group (Pennsylvanian, Virgilian) |
| GRHVN | Grandhaven Limestone Member (Pennsylvanian, Virgilian) |
| HASK | Haskell Limestone Member (Pennsylvanian, Virgilian) |
| HEEB | Heebner Shale Member (Pennsylvanian, Virgilian) |
| HERR | Herington Limestone Member (Permian, Gearyan) |
| HNTN | Hunton group (Silurian, Middle Devonian) |
| KC | Kansas City Group (Pennsylvanian, Missourian) |
| LANS | Lansing Group (Pennsylvanian, Missourian) |
| LECMP | Lecompton Limestone (Pennsylvanian, Virgilian) |
| LKC | Lansing-Kansas City groups (Pennsylvanian, Missourian) |
| MSNR | Misener sandstone member (Upper Devonian-Mississippian) |
| MQKT | Maquoketa formation (Upper Ordovician) |
| MSSP | Mississippian |
| NEVA | Neva Limestone Member (Permian, Gearyan) |
| OREAD | Oread Limestone (Pennsylvanian, Virgilian) |
| PENN | Pennsylvanian |
| PERM | Permian |
| PRE CAM | Precambrian |
| REAG | Reagan Sandstone (Cambrian) |
| SEV | Severy Shale (Pennsylvanian, Virgilian) |
| SHAW | Shawnee Group (Pennsylvanian, Virgilian) |
| SMPS | Simpson Group (Middle Ordovician) |
| TOP | Topeka Limestone (Pennsylvanian, Virgilian) |
| TOR | Toronto Limestone Member (Pennsylvanian, Virgilian) |
| VIOL | Viola Limestone (Middle Ordovician) |
| WAB | Wabaunsee Group (Pennsylvanian, Virgilian) |
A stratigraphic column and detailed descriptions of these units can be found in Zeller (1968).
Oil-field terms
| | |
| --- | --- |
| bbl, bbls | barrel, barrels |
| BOPD | barrels of oil per day |
| BTU | British thermal units |
| BW/hr | barrels of water flowing per hour |
| BYVIPD | barrels of water per day |
| cf | cubic feet |
| cfg | cubic feet of gas |
| chat | cherty and conglomeratic rock |
| dst | drill-stem test |
| fluor | fluorescence |
| fm | formation |
| FO | frothy oil |
| FU | filled up |
| GC | gas cut |
| GCM | gas-cut mud |
| GCO | gas-cut oil |
| GCSW | gas-cut saltwater |
| GMCO | gassy mud-cut oil |
| GOCM | gassy oil-cut mud |
| GSO | good show of oil |
| gty | gravity |
| HC | hydrocarbon |
| HG | highly gas-cut |
| HOCM | highly oil-cut mud |
| MCFGPD | thousand cubic feet of gas per day |
| MCW | mud-cut water |
| MSW | muddy saltwater |
| MW | muddy water |
| NA | not available |
| OC | oil-cut |
| OCM | oil-cut mud |
| OCSW | oil-cut saltwater |
| OIH | oil in hole |
| OS | oil show |
| OSM | oil-saturated mud |
| perfs | perforations, perforated |
| rec | recovered, recovery |
| SGCM | slightly gas-cut mud |
| SGCMW | slightly gas-cut muddy water |
| SGCSW | slightly gas-cut saltwater |
| SICP | shut-in casing pressure |
| SMCSW | slightly mud-cut saltwater |
| SO | show of oil |
| SOC | slightly oil-cut |
| SOCM | slightly oil-cut mud |
| SOCMW | slightly oil-cut muddy water |
| SOCSW | slightly oil-cut saltwater |
| SOSM | slightly oil-saturated mud |
| SOSNM | slightly oil-saturated muddy water |
| SSO | slight show of oil, small show of oil |
| SW | saltwater |
| swbd | swabbed |
| UV fluor | ultraviolet fluorescence |
| VSOCM | very slightly oil-cut mud |
| VSOCSW | very slightly oil-cut saltwater |
| VSSO | very slight show of oil |
| WCM | water-cut mud |
| w/ | with |
Appendix 2
Salina basin hydrocarbon-show compilation
(west ranges)
Operator
& Name
Location
County
Comp. Date
Datum
(ft)
Depth
Inter.
(ft)
FM
Remark
Scout cards
Terra Resources
#1 Wangerin
NE NE
20-2S-15W
Smith
11/79
1994
2872-2933
SEV?
rec. 1,730' SGCSW on dst.
2890-2894
SEV
30-40 unit gas kick; few sand clusters w/SO
2910-2916
TOP
?-92 unit gas kick
3115-3120
TDR
slight stain-no porosity
3200-3210
LANS
slight stain-no porosity
Nat'l. Assoc.
Petrol. Co.
#1 Morgan "A"
NW NW NW
5-2S-17W
Phillips
10/56
2088
3390-3440
KC
rec. 1250' saltwatery oil on dst.
Anschutz Drlg. Co.
#1 Cannon
SW SW SW
17-2S-17W
Phillips
3/52
2028
3470-3483
LANS
rec. 8' drilling mud, SSO on dst.
Amerada Petrol.
#1 Hawk
SE SE NW
24-2S-18W
Phillips
8/58
2039
3320-3473
LANS
rec. 435' slight OCSW on dst.
Terra Resources
#1 Pillmore
SW SE SW
21-3S-17W
Phillips
12/79
1915
3226-3275
LANS
rec. 15' mud w/SO on dst.
3320-3353
LANS
rec. 15' mud w/SO on dst.
Beacon Resources
#1 Zillinger "A"
NE SW SW
33-3S-18W
Phillips
12/68
1928
3076-3100
LANS
rec. 25' OSM on dst.
Sohio
#1 Hansen
SW NW NE
33-3S-18W
Phillips
12/52
1895
3282-3302
LKC
rec. 15' HOCM, trace oil on dst.
Arrowhead Petrol.
#1 Miller
NE NW NW
34-3S-18W
Phillips
7/80
1929
3096-3160
OREAD
rec. 15' VSOCM on dst.
3240-3285
LANS
rec. 7' mud w/SO on dst.
Harry Mann et al.
#1 Beard
NE SW SW
10-5S-10W
Jewell
10/52
1636
2546-2579
DGL-S
rec. 60' GCM on dst.
Petroleum Mgmt.
#1 T.W. Jackson
NW SW SE
16-5S-17W
Phillips
11/65
1946
3185-3230
L~ANS
rec. 3' oil and 17' mud on dst.
3246-3265
LANS
rec. 2' FO and 253'MSW on dst.
3292-3310
LANS
rec. 10' OCM and 65'MSW on dst.
Petroleum Mgmt.
#1 Keeten "B"
E/2 NW
16-5S-17W
Phillips
3/66
1936
3209-3240
LANS
rec. 80' SOCM on dst.
3238-3250
LANS
rec. 30' VSOCSW, 20' SOCSW, and 65' MSW on dst.
Stanolind
#1 Campbell
SW NW NW
26-6S-2W
Cloud
7/50
1396
3031-3040
MQKT
rec. 8' SOCM -on dst.
Martins Expl.
#1 McLaughlin
SE SE SW
6-6S-17W
Rooks
6/80
1923
3071-3140
LANS
rec. 5' oil & 30' HOCM on dst.
3181-3210
LANS
rec. 30'MCW w/scum oil on dst.
Lewis Drlg.
#1 Kemmler
NW NW SE
7-6S-17W
Rooks
11/52
1952
3132-3148
LANS
rec. 10' mud w/SO on dst.
3126-3143
LANS
rec. 135' OCM on dst.
Pate-Dombaugh et al.
#1 Coleman-Brune
7-6S-17W
NW SE NW
Rooks
8/79
1956
3099-3156
TUR
rec. 40' OCM on dst.
Nat'l Assoc. Petrol. Co.,
#1 Schwartz "B"
SW SW NW
18-6S-17W
Rooks
5/66
2005
3264-3300
LANS
rec. 10' OCM and 60' SOCM on dst.
Shields Oil Prod.
#2 Enoch
E/2 E/2 SE
31-7S-15W
Osborne
7/80
1762
2812-2854
TDP
rec. 60' SOCM on dst.
Shields Oil Prod.
#1 Enoch
NW SW NW
32-7S-15W
Osborne
3/73
1762
2793-2812
TOP
rec. 20' OCM on dst.
Ottawa Oil & Devel.
#1 Srna
NW SE SW
21-9S-5W
Ottawa
5/20
1549
3190-3207
PENN-MSSP?
driller reports good show green oil
Don Ingling et al.
#1 Abercrombie
SW SE NE
19-9S-7W
Mitchell
2/58
1367
3436
HNTN
oil stains
3567
VIOL
oil stains
Billy Drlg.
#1 B. Funk
NW
32-9S-8W
Mitchell
?/24
~1800
136
DAK
show of gas w/1.08% He (see Landes and Ockerman [1930], p. 54)
Northern Ord.
#1 Vandament
NW NW
3-9S-13W
Osborne
5/43
1767
3035-3057
PENN
SO
3920-3930
VIOL
dead oil, spots
Mai Operations
#1 Ahrens
SE NW NE
30-9S-14W
Osborne
8/81
1965
2925-2945
TOP
rec. 10'OSM w/SO
3143-3242
TOR
on dst.
LANS
rec. 20' OSM and 20' mud w/SO on tool on dst.
Empire
#1 Crist
SE SE NE
30-9S-14W
Osborne
6/29
1983
3676-3680
MSSP?
OS
Rains-Williamson
#1 McNeal
SW NW SE
32-9S-14W
Osborne
6/83
1989
3254-3287
LANS
rec. 65' WCM w/SO in dst.
Drolte & Christopher
#1 Nichols
NW NW NW
15-10S-11W
Osborne
11/60
1730
4007-4020
VIOL
UV fluor.
3790-3802
VIOL
rec. 75' watery mud w/slight fluor.
4007-4020
VIOL
rec. 9' mud w/UV fluor.
Drolte & Christopher
#1 Mosure
SE SW
21-10S-11W
Osborne
1/60
1688
3486-3500
MSSP
CG
trace flake oil
Terra Resources
#1 Robinson
NE NE NE
14-10S-12W
Osborne
11/78
1702
2938-2980
LANS
rec. 305' SOCM on dst.
Eric F. Waddell
#1 Meyers
NE NW NE
15-10S-14W
Osborne
10/83
2000
?
LANS
oil well (interval NA)
Eric F. Waddell
#2 Meyers
N2 N2 N2
15-10S-14W
Osborne
6/84
2043
3256-3310
LANS
rec. 45' OCM on dst.
Veail
#1 Meyer
SW NE
15-10S-14W
Osborne
8/68
2005
3230-3260
LANS
rec. 30' OCM on dst.
3260-3280
LANS
rec. 30' GC & OCM on dst.
3300-3330
LANS
rec. 120' VSOCM on dst.
Dutton & Hicks
#1 Steinle
SE SE SE
4-11S-12W
Russell
7/47
1698
2903-2908
LANS
5' core, slightly stained
2954-2966
LANS
SO
Ladd Petrol.
#1 Day Trust
SE SE SE
3-11S-13W
Russell
5/83
1692
2985-3002
LANS
rec. 65' VSOCM (2% oil) on dst.
Thunderbird Drlg.
#1 Amschutz "D"
SE NE SW
5-11S-14W
Russell
6/81
1795
3050-3071
LANS
rec. 30' mud w/SSO on dst.
Rains-Williamson
#1 Harrell
NE NE NW
5-11S-14W
Russell
4/83
1787
2720-2740
TOP
rec. 15' OSM on dst.
3043-3053
LANS
rec. 125' VSOCM on dst.
Rains-Williamson
#1 Robbins
SE NW NW
6-11S-14W
Russell
4/83
1784
3066-3106
LANS
rec. 210' SOSMW & 180' SW on dst
3156-3200
LANS
rec. 10' SOSM on dst.
Rains-Williamson
#1 Alfred Thompson
SE NW SE
7-11S-14W
Russell
9/82
1695
2938-2978
LANS
rec. 10' OSM on dst.
Rains-Williamson
#1 Slater
SW NW NE
11-11S-14W
Russell
8/82
1806
3053-3083
LANS
rec. 75' SOSM on dst.
Carter Oil
#1 Best
SW NE
26-12S-3W
Ottawa
8/19
1304
840
PERM?
gas sand
Glickman Oil
#1 Mynatt
NW NE SE
8-13S-1W
Saline
2/59
1183
3041-3051
VIOL
rec. 6' OCM on dst.
Walters Drlg.
#1 Tobin Est.
SW NW
17-13S-1W
Saline
12/69
1181
3014-3052
MQKT-VIOL
SO in top 4' and bottom 1' of 28 1/2' core
Bay Petrol.
#1 Rockhold
NW NW NW
20-13S-1W
Saline
1/43
1178
3058-3060
VIOL
SSO
F.W. Vishnefske
#1 Geis
NW NW NW
27-13S-2W
Saline
8/55
1223
3185-3190
VIOL
rec. 120' SOCM on dst.
E. Adair
#1 Walden
SW SW
27-13S-2W
Saline
10/45
1206
3315-3317
SMPS
SSO
Terra Resources
#1 Geis
SW
33-13S-2W
Saline
8/78
1217
3320-3348
SMPS
rec. 420' MCW w/SSO on dst.
Twin Mounds Oil
#1 Weis
WL NE NW
20-13S-4W
Saline
4/29
1375
1948
TOP
gas show
D. Ingling
#1 Meyer
NW NW
17-13S-10W
Lincoln
1/64
1737
3494-3509
VIOL
dead oil spots
P.G. Reynolds et al.
#1 Fredrickson
SE SW SE
6-13S-12W
Russell
6/36
1794
2640
LANS
SO
Austin Drlg. Co.
#1 Rockefeller
SE SE
6-13S-12W
Russell
11/31
1794
3042-3044
LANS
SO 600' oil-22 hrs., bailed 18 bbls in 3 hrs. (41° gravity)
J.D. Mooneyham
& R.P. Nixon
#1 Cooper
SE SE
13-13S-12W
Russell
2/67
1789
2954-2974
LANS
rec. 10' SOCM on dst.
Thunderbird Drlg.
#1 Letsch
NW SW SW
15-13S-12W
Russell
7/83
1795
2957-2976
LANS
rec. 150' MCW w/SO
2996-3017
LANS
rec. 60' HG & OCM and 240' mud & GCO on dst. (well also flowed 3-10% oil through perfs. @ 3006'-3010')
Pickrell & Southwest
Petroleum
#1 Sidey Ranches "A"
SE SE NW
18-13S-12W
Russell
8/70
1825
3030-3045
LANS
rec. 760' SMCSW w/VSSO on dst.
Koch Expl.
#1 Rogg
NW NE NE
10-13S-13W
Russell
5/69
1692
2896-2932
LANS
rec. 114' watery mud w/few specks oil on dst.
B&R Drilling
#1 Dauber
SE SE NW
12-13S-13W
Russell
7/47
1585
2813-2820
LANS
rec. 30' mud, slight odor, slight OC on dst.
Rains-Williamson
#1 Dauber
SW SE
12-13S-13W
Russell
11/78
1615
2844-2860
LANS
rec. 35' mud w/SO on dst.
Thunderbird Drlg.
#1 Holland
NE NW NE
15-13S-13W
Russell
10/82
1799
3050-3088
LANS
rec. 250' MCW w/SSO on dst.
Rains & Williamson
#1 Shier
NW SE SW
35-14S-1W
Saline
5/83
1269
2577-2585
MSSP
rec. 600' GCSW on dst.
Don Ingling et al.
#1 Price
SE NE SE
3-14S-2W
Saline
2/56
1200
3134-3147
MQKT
SSO
Assoc. Petrol.
Consultants
#1 Gilmore
NE NE
18-15S-1W
Saline
10/82
1275
2668-2702
MSSP
rec. 850' SW & SSO on dst.
2669-2690
MSSP
rec. 75' OSM (5% oil) on dst.
Bay Petrol.
#1 Royce
SE SE SE
13-15S-4W
Saline
7/51
1292
3134
HNTN
rec. 175'muddy SW & scum oil on dst.
S.K.D. Corp.
#1 Kyler
S/2 SE SW
5-15S-7W
Ellsworth
2/73
1711
1093-1178
HERR
rec. 10' GCM on dst.
1957-2008
GRHVN
rec. 60' thin SGCM on dst.
Steams Drlg.
#1 Dolezal
NE NE NW
17-15S-7W
Ellsworth
7/50
1664
2620-2630
DGLS
SO
2810-2820
LANS
SO
2900-2910
LANS
SO
2900-3000
LANS
SO
Acme Brick
#1 Woods
NE NW
31-15S-7W
Ellsworth
12/77
1576
997-1072
CHSE
rec. 72' GCM on dst.
2598-2650
LANS
rec. 165' GCM on dst.
Rains & Williamson
#1 Walker
NE SW NE
3-16S-1W
Saline
8/78
1241
2013-2038
LANS
rec. 50' mud w/SO on dst.
2622-2635
MSSP
rec. 330' SGCSW on dst.
Wolf Creek Oil
#1 Stein
NE NW SW
10-16S-1W
Saline
1/44
1243
2623-2625
MSSP
OS
Rains & Williamson
#1 Sorenson
NE NW NE
35-16S-1W
Saline
6/83
1348
3409-3417
SMPS
rec. 30' MCW & 620' SOCSW on dst.
Mallonee-Mahoney, Inc.
#1 Christopher
NW NE SE
22-16S-4W
Saline
9/70
1402
3526-3530
MQKT
rec. 2' clean oil + 45' SOCMW on dst.
A. Scott Ritchie
#1 Lagerstrom
NW SE NE
33-16S-4W
Saline
8/82
1506
3629-3645
MQKT
rec. 15' mud w/SSO on dst.
3750-3789
SMPS
rec. 15' mud w/SO on dst.
E.K. Carey Drlg.
#1 Lagerstrom
SW SW NE
33-16S-4W
Saline
10/53
1502
3765-3779
SMPS
rec. 20' muddy oil, 111' OCM, 40' muddy water on dst.
3776-3782
SMPS
rec. 2' muddy oil on dst.
A. Scott Ritchie
#2 Lagerstrom
SW SE NW
33-16S-4W
Saline
10/83
1497
3631-3650
MQKF
rec. 30' mud w/SSO on dst.
3743-3790
VIOL-SMPS
rec. 110' WCM w/SSO on dst.
Texas Co.
#1 Dahlston
SE SW SE
21-17S-4W
McPherson
10/55
1380
3515-3520
MQKT
rec. 90' water w/SSO on dst.
Darrah & Garvin
#1 Tyner
SE SE NW
6-17S-7W
Ellsworth
8/53
1679
2743-2753
LANS
rec. 30' watery mud & SSO on dst.
Driller's logs
Vickers
#1 Wheaton
SW SE
9-5S-17W
Phillips
8/43
1925
3224-3227
LANS
lime porous, SO
Sidwell
#1 Murdock
SE SE SE
6-6S-4W
Cloud
4/28
1538
1685-1720
?
7 bbl. water & gas in "red rock"
2280-2294
?
SSO in sand
2488-2498
LKC?
SSO in white lime
2705-2708
LKC?
OS in gray limestone
Stearns & Streeter
#1 Carlin
SW SW NE
19-8S-13W
Osborne
2/27
1879
2783-2810
WAB
5 BW/hr + "rainbow show"
Carey
#1 Srna
NW NW SE
21-9S-5W
Ottawa
1/60
1593
2050-2068
?
hole full of water-showing gas in sand
3022-3122
PENN-MSSP?
SO in black-blue shale
Marlin
#1 Beiler
NE NE
10-9S-8W
Mitchell
12/24
1515
3310-3336
MSSP
SO in sandy hard lime
ESP
#1-18 Kreft
SE SW NW
18-9S-14W
Osborne
12/82
1936
2938-2941
TOP
VSSO
2973-2977
TOP
VSSO
3842-3868
VIOL
slight odor of oil
ESP
#1 Brown
SE SE SW
19-9S-14W
Osborne
9/82
1993
3257-3285
LANS
very slight show
VIOL
good show "good golden fluorescence"
Empire
#1 Crist
SE SE NE
30-9S-14W
Osborne
1/29
1983
3000-3050
TOP
lime-SO
3185-3195
TOP
SSO in shaly lime
3275-3335
LANS
SO
Oil Capitol Corp.
#1 Shilling
SW SW NE
1-10S-6W
Lincoln
7/56
1533
3930-3941
SMPS
trace of heavy brown oil
Red Bank Oil
#1 Brown
NE NE SE
35-10S-10W
Lincoln
12/26
1523
3350?
MSSP
well reportedly produced oil until shut down for lack of saltwater-disposal facilities (Les Stephens, personal communication, 1985)
Amerada
#1 Crawford
NE SW SE
16-11S-7W
Lincoln
3/25
1631
1285-1385
PERM?
gas sand (10,000 ft3) W/sso
Trees
#1 Kohler
SE SE SW
36-11S-10W
Lincoln
9/24
1555
1385-1450
PERM?
gas show in lime
2900-2910
LKC
gas show in lime
3030-3065
LKC
gas show in lime
Krueger et al.
#1 Pospishil
NE SE
13-11S-13W
Russell
11/24
1613
1950
PERM?
show gas
Prairie O&G
#1 Middlekrouff
SW SW
10-12S-9W
Lincoln
4/19
1400
219-220
?
very light show of gas in sand
1138-1160
?
light OS in "red rock"
Konler
Well #8
NE NW
3-12S-10W
Lincoln
?
1535
2890-2910
?
gray lime w/show of gas (authors are uncertain this location is correct)
Rosenthal et al.
#1 Lamber
SE NW NW
31-12S-10W
Lincoln
12/24
1518
3210-3275
MSSP
SO in "red rock"
Rains & Williamson
#1 Shier
NW SE SW
35-14S-1W
Saline
5/83
1269
2577-2585
MSSP
dst. rec. gassy saltwater
Northwestern
#1 Anderson
SE NE NE
24-14S-3W
Saline
10/52
1227
3209.5
VIOL
good OS
Bay Petrol.
#1 Royce
SE SE SE
13-15S-4W
Saline
7/51
1292
3431-3434
MQKT
scum oil in dst.
Western States
#1 Root Farm
NE NW NW
13-15S-6W
Ellsworth
?/23
1420
1166-1277
?
doubtful oil & gas show in sandy lime
Smith
#1 Blomberg
SE SE NW
22-16S-4W
Saline
12/54
1398
3531-3535
MQKT
dst. rec. slightly oil-stained water
3701-3707
MQKT
dst. rec. SCCM
Carey Drlg.
#1 Lagerstrom
SW SW NE
33-16S-4W
Saline
10/53
1502
3620-3635
MQKT
rotary mud w/few spots oil
3765-3782
SMPS
oil, OCM and muddy oil rec. in dst.
A. Scott Ritchie
#1 Lagerstrom
NW SE NE
33-16S-4W
Saline
9/82
1506
3629-3645
MQKT
dst. rec. mud w/few spots oil on tool
3750-3789
SMPS
dst. rec. mud w/few spots oil on tool
A. Scott Ritchie
#2 Lagerstrom
SW SE NW
33-16S-4W
Saline
10/83
1497
3631-3650
MQKT
dst. rec. mud w/few specks oil
3743-3790
SMPS
dst. rec. mud w/few specks oil
Skaer-Crum
#1 Peterson
SW NE
5-16S-5W
Saline
9/20
1477
1090-1095
PERM?
small show of gas in brown lime
1140-1170
?
small flow of gas in brown lime
1330-1335
?
small flow of gas in blue shale
Phillips
#1 Hockman
NE NE NE
17-16S-7W
Ellsworth
11/32
1569
1855-1860
?
gas show in lime
Excalibur
#1 Johnson
SE SE
10-17S-6W
Ellsworth
2/82
1502
3524-3537
SMPS
SO; faint odor
Lithologic logs
Mallard Petrol.
#1 Broeckelman
N/2 NE NE
15-1S-10W
Jewell
6/84
1922
2750-2760
SHAW
oil stain, acid-cut; fluor.
3040-3060
LKC
slight HC fluor.; residual fluor. when cut w/acid
3630-3640
MSSP
uneven strong fluor.
3660-3670
MSSP
strong fluor.
3770-3780
MQKT
dead oil stain?
3940-3950
VIOL?
trace dead oil stain?
3940-3960
VIOL?
dead oil stain; very slight fluor.
Dreiling
#1 Lyons
NW SE SW
24-1S-14W
Smith
11/71
1943
3700-3740
HNTN
spotty dead oil coloration in part
4010-4055
VIOL
spotty dead oil discoloration
4100-4110
SMPS
dead oil stain discoloration in part
4120-4130
SMPS
dead oil stain discoloration in part
4180-?
ABCK
OS?
Rine
#1 Frazer
NW NW SE
8-1S-17W
Phillips
1/52
2069
3410-3420
LANS
spotty oil stain
Westgate-Greenland
#1 Schluntz
NE SW SE
23-1S-17W
Phillips
3/51
2120
3483-3493
LANS
trace light oil stain
3593-3600
LANS
dark, oil saturated in part
Dreiling
#1 Conaway
NE SW SE
3-3S-13W
Smith
81/71
1931
4300-4310
SMPS
spots gilsonite
4340-4350
SMPS
spots gilsonite
J. S. & F.
#1 Adee
NW NW SE
16-3S-17W
Phillips
12/54
1908
3260-3270
LKC
spotty faint stain
3340-3350
LKC
spotty dark stain
Sohio
#1 Hansen
SW NW SE
33-3S-18W
Phillips
12/52
1895
3290-3300
LKC
oil staining
3320-3330
LKC
slight spotty oil stain
Atchison
#1 Resco
SW SE
24-5S-1W
Cloud
11/59
1367
1510-1520
TOP
trace questionable gilsonite
Mann
#1 Beard
S/2 SW
10-5S-10W
Jewell
9/56
1636
3910-3920
SMPS
spots gilsonite
Rupp-Ferguson
#1 Delude
SW SW NW
19-6S-1W
Cloud
4/57
1361
3142-3179
SMPS
spots gilsonite
3200-3232
SMPS
spots gilsonite
Mattson & Thomp.
#1 Holbert
NW NE
33-6S-4W
Cloud
7/70
1579
3569
VIOL
trace brown oil stain at top of fm.
KAI
#1 Theirolf
SW SW SE
34-6S-6W
Mitchell
10/73
1516
3705-3725
VIOL
spotty oil stain, may be tool grease
3844-3850
SMPS
spots black hydrocarbon
3920-3926
SMPS
trace faint questionable oil stain
Harbar
#1 Un. Center Life
SE SE
15-6S-15W
Osborne
8/44
1809
4100-4115
SMPS
uneven oil stain
Lewis Drilling
#1 Kemmler
NW NW SE
7-6S-17W
Rooks
4/52
1932
3124-3144
LANS
slight spotty oil stain
3150-3152
LANS
spots dark oil stain
3230-3265
LANS
spots dark oil stain
3305-3323
LANS
spots dark oil stain
3343-3353
LANS
slight spotty oil stain
3383-3400
LANS
trace oil stain
H.W. Neiswanger
#1 Turner
CNL NE NE
10-7S-12W
Osborne
6/26
1633
2777
TOP
showing gas
Rupp-Furguson
#1 Larson
NW NW NW
21-8S-2W
Cloud
3/57
1478
3704-3720
SMPS
trace gilsonite
Thompson-Waterman
#1 Yenni
NW NW
36-8S-5W
Cloud
9/67
1317
3612-3627
SMPS
traces of dark-brown earthy gilsonite
Northern Ordinance
#1 Burr
SE SW
35-8S-9W
Mitchell
4/43
1590
3940-3955
SMPS
showing fresh light-brown oil stain (looks good)
Siedhoff et al.
#1 Grief
NW SW SE
16-8S-10W
Mitchell
11/37
1563
3524
MSSP?
small showing gas
Stearns & Streeter
#1 Carlin
SW SW NE
19-8S-13W
Osbome
2/27
1877
2780
WAB
rainbow SO in water flow
D&D
#1 Cornwell
SE SW
27-8S-13W
Osbome
4/64
1691
3725
ABCK
traces very questionable faint oil stain at top
Veail
#1 Sarver
SE NE
29-8S-13W
Osbome
7/66
1763
3035-3050
LANS
slight spots dark stain
E.K. Carey
#1 Srna
NW NW SE
21-9S-5W
Ottawa
1/60
1964
2437-2460
TOP
spots disseminated earthy gilsonite
Alcorn
#1 Beeler
NE
10-9S-8W
Mitchell
12/24
1523
-3330
MSSP
SO
Northern Ord.
#1 Vandament
NW NW
3-9S-13W
Osbome
5/43
1767
3055-3057
LANS
SO from scout cards
3920-3930
VIOL
dead oil spots
Murfin
#1 Madsen
NE NE SE
17-9S-14W
Ottawa
6/53
2036
3345-3363
1-ANS
faint oil stain
Phillips Petrol.
#1 Cather
SW SW
15-11S-1W
Ottawa
8/44
1380
3530-3550
SMPS
oil stain
Auto-Ord. & Darby Petrol.
#1 Gawith
SW NE SW
27-11 S-5W
Ottawa
8/43
1459
3920-3930
VIOL
streaked browm oil stain and asphalt
Dickey Oil Co.
#1 Eckart
SW SW
24-11S-7W
Lincoln
4/44
1663
3980-3990
VIOL
streaked dull-brown oil stain
4015-4025
SMPS
brown oil stained
Inland
#1 Rhudy
NW NW NW
30-11S-7W
Lincoln
6/54
1595
3938-3978
SMPS
spots dark oil stain
Carter
#8 Strat. Test
SW NE
21-11S-8W
Lincoln
?
1558
3440-3455
MSSP
minor streaks asphalt
SMPS
samples in part asphaltic
Time
#1 Thompson
SE SE SE
7-11S-14W
Russell
12/51
1689
2955-2967
LANS
light oil stain
Stanolind
#1 K.M. Duggan
NW NW SW
12-12S-1W
Ottawa
12/43
1318
3275
VIOL
interbedded red-brown argillaceous material (may be oil)
Valley Oil
#1 Herrington
NE NW SE
3-13S-1W
Saline
4/35
1193
1580-90
LECMP
light SO
3105
SMPS
SO
Glickman Oil
#1 Mynatt
NW NE SE
8-13S-1W
Saline
2/59
1183
3053
VIOL
trace questionable oil stain
3152
SMPS
trace gilsonite
3200
SMPS
trace gilsonite
Bay Petrol.
#1 Rockhold
NW NW NW
20-13S-1W
Saline
1/43
1178
3160
VIOL
streaked dull-brown oil stain
Glickman
#1 Royal
NW NW NW
24-13S-2W
Saline
1/59
1344
3358
SMPS
spots gilsonite
Auto-Ord.
#1 Ruch
SE NE NW
25-13S-2W
Saline
11/42
1197
2660
MSSP
streaked oil stain
3268
SMPS
spots of asphalt
USGS-KGS
#1 Geis
SW SW SW
32-13S-2W
Saline
4/80
1210
3250-3260
VIOL
light oil stain
Musgrove
#1 Link
NW NW NW
9-13S-3W
Saline
7/52
1237
3634
SMPS
spots dark oil stain?
Twin Mounds Oil
#1 Weis
WL NE NW
20-13S-4W
Saline
8/32
1376
830
PERM?
gas shows
865
PERM?
gas shows
1945
TOP,
gas shows
LKC
big gas show exhausting itself
P.G. Reynolds et al.
#1 Fredrickson
SE SW SE
6-13S-12W
Russell
6/36
1794
3027
LANS
SO
Phil-Han
#1 Bailey
SE SE SW
17-15S-1W
Saline
7/43
1263
2700-2710
MSSP
streaked brown oil stain
2815
MSSP
brown oil stained
3095
MSNR
streaked brown oil stain
3400
SMPS
asphalt stringers
Templeman et al.
#1 Laubengayer
SW
20-15S-5W
Saline
2/30
1506
2520-2530
HASK
showing gas
Western Star
Petrol. Co.
#1 Root
NE NE NW
13-15S-6W
Ellsworth
?
1442
1166
?
gas and oil showing (authors are uncertain this well location is correct)
Ingling
#1 Hughs
SE SE NW
21-15S-6W
Ellsworth
2/54
1592
3677
SMPS
trace faint oil stain
Acola O&G &
Keys Petrol.
"Camario Well"
SW SE SW
21-15S-6W
Ellsworth
?
1636
3250
MSSP
SO (authors are uncertain this well location is correct)
Keys Pet. Co.
#1 Sheridan
SW SE SW
21-15S-6W
Ellsworth
6/23
1615
1350-1360
?
SSO
Appleman
#1 McManus
SE SE NW
29-15S-6W
Ellsworth
4/42
1544
1090
?
oil stained, brown
Franco-Central
#1 Malmgren "A"
NE SE NE
22-16S-4W
Saline
1/53
1400
2670-2687
LANS
spots dark oil stain
3519
MQKT
dark oil stain
Smith
#1 Malmgren
NW SE NW
23-16S-4W
Saline
11/55
1380
3520
MQKT
spots dark oil stain
Franco-Central
#1 Lagerstrom
SW SW NE
33-16S-4W
Saline
10/53
1502
3771
SMPS
spotty light oil stain
Branine & Goering
#1 Linchield
NE SE
34-16S-4W
Saline
2/43
1476
3805
VIOL
streaked brown oil stain
3835
SMPS
oil stained in uppermost 5'
Skaer-Crum Oil
#1 Peterson
SW SW NE
5-16S-5W
Saline
9/20
1477
1095
PERM?
gas show
1145
?
gas
1670
?
gas
Westgate-Greenland
#1 Ingemanson
W/2 SW SW
2-17S-5W
McPherson
2/43
1398
3665
SMPS
possible oil stain
Leben
#1 Hokr
NW NW
6-17S-7W
Ellsworth
4/70
1675
2745-2754
LANS
spotted oil stain at top
3070-3075
CHER
trace oil stain
Pack
#1 Davis
NE NE NE
17-18S-4W
McPherson
9/52
1403
3664-3680
SMPS
spotty oil stain
Victor
#1 Swenson
SE SE SE
21-18S-4W
McPherson
3/52
1460
3644
VIOL
spotty oil stain
Osage
#1 Johnson
SW SW SW
4-18S-5W
McPherson
6/57
1566
3782-3795
SMPS
spots very dark oil stain
Trans-Era
#1 Myers
SE SE SE
8-18S-5W
McPherson
6/54
1589
3759-3775
VIOL
spots dark oil stain
K&E
#1 Smith
NE NE NW
8-18S-5W
McPherson
12/56
1641
3873
SMPS
spots dark oil stain
Frates Oil
#1 Walker
SW NE
10-18S-6W
Rice
2/26
1698
3200
?
trace of oil
Other sources
Red Bank Oil
#1 Brown
NE SW
35-10S-10W
Lincoln
11/26
1523
3500?
MSSP?
local residents maintain well produced a few bbls of oil that were hauled to nearby railroad depot (Les Stephens, pers. comm., 1985); well was reentered 4/86 by Mid-American Hydrocarbon, Inc.; no shows were detected except one cuttings chip w/streaming cut
Delhi
#1 Dorman
SW SW
20-10S-IIW
Osborne
11/24
1688
2840
SHAW?
Landes and Ockerman (1930) report "good oil show" from 3 1/2-ft-thick sand
Salina basin hydrocarbon-show compilation
(east ranges)
Operator
& Name
Location
County
Comp. Date
Datum
(ft)
Depth
Inter.
(ft)
FM
Remark
Scout cards
W.J. Nelson
#1 Brown
S/2 SE SE
29-1S-10E
Marshall
11/63
1410
995-996
REAG
show of heavy asphalt oil in granite wash
Blazier et al.
#1 Runkle
NE SE NW
13-2S-6E
Marshall
1/32
1219
?
?
well reported to have SO (doubtful)
Vermillion O&G
#1 Beatty
NW SE SE
29-2S-9E
Marshall
5/22
1252
1180-1210
?
oil and gas (source unknown)
Sincox
#1 Pennwell
NE NW SE NE
16-3S-3E
Washington
1/32
1409
750-754
PERM
show of gas (source unknown)
Blazier et al.
#1 Cooper
NE NE NW
10-3S-7E
Washington
8/29
1334
2045-2075
MSSP?
light OS (source unknown)
?
#1 Shearer
?
15-4S-9E
Marshall
?
?
750-755
LKC
SO (authors are uncertain this well location is correct)
790-793
LKC
gas (100,000 cfg.)
L.V. Wentworth
#1 Moser
SE SW SW
33-6S-9E
Pottawat.
5/51
?
1720-1728
VIOL
good SO
Arkansas Fuel
#1 Martin
24-8S-4E
SE NE SW
Riley
1930
1328
2510-2515
VIOL
SSO
Veeder Sup. & Dev. Co.
#1 Gravenstine
NW NW
21-8S-6E
Riley
1/46
1258
2665
SMPS
scattered spots heavy asphaltic oil
2676
PRE CAM
weathered granite & quartzite--sandy at top, pieces show asphaltic oil
Pan American Petrol.
#1 A.J. Lauer
SE NW NW
26-8S-8E
Pottawat.
6/65
1233
904
TOP
SO in sample
1150
KC
SO in sample
1180
KC
SO in sample
1210
KC
SO in sample
K&E Drlg.
#1 Edwards
SE SE SW
15-8S-10E
Pottawat.
3/61
1154
729-736
LANS
show of tarry dead oil
McCulloch & Venus Oil
#1 Burgess
SW SE SE
23-8S-10E
Pottawat.
3/71
1082
1283-1298
VIOL
rec. 1000' water w/few specks live oil on dst.
McCulloch & Venus Oil
#1 Ballentine
NE NW
26-8S-10E
Pottawat.
9/71
1193
1393-1408
VIOL
rec. 573' water w/speckles of oil on dst.
Aurora Gasoline
#1 Shebert Hughes Comm.
NE NE NE
8-9S-4E
Clay
9/51
1175
1842-1887
MSSP
rec. 165' mud, few specks oil on dst.
Skow Bros-Ritchie et al.
#1 Gates
SE SE SW
16-9S-4E
Clay
9/29
1825
1825
MSSP
SO
C.U. La Shelle Co.
#1 Umschied
NW NW
16-9S-9E
Pottawat.
12/43
1083
1180-1183
CHER
SSO
1689-1692
HNTN
SSO
1948-1950
SMPS
SSO
1958-1960
SMPS
SSO
Schoenroch-Brewer
#1 Loren Brewer
SW SW NE
33-9S-9E
Pottawat.
12/71
?
585-600
?
show gas w/sulfur odor in 3 separate sand zones
G.F. Johnson, Jr.
#1 Olson
NE NW NE
6-10S-10E
Pottawat.
5/60
1125
890-905
LANS
rec. 60' OCM on dst.
Energy Reserves Gp.
#1 Lichtenhan
SE SE SW
35-11S-7E
Geary
5/77
1148
1606-1702
MSSP
rec. 30' oil-speckled mud on dst.
Jones-Gebert
#2 Scott
NW SE NE
35-11S-7E
Geary
1/60
1278
1792-1808
MSSP
rec. 40' HOCM on dst.
1797-1804
MSSP
perf. w/rec. of 250' OIH & 250' water pumped 25 BOPD w/decline 5 to 3 BOPD
Pure Oil
#1 Scott
SW SE NE
35-11S-7E
Geary
3/59
1280
1829-1850
MSSP
rec. 140' watery mud, trace oil on dst.
Geo. F. Johnson, Jr.
#1 Weigel
NE SE NE
1-11S-8E
Riley
4/62
1070
1489-1502
VIOL
asphalt residual stain
McCulloch & Venus Oil
#1 Barry
W/2 SW SW
14-11S-8E
Riley
2/70
1132
1480-1535
PENN CG
rec. 40' muddy water w/slight specks oil
Cities Service
#1 Poole
NW NE NE
29-11S-8E
Geary
3/61
1463
1809-1835
CHER
rec. 1' GOCM + 2' GMCO on dst.
BMG
#1-32 Poole
SW SW SW
32-11S-8E
Geary
12/77
1361
1888-1900
MSSP
perf., swbd. 1 1/2 BOPD + 65 BWPD
James F. Ralsin
#1 Rudolph
NE SW NW
7-11S-9E
Riley
12/66
1098
1190-1206
PENN CG
rec. 160' oil & 50' SOCM on dst.
1198-1215
PENN CG
SO in samples
1198-1202
PENN CG
perf 550' & trace water, FU 85' water & some oil in 12/hrs.
Energy Reserves Gp.
#1 Herpich
SW SW SW
24-12S-7E
Geary
5/77
1419
1913-1999
PENN CG
rec. 60' SO specked mud on dst.
Barbara Oil Co.
#1 A.H. Meseke
NW NE SE
29-12S-9E
Wabaunsee
12/67
1327
1804-1836
HNTN
rec. 75' MW w/SO on dst.
Carter Oil
#1 A.H. Meseke
SE SE NE
29-12S-9E
Wabaunsee
12/49
1364
1881-1900
HNTN
rec. 15' mud, SSO on dst.
1900-1910
HNTN
rec. 10' mud, SSO on dst.
Thorpe et al.
#1 Morse
NW SW
11-13S-1E
Dickinson
10/39
1270
3156-3166
VIOL-SMPS
OS
Desbrow
#1 Garie
S/2 S/2 SW
21-13S-1E
Dickinson
4/52
1156
2346-2351
MSSP
perf. and rec. scum oil
Nordboe
#1 L. Clemence
SE SE NE
28-13S-1E
Dickinson
7/59
1167
2317-2319
MSSP
SSO
CFA Oil
#1 Wolf
SE NE
27-13S-6E
Geary
10/81
1379
?
?
OS; fm. and interval NA
L.E. Domes et al.
#1 Fechner
SE NE
27-13S-8E
Geary
9/34
1496
600
PERM
OS
St. Michael Expl.
#1 Rogers
SE SW
17-13S-9E
Wabaunsee
12/79
1251
3177-3183
VIOL
rec. 1263' SW w/SO on dst.
Saline Basin Petrol.
#1 Entrikin
SE SE SW
35-14S-1E
Dickinson
1/65
1201
2381-2408
PENN
Core cut, rec. 26' cherty cgl. w/slight
CG
scattered stain of heavy black oil
Rex & Morris Drlg.
#1 Mannel
NE SW SW
6-14S-2E
Dickinson
4/79
1206
2285-2349
MSSP
rec. 150' mud w/oil specks on dst.
Nimrod Petrol.
#1 Foster
NE NE NE
29-14-4E
Dickinson
12/50
1326
2214-2217
MSSP
show dead oil
Mull Drlg.
#1 Blythe
NW NE
20-14S-6E
Morris
4/74
1398
2096-2125
MSSP
rec. 45' SOCM w/trace free oil on dst.
Crude Oil Prod.
#1 Dodderidge "A"
NE NE NW
29-14S-6E
Morris
4/82
1356
2071-2080
MSSP
rec. 75' oil, 90' HOCM, 90' SOCM, 90' OCSW
BMG
#1-34 Downes
NW SW
34-14S-7E
Morris
3/78
1463
335-349
NEVA
tested 14 MCFGPD, BTU 193, SICP 75, gas 89% nitrogen
Pendleton
#1 Olson
N/2 N/2 NE
9-14S-8E
Morris
8/80
1512
1885-1907
VIOL
rec. 210' oil, 125' OCM (gty 16.7°) on dst.
1903-1916
VIOL
rec. 2' oil, no water on dst.
Cities Service
#1 Albrecht
NW NE NE
25-15S-4E
Dickinson
2/58
1336
2185-2205
MSSP
rec. 210' slight OCM on dst.
F.G. Holl
#1 Whitehair
NW NW NW
17-15S-5E
Morris
2/51
1347
2161-2169
MSSP
rec. 30' SOCM on dst.
2162-2180
MSSP
rec. 52' SOCM on dst.
F.G. Holl
#2 Whitehair
NW NW NW
17-15S-5E
Morris
5/59
1337
2162-2182
MSSP
rec. 75' watery mud-free specks oil on dst.
Cimarron Petrol.
#1 Kickhoser
SW NW
22-15S-5E
Morris
10/79
1392
2826-2941
ABCK
rec. 750' OCSW on dst.
Crude Oil Prod.
#1 Carson
NE NE NW
3-15S-6E
Morris
4/82
1455
2170-2176
MSSP
GSO
F.H. Adair Oil
#1 Clark
SW SW NW
7-15S-6E
Morris
3/60
1423
2153-2173
MSSP
rec. 50' SOC watery mud on dst.
Anderson-Prichard
#1 Lawrence
SW NE SE
35-15S-7E
Morris
11/59
1414
1328-1355
LANS
rec. 450' SGCMW on dst.
G.J. Ablah
#1 Ade
NE SE
17-16S-1E
Dickinson
11/67
1388
2676-2687
MSSP
rec. 30' VSO specked mud & 170' MW on dst.
E.K. Carey
#1 Lauxman
SE NW NE
31-16S-1E
Dickinson
2/54
1365
2685
MSSP
SSO
Jones & Hill
#1 Lauxman
SE NE NE
31-16S-1E
Dickinson
10/43
1339
2660-2663
MSSP
SO
Prout & Ryan(?)
#1 Cosgrove
?
?-16S-2E
Dickinson
?
?
835
?
SO (authors are uncertain this well location is correct)
TGT Petrol.
#1 Sandow
SW SE NE
11-16S-2E
Dickinson
2/76
1288
2373-2379
MSSP
rec. 10' OSM on dst.
2373-2407
MSSP
rec. 1500' SW w/SO
Lance Hil
#1 Rutz
SW SW NE
8-16S-4E
Dickinson
10/58
1351
2273
MSSP
SO
John C. Graves
#1 Floyd
NW SE SE
18-16S-5E
Morris
9/69
1429
2247-2295
MSSP
rec. trace free oil, 185' OC watery mud, 340' muddy water on dst.
W.E. Harding
#1 Kind
SW SW NE
18-16S-5E
Morris
1/46
1414
2261
MSSP
OS
Chas. Carlock
#1 Miller "B"
W/2 SW SW
18-16S-6E
Morris
11/78
1502
2212-2240
MSSP
rec. 125' mud with SSO on dst.
H.E. Geis
#1 L. Geis
SW
33-17S-1E
Marion
6/80
1437
2734
MSSP
show dead oil
D.J. Ingling
#1 Heiser
SW SW NE
15-17S-3E
Marion
7/56
1466
2489-2502
MSSP
rec. 190'OCM, swbd. SO
Driller's logs
Simcox
#1 Pennwell
NW SE NE
16-3S-3E
Washington
1/32
1409
750-754
PERM
SO and gas
Elder and Ward
#1 Stamm
SW SW SW
3-3S-4E
Washington
2/25
1431
755-760
PERM
coal with oil
McCole et al.
#1 Schwartz-Foyer
NW NW NE
27-4S-3E
Washington
2/30
1462
1020-1105
PERM
SO
Marshall Co. Syndicate
#1 C. Finn
NW NE NE
4-4S-7E
Marshall
5/29
1370
330-340
PERM
SO
650-660
PERM
OS
1800-1810
MQKT?
sand SO (total production at least 5 bbls)
2433-2467
PRE CAM
showing
2615-2707
PRE CAM
showing
2767-2775
PRE CAM
showing ("showings" generally from "bituminous shale")
2778-2815
PRE CAM
good showing
2825-2290
PRE CAM
showing
2903
PRE CAM
gas sand
2907-2960
PRE CAM
showing
2995-3010
PRE CAM
showing
3015
PRE CAM
gas sand
Gypsy
#1 Droll
SE SW NW
2-7S-5E
Riley
1917
1127
540
?
OS
1830
HNTN
light OS
(?)
#1 Dixon
SW SW SE
32-7S-11E
Pottawat.
?
?
1995-2000
BRGS
oil (authors are uncertain this well location is correct)
Nebraska Oil Co.
#1 Fevier
SW SW SW
19-8S-3E
Clay
12/31
1257
2198-2213
MSSP
SO
Olsson & McCole
#1 Anderson
NW SW NW
1-8S-7E
Pottawat.
1/42
1208
745-750
PERM
small show gas
Pan American Petrol.
#1 A.J. Lauer
SE NW NW
26-8S-8E
Pottawat.
6/65
1233
904-924
TOP
SO
1150-1180
LKC
SO
J.B. Petroleum
#1 Cox
SW NW SW
16-9S-7E
Riley
12/68
1342
1717
HNTN
light oil
2180
MQKT
oil fluor. in mud
2200
VIOL
strong SO; vivid spotty color
2282
SMPS
streak dead oil stain
Rizar
#1 Myers
NE NW NW
4-10S-4E
Clay
9/35
1137
~1245
LKC
oil & gas
Pawnee O&G
#1 Marks
SW NE NW
26-10S-6E
Riley
12/23
1213
1645
MSSP
oil scum
Welton Oil
#1 Thierer
NW NE NW
20-10S-7E
Riley
5/29
1266
815
?
oil sand, gas
1350
?
gas sand
1814
?
SO
2207
SMPS
oil
2696
PRE CAM
some oil
Dieter
#1 Bennett
SW SW NE
3-11S-1E
Dickinson
12/49
1425
460-472
PERM
gas show in cherty lime
Marshall & Hennesy
#1 Danz
NE SE NW
34-11S-4E
Dickinson
10/24
1286
2550-2555
MSNR
OS in sand
Kerby & Wright
#1 Kurtze
NL SW SE
18-11S-5E
Geary
6/27
1077
134
?
oil & gas
410
?
OS
457
?
oil & gas showings
630
?
oil & gas showings
1066
?
strong showing of shale oil
1228
?
strong gas & oil show
1500
?
gas show
1909
MSSP?
oil & gas show
1924
MSSP?
sandy lime-slight rainbow
2227
HNTN?
gas showing
2548
VIOL?
OS (rainbows in sandy lime)
George F. Johnson, Jr.
#1 Weigel
NE SE NE
1-11S-8E
Riley
4/62
1070
1482-1502
VIOL
dense limestone some fluor. no odor, no free oil
Wilson
#1 Rannels
W/2
4-11S-8E
Riley
6/29
1274
1720-1724
?
sand, OS & water
Cities Service
#1 Haylett
SW SE NE
14-11S-8E
Riley
8/59
1279
1678-1717
HNTN
"lime"; scattered flecks of oil in dst.
Brandt
#1 Poole
NW NE NE
29-11S-8E
Geary
6/84
1463
1821-1824
MSSP
8 BOPD production
BMG
#1-32 Poole
SW SW SW
32-11S-8E
Geary
12/79
1361
1888-1900
PENN
SO
BMG
#1 Kempthorne
SE SE NW
7-11S-9E
Riley
3/78
lill
759-789
DGLS
gas?
Sinclair
#1 Stone
SW SW NE
34-12S-2E
Dickinson
5/20
1266
1930-1945
MSSP
SO in sand
Junction City
Oil & Mining
#1 Munson
NE NW NW
10-12S-5E
Geary
9/05
1152
-1930
?
light flow of oil followed by water (base of well) which could not be cased-off; well abandoned
Independent Prod.
#1 Jahnke
SW SW NE
21-12S-6E
Geary
3/80
1294
1942-2010
MSSP
OS in chert
Pioneer
#1 Chase Ranch
SE SE
10-12S-7E
Geary
3/28
1403
1585
KC
OS
2253
HNTN
OS, odor of petroleum
Energy Reserves
#1 Herpich
SW SW SW
24-12S-7E
Geary
5/77
1420
1979-1999
MSSP
OS
Franks
#1 Huffman
NW SW
11-13S-1E
Dickinson
10/39
1270
2148-2155
CHER
gas show in lime
Seevers
#1 Livingood
SE NW
13-13S-2E
Dickinson
6/32
1139
1100-1110
?
OS in lime
4023-4026
PRE CAM
OS in sand
Skaer & Skaer
#1 Albrach
?
19-13S-5E
Geary
?
1150(±?)
2285-2290
MSSP
OS in sand (authors are not certain this well location is correct)
L.E. Domes et al.
#1 Fechner
SE NW NE
27-13S-8E
Geary
9/34
1496
600-605
PERM
OS in sandy shale
688-690
PERM
gas show in shale
951-955
?
oil sand
Nordboe
#1 Miller
NW NW NE
14-14S-1E
Dickinson
12/58
1208
2402-2417
BRGS
SSO
Alta Vista
#1 Taylor
NE NE SW
5-14S-8E
Morris
2/27
1543
300
PERM
gas show in lime
Pendleton
#1 Olson
N/2 N/2 NE
9-14S-8E
Morris
8/80
1512
1880-1901
PENN CG-VIOL
dst. rec. oil
Rains & Williams
#1 Boyce
NW NW SW
32-15S-1E
Dickinson
1/84
1371
2656-2662
MSSP
rec. mud w/oil specks on dst.
2657-2667
rec. 5' oil on dst.
Vishnefske
#1 Faelber
W/2 NW SW
36-15S-1E
Dickinson
12/56
1271
1785-1819
BRN LM
trace SSO
1822-1841
(brown lime is between DGLS & LANS)
Cities Service
#1 Albrecht
NW NE NE
25-15S-4E
Dickinson
2/58
1338
2185-2205
MSSP
SOC in dst.
Hall
#1 Dunlap
NE SE NE
31-15S-4E
Dickinson
10/27
1370
2327
MSSP
OS
F.G. Holl
#2 Whitehair
NW NW NW
17-15S-5E
Morris
5/59
1337
2163-2183
MSSP
dst. w/specks of oil in watery mud
Slim Jim
#1 Kickhafter
SW NE SE
19-15S-5E
Morris
3/31
1372
2194-2200
MSSP
OS
Transcontinental
#1 Sellin
NW NW NW
19-15S-5E
Morris
9/20
1372
2140-2205
PENN
SO
F.H. Adair Oil
#1 Clark
SW SW NW
7-15S-6E
Morris
3/60
1423
2153-2173
MSSP
dst. w/OC watery mud
Trico
NE NE NE
6-16S-1E
Dickinson
6/17
?
2274-2286
?
SO in sand (authors are uncertain this well location is correct)
Trice
#1 Eliason
NW SW NW
6-16S-1E
Dickinson
6/17
2650
1712-1719
LKC?
gas show in shale
2274-2286
LKC?
light SO in sand
Union
#1 Gypsum Well
SE SSW NW
6-16S-1E
Dickinson
?
-1320
2309-2325
PENN?
trace of oil in sand
Hill
#1 Woods
NW NW NE
16-16S-1E
Dickinson
4/54
1381
2670-2674
MSSP
GSO in lime
Jones & Hill
#1 Lauxman
SE NE NE 31-16S-1E
Dickinson
10/43
1365
2660-2663
MSSP
SO in MSSP chat
TGT Petrol.
#1 Sandow
SW SE NE
11-16S-2E
Dickinson
2/76
1288
2376-2392
MSSP
dst. #1 had oil-specked drilling mud
Prairie Oil
#1 Rumolt
NW SW NE
12-16S-2E
Dickinson
12/29
1278
2410-2415
MSSP
oil & gas show in chat
Laudick & Johnson
#1 Cosgrove
SW SE
21-16S-2E
Dickinson
2/21
1457
825-845
?
SO at 835'
ELMO
SW SE
21-16S-2E
Dickinson
1920
1454
835
?
SO at 835' in sandy lime
Derby
#1 Balantyne
SE SW SE
18-16S-5E
Morris
3/26
1430
2250-2263
MSSP
OS in chat
2268-2285
OS in lime, white, hard
Lithologic logs
Davon
#1 Schaffer
NW NW SW
20-1S-6E
Marshall
4/50
1257
1833
fpqm
spots faint oil showing
Texas Company
#1 Murdock
SE SE SW
16-2S-13E
Nemaha
3/49
?
730
LKC
spots dead oil stain
Nemaha O&G
#1 Seneca
NW NW NW
19-3S-11E
Nemaha
3/29
1818
2190
PRE CAM
light OS
2142
PRE CAM
asphalt
Keewanee
#1 Carlson
NW NW
25-4S-1E
Washington
8/60
1392
1559
TOP
spots dark-brown to black earthy gilsonite
Phillips
#1 Helms
SE NE
20-4S-2E
Washington
10/43
1398
2710-2720
VIOL
streaked dull-brown oil stain
2730-2740
VIOL
streaked dull-brown oil stain
2930-2940
SMPS
trace oil stain
2997
ABCK
solid hydrocarbon
Keener
#1 Hellor
NW NW NE
36-4S-6E
Marshall
10/60
1266
2983
LANS
spotted light brown oil stain?
Venus
#1 Borgerding
SE NE NW
9-4S-7E
Marshall
11/70
1323
2017
SMPS
slight oil stain
Shawver-Armour
#1 Weakley
NW NW NE
26-5S-7E
Marshall
12/59
1303
1053
OREAD
flaky limestone w/little brown hydrocarbon
Venus
#1 Sedlacek
NW SE SW
31-5S-9E
Marshall
10/70
1402
1828
SMPS
trace hydrocarbon
Shawver-Armour
#1 Flanigan
SE SE NE
33-5S-9E
Marshall
12/59
1493
1344
VIOL
spotty brown hydrocarbons
1577
SMPS
brown hydrocarbon stain?
Venus
#1 Armstrong
NE NE
2-6S-8E
Pottawat.
11/70
1370
1653
VIOL
trace light-brown oil stain
1820
VIOL
dark gray-black oily shale
Venus
#1 Ryan
SW SE NW
32-6S-9E
Pottawat.
11/70
1497
1825
VIOL
some brown-black hydrocarbon
1947
VIOL
spotted hydrocarbon
Barnett
#1 Gerardy
SW SW SW
16-7S-3E
Clay
7/75
1500
1277
HEEB
gilsonite
Shawver-Armour
#1 Shelter
SW SW
4-7S-8E
Pottawat.
12/59
1427
1427
SMPS
fine-grained gilsonite
Venus
#1 McGuire
NW NW SE
12-7S-11E
Pottawat.
10/71
1148
1170
SMPS
spotted light-brown oil stain
Polhamus et al.
#1 Hannan
NE NW SW
29-8S-5E
Riley
10/45
1398
2440-2450
HNTN
looks oil stained
2555
VIOL
asphaltic material
2714
SMPS
flakes asphalt
Iseman
#1 Gravenstine
NW NW
21-8S-6E
Riley
1/46
?
2705
SMPS
scattered pieces showing asphaltic oil (authors note scout cards report well drilled by Veeder Sup. & Dev. Co.)
Adair
#1 Stoffer
NE NE SW
1-8S-7E
Pottawat.
10/59
1296
2100
VIOL
little brown HC stain?
2185
SMPS
brown oil stain?
Jay-Bee
#1 Phillips
SE SE NW
24-8S-7E
Pottawat.
11/68
1364
2308
SMPS
VSSO
Pan American Petrol.
#1 A.J. Lauer
SE NW NW
26-8S-8E
Pottawat.
6/65
1233
910-920
HEEB
traces of gilsonite
1260-1270
KC
trace gilsonite
1380-1390
KC
trace gilsonite
McCulloch & Venus Oil
#1 Burgess
SW SE SE
23-8S-10E
Pottawat.
3/71
1082
1380-1400
VIOL
spotty brown-black oil and tar stain?
McCulloch & Venus Oil
#1 Ballentine
NE NW
26-8S-10E
Pottawat.
9/71
1193
1450-1470
VIOL
spotted oil stain
1520-1540
VIOL
oil stain
1550-1560
SMPS
very spotty oil stain
Venus Oil
#1 Cox
SE NE
30-8S-10E
Pottawat.
11/70
1254
1630-1640
VIOL
slight trace brown oil stain
Pure Oil
#1 Scott
SW SE NE
35-11S-7E
Geary
3/59
1280
1832-1840
BRGS
good dark-brown oil stain
Stanolind
#1 Equitable Life
NW NW SE
17-12S-1E
Dickinson
3/44
1329
3285-3300
SMPS
OS
Mouser
#1 Langenecker
SW SW NW
34-12S-2E
Dickinson
10150
1267
2300
MSSP
spotted dark oil stain
Carter Oil
#1 A.H. Meseke
SE SE NE
29-12S-9E
Wabaunsee
12/49
1346
1881-1900
HNTN
faint oil stain; dst. recovered mud w/pin-points of oil
2171
VIOL
traces of dark oil stain
Leeward Petrol. Co.
#1 Knight
NE NE
23-13S-3E
Dickinson
5/27
1198
2845-2890
VIOL
stringers of dark oil stain in limestone
Skaer & Skaer
#1 Albrach
19-13S-5E
Geary
?
1150(±?)
2270-2300
MSSP
SO (authors are not certain this well location is correct)
Continental
#1 German
SE SE NW
20-13S-8E
Geary
3/53
1472
2800
VIOL
sandy dolomitic limestone w/black oil stain
Continental
#1 Falk
SW SW NW
23-13S-8E
Wabaunsee
1/53
1497
1643-1655
KC
spots dark oil stain
L.E. Dornes et al.
#1 Fechner
SE NW NE
27-13S-8E
Geary
9/34
1490
484-488
CGRV
gas sand
605-615
PERM
oily shale
668-672
PERM
gas sand
951-955
?
oil sand
Ingling
#1 Mark
SE SE NE
35-14S-1E
Dickinson
3/56
1219
2433-2440
MSSP
spots black solid hydrocarbon in residual chert
Augusta
#1 Eshelman
SE SW NE
21-14S-5E
Morris
8/55
1362
2130-2147
MSSP
spots light oil stain in residual chert
Woods
#1 Zahnley
SE SE SW
16-14S-8E
Morris
9/51
1532
649-663
?
gas sand
1850
SMPS
dark oil stain in limestone
1902-1911
SMPS
black oil stain in sandstone
2050
ABCK
spots oil stain in dolomite
Ingling
#1 Bogart
SE SE SW
33-15S-1E
Dickinson
12/54
1341
2628-2645
MSSP
dark oil stain in residual chert
Beardmore
#1 Book
SW SW SW
24-15S-2E
Dickinson
7/53
1272
2375-2388
MSSP
dead oil stain in residual chert
Cities Service
#1 Albrecht
NW NE NE
25-15S-4E
Dickinson
2/58
1338
2187
MSSP
dead oil stain in residual chert
Franks
#1 Nelson
SE SW
6-15S-7E
Morris
7/44
1419
2700-2740
SMPS
sandstone in part brown oil stained, in part asphaltic
F.H. Adair Oil
#1 Metcalfe
SE SE NE
34-15S-7E
Morris
8/59
1402
1390
LKNS
trace oil stain in limestone
Anderson-Prichard
#1 Lawrence
SW NE SE
35-15S-7E
Morris
11/59
1414
1335-1350
LANS
spotty to good oil stain in limestone
Fincher & West
#1 Jones
SW SW SE
10-16S-1E
Dickinson
9/54
1311
2590-2600
MSSP
spots dark oil stain in residual chert
Anderson-Prichard
#1 Engle
SE SE SW
24-16S-3E
Dickinson
12/55
1371
2785
MQKT
dark oil stain in dolomite
3000-3005
SMPS
dead oil stain in sandstone
El Dorado
#1 Keining
NW NW SE
5-16S-4E
Dickinson
6/53
1354
2276
MSSP
very slight oil stain in chert
Kramer
#1 Scully
NW NW SE
30-17S-3E
Marion
11/56
1416
2488
MSSP
spots dark oil at top of residual chert
Anderson-Prichard
#1 Scully "B"
NE NE SW
2-18S-2E
Marion
12/53
1478
2610
MSSP
spots dark oil stain in residual chert
Graves & Appleman
#1 Frick
NE NE NE
16-18S-2E
Marion
5/60
1410
2569-2590
MSSP
free oil in chert
---
Kansas Geological Survey
Placed on web May 17, 2010; originally published in 1988.
Comments to webadmin@kgs.ku.edu
The URL for this page is http://www.kgs.ku.edu/Publications/Bulletins/Sub10/index.html