Prev Page--Geologic Framework || Next Page--Hydrogeology
---
The study area is located on the northwestern flank of the Ozark dome and covers a portion of the Cherokee basin and the Bourbon arch in Kansas, Missouri, and Oklahoma (fig. 2). The regional dip is generally westward at 20 ft/mi except where geologic structures have altered the prevailing dip direction or amount. Fig. 3 is a map of the configuration of the top of the Lower Ordovician surface. This map should be used only to interpret broad regional structures because paleokarstic or other paleotopographic features that have resulted from erosion might be misinterpreted as geologic structure.
Figure 2--Regional geologic structures in vicinity of Tri-State region are Forest City basin (1), Nemaha ridge (2), Bourbon arch (3), Cherokee basin (4), and Ozark uplift (5).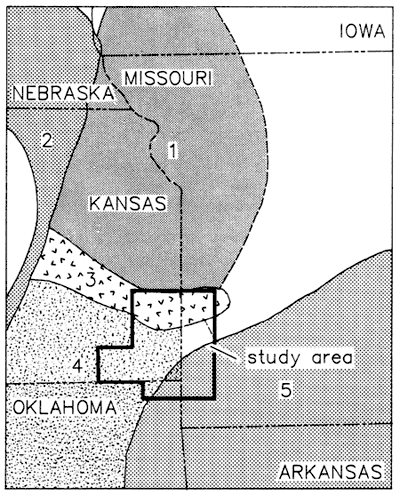 Figure 3--Configuration of top of Lower Ordovician Surface in Tri-State region of Kansas, Missouri, and Oklahoma.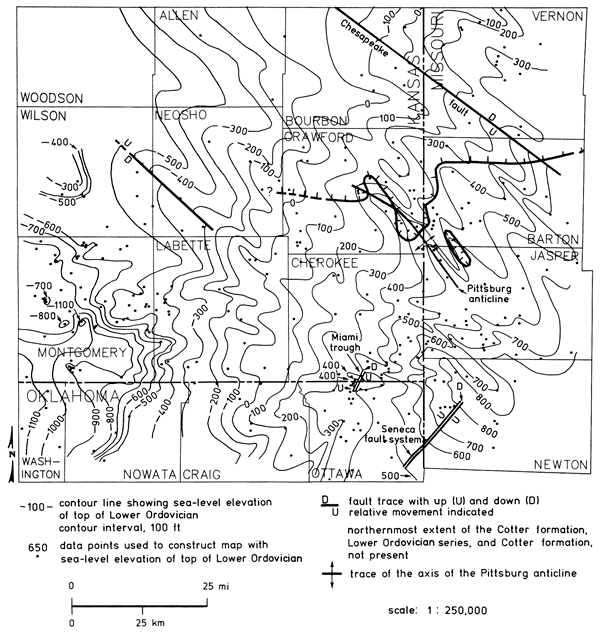 The most prominent features in the subsurface are northwest-southeast trending folds and faults (fig. 3). The folds are usually of short wavelength (2-5 mi [3-8 km]) and plunge in a northwesterly direction. Individual fold axes often can be traced in the subsurface for many miles. Faulting in the subsurface of southeast Kansas is probably high-angle, although no drill-hole information is available to substantiate this. However, two other major structures, the Miami trough in Kansas and Oklahoma and the Seneca fault in Oklahoma and Missouri, trend in a northeast-southwest direction.
The Bourbon arch is a broad, gentle uplift extending across all of Vernon County, Missouri, and across Bourbon and part of Allen counties in Kansas (fig. 2; Merriam, 1963). The southern edge of the Bourbon arch coincides approximately with the northern extent of the Cotter Formation in the subsurface (fig. 3).
Domes or domelike structures are common features locally in the subsurface of Montgomery and Labette counties, Kansas, and in northeast Oklahoma. Most of these domes are roughly circular features with 20 ft (6 m) to over 100 ft (30 m) of closure in the sedimentary section. They are produced by the draping of Paleozoic sedimentary rocks over Precambrian paleotopographic highs. These highs are abrupt postlike features on the Precambrian surface with as much as 600 ft (180 m) of vertical relief. The Cambrian-Ordovician section over many of these Precambrian highs is either thin or absent.
---
Prev Page--Geologic Framework || Next Page--Hydrogeology
Kansas Geological Survey, Geohydrology
Placed on web Sept. 1, 2010; originally published 1987.
Comments to webadmin@kgs.ku.edu
The URL for this page is http://www.kgs.ku.edu/Publications/Bulletins/GW9/04_stru.html