---
by O. S. Fent
Prepared by the State Geological Survey of Kansas and the United States Geological Survey, with the cooperation of the Division of Sanitation of the Kansas State Board of Health and the Division of Water Resources of the Kansas State Board of Agriculture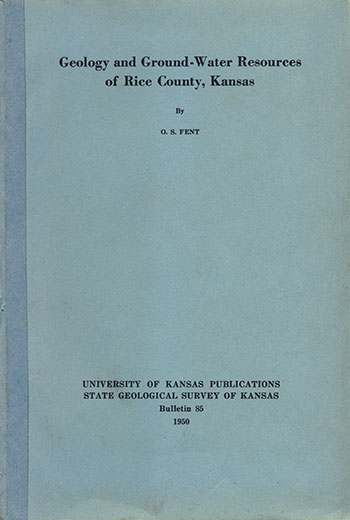 Originally published in 1950 as Kansas Geological Survey Bulletin 85. This is, in general, the original text as published. An Acrobat PDF version (18 MB) is also available; plates available separately.
Abstract
This report describes the geography, geology, and ground-water resources of Rice County in central Kansas. The county has an area of about 721 square miles and had a population of 14,608 in 1945. The area lies in the Plains Border section of the Great Plains province and comprises dissected uplands and filled valleys that present low topographic relief. It is drained largely by Arkansas River and its tributaries. The average annual precipitation is about 26 inches. The mean annual temperature is about 56° F. Farming is the principal occupation, with wheat as the major crop. Small-scale irrigation is practiced on a few farms in dry years. Petroleum and salt are important mineral products.
All the exposed rocks in Rice County are of sedimentary origin, ranging in age from late Permian to Quaternary. A map showing the surface geology and cross sections showing the distribution of the unconsolidated material are included in this report. Pleistocene deposits of Nebraskan, Kansan, and Wisconsinan Ages reach a thickness of more than 200 feet and are composed mostly of unconsolidated material. Four major cycles of erosion and deposition are recorded in the Pleistocene rocks. The sand and gravel of the Pleistocene Series, and the sandstones of the Dakota formation and of the Kiowa shale of the Cretaceous System are the most important aquifers in the area. Descriptions of the ground-water conditions are given by formations and areas.
All public and industrial water supplies and most domestic, stock, and irrigation supplies are obtained from wells. The water is moderately hard to hard over most of the area. Water with a high chloride content is found in some of the Permian rocks, in deep Pleistocene channels, and in shallow deposits near points of disposal of highly mineralized industrial wastes.
Hydrologic and geologic data, which are the basis of this report, include records of 266 water wells, 64 test holes, chemical analyses of 43 samples of water, the determination of the chloride content of 89 samples of water, and periodic measurements of the water level in 22 observation wells.
---
Kansas Geological Survey, Geohydrology
Placed on web June 15, 2015; originally published July 1950.
Comments to webadmin@kgs.ku.edu
The URL for this page is http://www.kgs.ku.edu/Publications/Bulletins/85/index.html