Prev Page--Stratigraphy || Next Page--Petrology
---
Carbonate-cemented sandstone
Most exposures of carbonate-cemented sandstone are small and occur as groups of spheroidal concretions 20 feet or less in diameter. At several localities such concretions have prominant physiographic expression owing to the more rapid weathering and removal of the softer rocks enclosing the concretions. Of these perhaps the best known is "Rock City," a group of 200 or more sandstone concretions about 3 miles southwest of Minneapolis in Ottawa County (Bell, 1901; Schoewe et al., 1937). Shoewe (Schoewe et al., 1937, p. 181) made a detailed plane-table map of "Rock City," showing the elongate nature of the outcrop area and the linear strings of individual concretions, trending about N. 83° W. Similar linear groups of concretions occur elsewhere in central and north-central Kansas, but "Rock City" is better known because of its greater accessibility. In topographic position these features may be found along uplands, in stream valleys, and at the up-slope edges of terraces. They do not in themselves modify the topography.
Larger masses of carbonate-cemented sandstone form minor ledges along otherwise gentle slopes, or, if dissected by streams, they form steep-walled valleys. A lentil of dolomitic calcite-cemented sandstone in western Lincoln County (sec. 7, T. 12 S., R. 10 W.) is dissected by Wolf Creek and has been a popular picnic ground locally called "The Gorge." The sandstone cliffs in this area are more than 50 feet high and rise abruptly above a low terrace of Wolf Creek (Pl. 3B). The cliffs are characterized by many reentrants which are probably localized by differences in degree of cementation. The upper surfaces of the large masses are lowered chiefly by solution (Frye and Swineford, 1947 and in very few places does this sandstone hold up prominent hlls.
Plate 3--A, Water-worn surface and pothole in quartzite south of Arkansas River, sec. 17, T. 25 S., R. 37 W., Kearny County. B, Fifty-foot cliff of dolomite-cemented sandstoiie at site of Sylvan Grove quarry, sec. 7, T. 12 S., R. 10 W., Lincoln County. July 1946.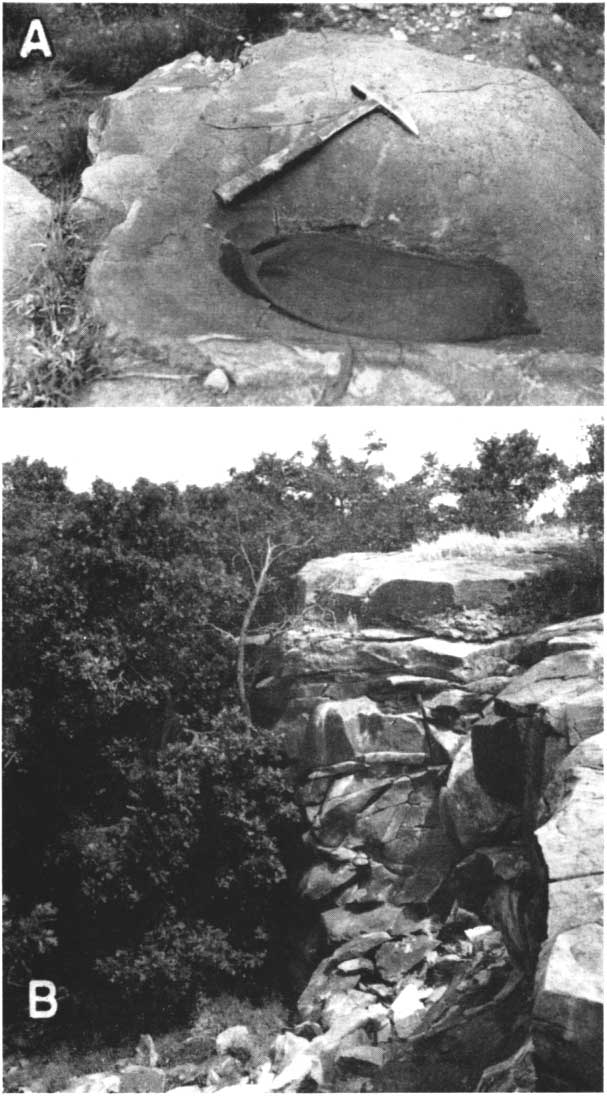 Silica-cemented sandstone
Silica-cemented sandstone is more resistant to corrosion and weathering, and in many areas caps rounded or conical hills. The largest of these are Twin Mounds in eastern McPherson County (NW cor. sec. 1, T. 18 S., R. 2 W.), at or near the tops of which are a few feet of quartzite (Pl. 1B). Quartzite caps part of a long ridge 3 miles west of Roxbury, McPherson County, which is underlain by calcite-cemented standstone (Pl. 4C). Quartzite in Kearny County (sec. 17, T. 25 S., R. 37 W.) forms a low ledge under coarse gravels near the Arkansas River. A few potholes are observed on the water-worn surface of this ledge (Pl. 3A).
Iron oxide-cemented sandstone
Ferruginous sandstone is ubiquitous in the Dakota and is responsible for the rugged topography characteristic of this formation in Kansas (Pl. 4A.). Plummer and Romary (1942, pp. 327-328) describe it as follows.
The more resistant sandstone caps the hills and covers the slopes with residual sand and slumped fragments. . . . In some places the coarser sandstone has the appearance of being relatively thin and horizontally persistent. This seems particularly true of sandstone that caps a series of hills. Where such occurrences have been studied in detail, it was found that the capping sandstone occupies different stratigraphic positions, although the dark, case-hardened sandstone on the hill top has the appearance of being thin, horizontally persistent "sheets."
Plate 4--A, Hills of the Dakota formation capped by ferruginous sandstone, sec. 14, T. 15 S., R. 6 W., Ellsworth County, looking southeast from Highway U. S. 40. B, Erosion remnants of ferruginous sandstone in S2 sec. 4, T. 13 S., R. 11 W., near "Rocktown," Russell County; upper parts cemented by hematite, lower parts by limonite. C, South end of hill of calcite-cemented sandstone capped with quartzite; sec. 25, T. 17 S., R. 2 W., McPherson County.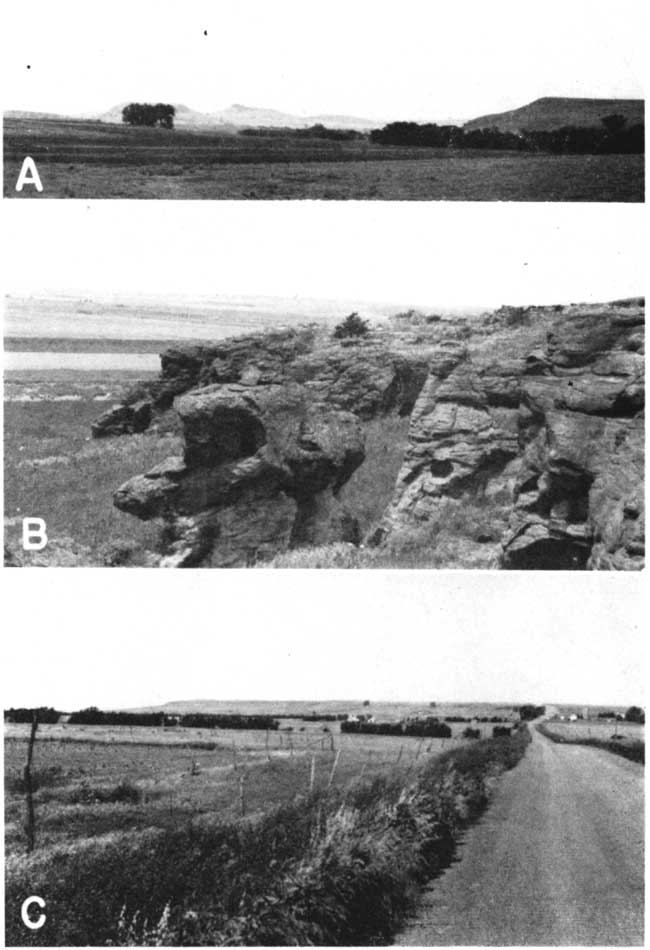 Rubey and Bass (1925, pp. 57-64) describe and illustrate the weathering of upper sandstones of the Dakota into groups of "hoodoos," isolated irregular cones or blocks 5 to 15 feet high and resulting from slight irregularities in cementation. The cementing material is iron oxide. These groups of "hoodoos" are known as Rocktown, and are situated in the NW sec. 4, T. 13 S., R. 11 W. Plate 4B shows similar erosion remnants in the southern part of the same section. The upper parts of these blocks are cemented with hematite, and the lower parts with limonite.
Relative resistance to weathering and erosion
Resistance to weathering is greatest in the quartzite and least in the carbonate-cemented sandstones, which are more readily dissolved by rain water. The ferruginous (limonitic) sandstones, because of their tendency to case-harden, are intermediate in resistance.
The quartzite is probably most resistant to stream erosion, although a good opportunity for comparison did not present itself. A cut-bank in a small stream in the SW SW sec. 28, T. 18 S., R. 7 W., Rice County, shows the relative resistance of calcite- and iron oxide-cemented sandstones to stream action. In this exposure thin lenses (less than 3 inches thick) of calcite-cemented sandstone protrude as much as a foot beyond dark-brown ferruginous sandstone (Pl. 2A), which has been case-hardened only at the top.
---
Prev Page--Stratigraphy || Next Page--Petrology
Kansas Geological Survey, Geology
Placed on web June 14, 2007; originally published Nov. 1947.
Comments to webadmin@kgs.ku.edu
The URL for this page is http://www.kgs.ku.edu/Publications/Bulletins/70_4/04_phys.html