Kansas Geological Survey, Bulletin 170, pt. 4, originally published in 1964
---
Activities of the Kansas Basement Rocks Committee in 1963 and Additional Precambrian Wells
by Virgil B. Cole, Daniel F. Merriam, and William W. Hambleton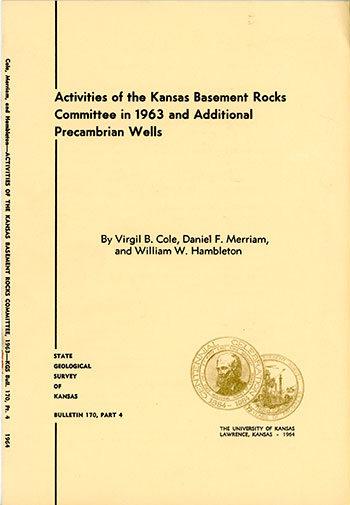 Originally published in 1964 as Kansas Geological Survey Bulletin 170, pt. 4. This is, in general, the original text as published. The information has not been updated. An Acrobat PDF version (3.1 MB) is also available.
Abstract
A total of 63 wells drilled in Kansas during 1963 encountered buried Precambrian rock. Information on these wells, a list of completed projects, and the status of current projects of the Kansas Geological Society's Basement Rocks Committee are included in this report. The total number of wells known to have been drilled into Precambrian rocks in Kansas at the end of 1963 is approximately 2,400.
Introduction
The Kansas Basement Rocks Committee was organized in 1958 in order to promote interest in Precambrian studies and to collect and preserve data on Precambrian rocks in Kansas. It functions under the auspices of the Kansas Geological Society in cooperation with the Kansas Geological Survey, with Virgil B. Cole as chairman. Much effort has been put forth to catalog all wells in the State that reached the Precambrian basement and to locate the well cuttings or cores taken from these wells. The task has been great, because to date almost 2,400 wells have encountered basement rock. This function of the Committee is nearly complete and the second phase—that of interpretation of the accumulated data—is underway.
This report is the third in a series of publications listing additions to the original list of wells, issued in 1961 as Bulletin 150 of the Kansas Geological Survey.
The Precambrian basement is of interest and importance for several reasons: (1) An understanding of the cause of geologic and tectonic developments now observable in the sedimentary rocks may be enhanced by more complete knowledge of the basement rocks. (2) Ore deposits of commercial value are known to occur in Precambrian rocks in areas surrounding Kansas, and there is no reason to doubt that similar ore deposits underlie Kansas. The search for buried ore deposits is extremely difficult, and it is best undertaken by geophysical investigations. The presence of the important iron ore deposits now being developed at Pea Ridge, Missouri, was indicated by geophysical tests. Petroleum is known to occur in weathered and fractured Precambrian rocks, especially along the Central Kansas Uplift. (3) Seismic investigations, involving the study of frequency dispersion of surface waves from quarry blasts and earthquakes, and gravity investigations, involving the measurement of very small changes in the earth's gravity field, have yielded significant information about basement rocks and depth to the Moho discontinuity.
The object of the basement investigations is twofold: to aid in the interpretation of the complex history of these rocks and the unraveling of subsequent geologic history, and to aid in the exploration for hidden mineral wealth. It is hoped that the dissemination of the collected data will benefit all serious students of Precambrian geology.
Acknowledgments
We would like to thank all companies and individuals who have supplied and checked information. Other members of the Committee, L. H. Cornell, P. C. Franks, P. L. Hilpman, and R. P. Lehman, have helped in various ways. A list of Precambrian wells maintained by the Kansas Survey's Oil and Gas Division, from information supplied by Data, Incorporated, and other sources, was helpful in preparing this report.
We would especially like to thank J. L. Kulp, of the Lamont Geological Observatory of Columbia University, and S. S. Goldich, of the U. S. Geological Survey, for age determinations performed on some Kansas core samples. E. G. Lidiak and R. E. Denison have coordinated with our work that of the Basement Rocks Project, directed by W. R. Muehlberger and supported by the Advanced Research Projects Agency. The U. S. Geological Survey, through the courtesy of H. C. Wagner, furnished the physical property analyses of Kansas rock samples. R. W. Scott, of The University of Kansas, has contributed information and graciously checked data on individual wells.
Projects of the Committee
Several projects under the sponsorship of the Committee have been completed. The following reports have been published and are available:
Wells Drilled Into Precambrian Rock in Kansas, by V. B. Cole, D. F. Merriam, P. C. Franks, W. W. Hambleton, and P. L. Hilpman: Kansas Geol. Survey, Bull. 150, p. 1- 169, 1961. [available online]
Distribution of Precambrian Basement Rock Types in Kansas, by D. F. Merriam, V. B. Cole, and W. W. Hambleton: Am. Assoc. Petroleum Geologists, Bull., v. 45, no. 12, p. 2018-2024, 1961.
Configuration of Precambrian Basement Rocks in Kansas, by V. B. Cole: Kansas Geol. Survey, Oil and Gas Inv. 26, map, 1962. [available online]
Progress Report of the Kansas Basement Rocks Committee and Additional Precambrian Wells, by V. B. Cole and D. F. Merriam: Kansas Geol. Survey, Bull. 157, pt. 2, p. 1-11, 1962. [available online]
History of Precambrian Studies in Kansas, by D. F. Merriam: Kansas Acad. Sci. Trans., v. 65, no. 4, p. 433- 447, 1962.
Kansas Basement Rocks Committee Report for 1962 and Additional Precambrian Wells, by V. B. Cole, D. F. Merriam, and W. W. Hambleton: Kansas Geol. Survey, Bull. 165, pt. 4, p. 1-10, 1963. [available online]
These publications, for the most part, report only interim progress, and many aspects of the basement rocks need to be studied in greater detail.
Presently, several projects of the Committee are being completed. A list of wells producing from Precambrian rock has been compiled. The petrology of the basement rocks, as well as the overlying rocks, is being investigated in detail. The contact between the basement and the overlying Paleozoic rocks was cored in two wells in northwestern Kansas, and a study of this contact is the subject of a report soon to be published in a Kansas Geological Survey Bulletin.
For ease in updating data, the Precambrian well information will be transferred to punch cards as soon as possible. Keeping the list of wells current will be facilitated by data storage and retrieval methods utilizing high-speed electronic computers.
It is difficult to collect information and would be impossible without the cooperation of the petroleum industry in Kansas. Donations of Precambrian well cores or samples to the Committee are welcomed. Information on the Precambrian in Kansas is on file in the offices of the State Geological Survey of Kansas at The University of Kansas, Lawrence, and is available to anyone upon request.
History of Precambrian Tests
Few wells were drilled to the Precambrian before 1935, but since that time information has accumulated rapidly (Fig. 1). Since 1940, more than 50 wells to basement rock have been reported every year, and more than 100 wells were drilled to the basement in two of those years. This increase in basement wells, in spite of a decrease in explorational drilling, reflects the use of Precambrian and lower Paleozoic rocks for the permanent disposal of produced brines (E. D. Goebel, personal communication). Until the organization of this Committee in 1958 by the Kansas Geological Society, no serious attempt was made to assemble and preserve the information systematically.
Figure 1—Number of tests recorded as encountering Precambrian rocks in Kansas, by year.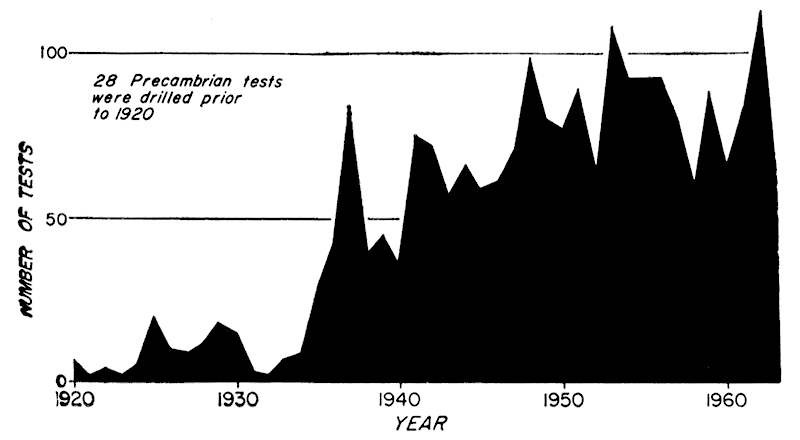 As more information accumulated, maps showing configuration of the basement surface improved in quality and included more of the State. Several maps showing configuration of the Precambrian surface have been published, and each map is an improvement over the preceding publication. The latest map, utilizing 2,200 wells, was prepared by V. B. Cole in 1962. All major late Paleozoic structural features in Kansas are recognizable on a map showing the surface configuration of the Precambrian basement (Fig. 2).
Figure 2—Maps showing: A, Configuration of buried Precambrian surface in Kansas (based on V. B. Cole, 1962, Configuration of top of Precambrian basement rocks in Kansas: Kansas Geol. Survey, Oil and Gas Inv. 26, map). The three-dimensional effect of the map is achieved by dark and light lines; positive structural features, such as the Nemaha Anticline, and negative features, such as the Salina Basin, seem to stand out in relief. The faults trending northeast and northwest, are accented. The cartographic work was done under the direction of George F. Jenks, Department of Geography, The University of Kansas; B. Major late Paleozoic structural features.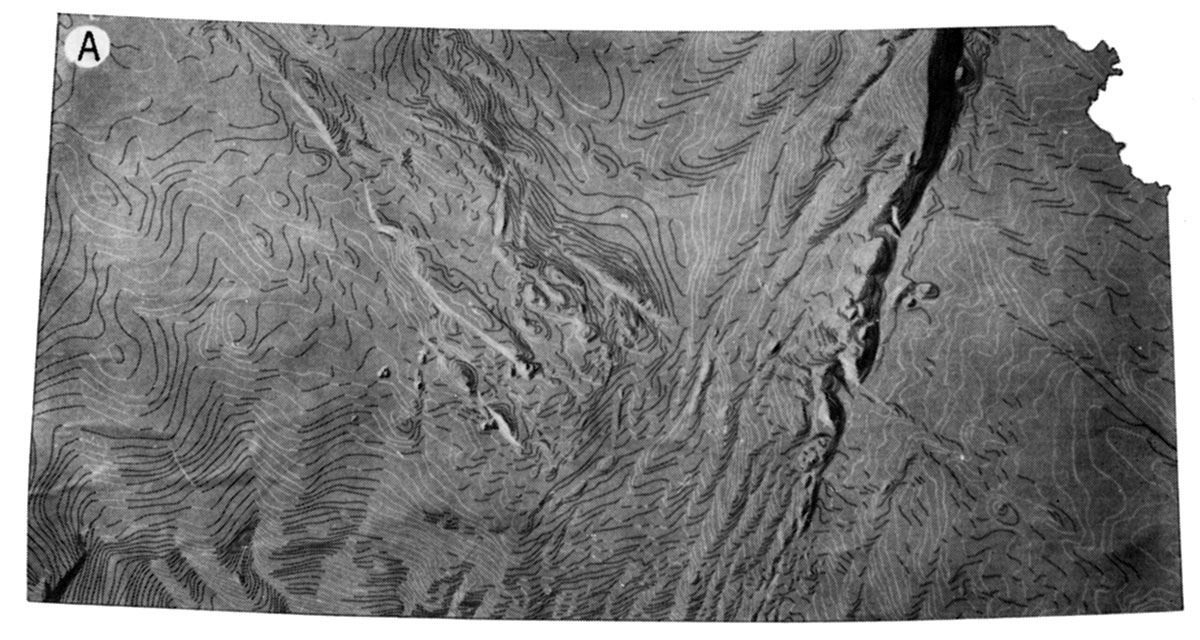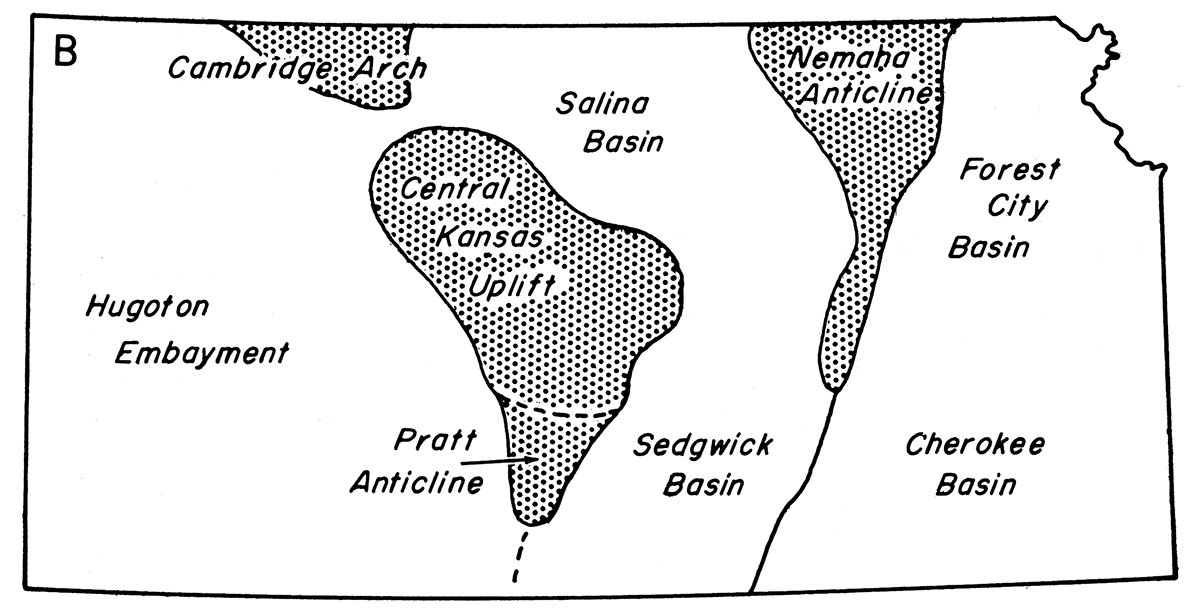 Age Dates, Magnetic Properties, and Densities
Several cores of Precambrian rock from Kansas have been dated by radioactivity methods, and the results are shown in Figure 3 at the well locations. These so-called "absolute" dates include those made by the potassium-argon and rubidium-strontium methods. Five of the dates (two in Rush County, two in Barton County, and one in Morris County) were reported by Cole, Merriam, and Hambleton in 1962. The results of six more age determinations are recorded here (Table 1).
Figure 3—Location of wells from which samples were obtained for dating by potassium-argon and rubidium-strontium methods. The age date in Woodson County is from granite exposed on Rose Dome. (Age of sample given in millions of years; age dates by rubidium-strontium in parens.)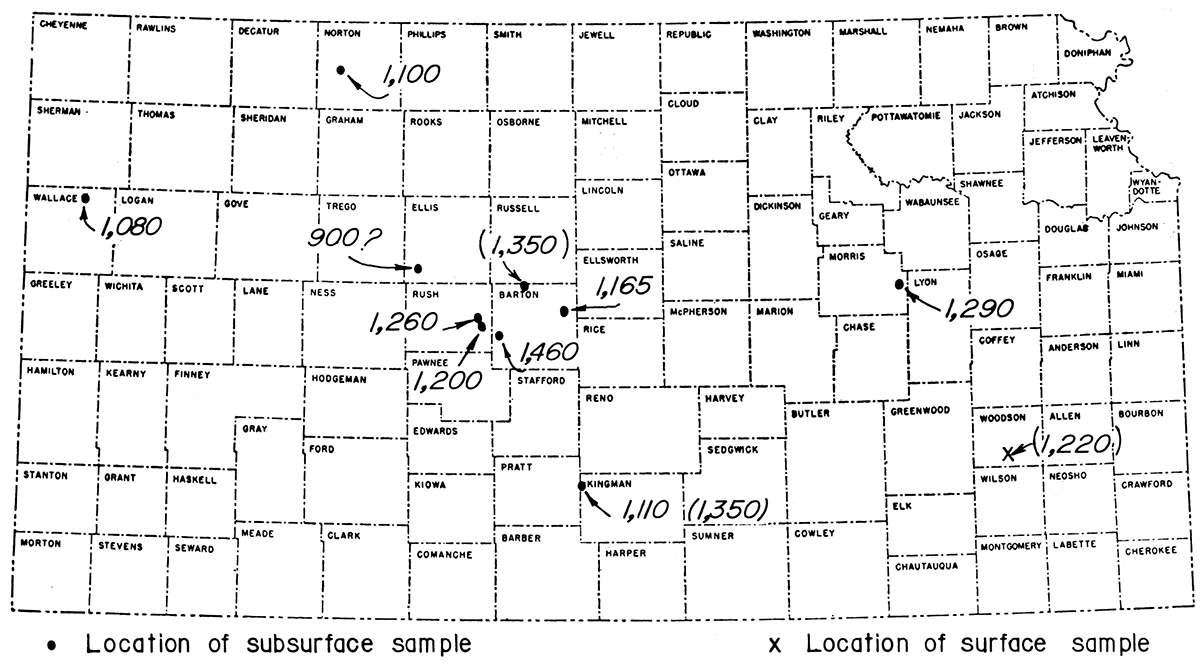 Table 1—Potassium-argon (K/A) and rubidium-strontium (R/S) dates of samples of Precambrian rocks from Kansas.
Well name
Location
County
Rock type
Age, millions of years
Derby
No. 4 Schoen
sec. 35, T 3 S, R 24 W
Norton
altered metamorphic pegmatite
1,100 (K/A)
quartz-feldspar schist
1,240 (K/A)
Sinclair Prairie
No. 2 Wallace
sec. 28, T 11 S, R 39 W
Wallace
hematitic biotite schist
1,080 (K/A)
Stanolind
No. 1 Wann
sec. 12, T 15 S, R 20 W
Ellis
altered granite gneiss
900? (K/A)
Shell
No. 4 Ehrlich
sec. 18, T 16 S, R 13 W
Barton
biotitic quartzite
1,350 (R/S)
Skelly
No. 1 "A" Miles
sec. 30, T 27 S, R 10 W
Kingman
chloritized granite
1,100 (K/A)
1,350 (R/S)
Rose Dome
(surface)
sec. 13, T 26 S, R 15 E
Woodson
granite
1,220 (R/S)
Of special interest is a well (Skelly No. 1 "A" Miles) in Kingman County, from which two age dates were obtained by different methods, one of 1,110 million years by the potassium-argon method on biotite, and one of 1,350 million years by the rubidium-strontium method on feldspar. The age date in Ellis County is probably erroneous because the sample was extensively weathered, altering the minerals used for dating (R. W. Scott, personal communication).
An age determination made on the granite exposed at Rose Dome, in Woodson County, yielded a Precambrian date, raising speculation on the age of the intrusive and the relationship of the intrusive and granite. The granite previously had been thought to be Tertiary in age, or no older than late Cretaceous.
Table 2 reports magnetic properties and densities determined by the United States Geological Survey for Precambrian rock samples from several Kansas wells.
Table 2—Magnctic properties and densities of Precambrian rock samples from Kansas.
Sample number*
Intensity, emu/cc
Susceptibility†
Density, g/cc
Rock type
1
1.35 × 10-5
.015 × 10-3
2.68
muscovite quartzite
2
too weak to measure
.015 × 10-3
2.60
biotite granite
3
too weak to measure
.012 × 10-3
2.35
rhyolite
4
1.35 × 10-4
.030 × 10-3
2.37
altered diabase
5
too weak to measure
.016 × 10-3
2.83
andalusite schist
6
too weak to measure
.012 × 10-3
2.39
altered granite gneiss
7
too weak to measure
.012 × 10-3
2.65
quartz-feldspathic schist
8
too weak to measure
.014 × 10-3
2.70
quartz-feldspathic schist
9
3.61 × 10-6
.015 × 10-3
2.58
gneissic biotite granite
Data, courtesy H. C. Wagner, Fuels Branch, U.S. Geol. Survey, Menlo Park, California.
*All samples are not oriented; sources of the samples are:
1. Skelly No. 6 "B" Buehler, sec. 33, T 18 S, R 10 W.
2. Skelly No. 1 "A" Miles, sec. 30, T 27 S. R 10 W.
3. Skelly No. 3 Miller. sec. 21. T 18 S, R 16 W.
4. Northern Natural No. 65 Otis, sec. 10, T 18 5, R 16 W.
5. Atlantic No. 10 "A" Patzner , sec. 36, T 17 S, R 11 W.
6. Stanolind No. 1 Wann, sec. 12, T 15 5, R 20 W.
7. Derby No. 4 Schoen, sec. 35, T 3 S, R 24 W.
8. Derby No. 4 Schoen, sec. 35, T 3 S, R 24 W.
9. Texas Trading No. 1 Probst, sec. 18, T 6 5, R 19 W.
† Susceptibilities are directional.
List of Precambrian Wells
Table 3 lists for each well the county, company and farm name, location, surface elevation, depth to Precambrian; Precambrian elevation and rock type, rock unit on basement, and total depth. The wells are arranged by township and range; west ranges are listed first. Information is presented in the same format as that used in earlier published lists.
These data have been collected from a variety of sources including electric and radioactivity logs, top cards, drillers logs, sample logs, and logs of the Kansas Sample Log Service. For verification, information was compared from at least two sources wherever possible. The list includes not only boreholes completed in 1963, but also some older wells inadvertently omitted from the previous lists. Additions to this list and corrections or omissions noted should be addressed to the State Geological Survey of Kansas.
All information has been forwarded to the American Association of Petroleum Geologists Basement Rocks Project Committee and to the Basement Rocks Project of the Advanced Re search Projects Agency.
Table 3—Additional boreholes drilled to Precambrian rocks in Kansas.
County
Company, well number,
and farm
Location
Surface
elevation,
feet
Depth to
Precambrian,
feet
Elevation of
Precambrian,
feet
Precambrian
rock type
Rock unit
on basement
Total depth,
feet
Norton
Pentagon
No. 1 Applegate
29-1S-24W
C SE SE
2429
3654
-1225
8 ft. granite
wash on granite
Pennsylvanian
3670
Decatur
Walker
No. 1 Knutson
11-1S-26W
E2 SW NW
2488
3605
-1117
granite
Reagan
3606
Decatur
Gulf
No. 1 Huff
16-1S-26W
C SW NW
2417
3516
-1099
granite
Pennsylvanian
3527
Decatur
Pubco
No. 1-8 Ackman-Green
8-1S-27W
C NE SE
2606
3657
-1051
17 ft. granite
wash on granite
Reagan
3680
Decatur
Burch
No. 1 Corcoran
28-1S-27W
C SE NE
2452
3550
-1098
31 ft. granite
wash on granite
Pennsylvanian
3600
Norton
D&D
No. 1 Brown
5-2S-23W
SW SW SW
2442
3722
-1280
granite
Reagan
3766
Norton
Pentagon
No. 1 Miller
30-2S-24W
C NE SE
2471
3750
-1279
granite wash
Reagan
3787
Norton
McLish & Petan
No. 1 Miller
31-2S-24W
C SE NW
2472
3745
-1273
63 ft. granite
wash on granite
Pennsylvanian
3809
Norton
Sauvage
No. 1 Preston
23-2S-25W
NW NW NW
2507
3786
-1279
7 ft. granite
wash on granite
Reagan
3825
Decatur
Waggoner Est.
No. 1 Helmkamp
6-2S-29W
C SW NE
2761
4411
-1650
14 ft. granite
wash on granite
Reagan
4445
Rawlins
Pan American
No. 1 Prochazka
2-2S-35W
C NW NE
3227
5082
-1855
weathered granite
Arbuckle
5104
Norton
Pentagon
No. 1 "B" Henderson
3-3S-23W
SW NW SW
2249
3550
-1301
granite wash
Reagan
3578
Norton
Pentagon
No. 1 Derks
4-3S-23W
C NW SE
2276
3576
-1300
granite
Reagan
3578
Norton
Martin & Keller
No. 1 Sleffel
7-4S-22W
C NE NE
2380
3846
-1466
granite
Reagan
3851
Norton
Hansen
No. 2 Dedrick
26-5S-21W
SE NE SW
2268
3768
-1500
22 ft. granite
wash on granite
Reagan
3793
Norton
Chief
No. 1 Armstrong
25-5S-22W
C NW NE
2264
3704
-1440
6 ft. granite
wash on granite
Pennsylvanian
3722
Rooks
Pratt & Leben
No. 1 Simons
14-6S-20W
SW SW NW
2174
3630
-1456
7 ft. granite
wash on granite
Pennsylvanian
3640
Graham
Continental
No. 14 Trexler (twin)
15-9S-21W
SE NE NW
2221
4096
-1875
granite wash
Arbuckle
4100
Russell
Sohio
No. 4 Cook
9-11S-15W
NE SW NW
1963
3471
-1508
granite wash
Pennsylvanian
3480
Ellis
Sinclair
No. 8 Slimmer (OWWO)
19-11S-16W
NW NE SW
1924
3947
-2023
granite wash
Arbuckle
3950
Russell
Home-Stake
No. 0-4 "B" Baxter
32-13S-15W
C SW SE
1907
3305
-1398
granite wash
Pennsylvanian
3324
Russell
Home-Stake
No. 0-17 "C" Mermis
32-13S-15W
C NW SE
1909
3353
-1444
granite wash
Reagan
3355
Russell
Meltzer
No. 2 "B" Mermis
32-13S-15W
S2 SE NW
1901
3309
-1408
granite wash
Pennsylvanian
3346
Russell
Home-Stake
No. 0-27 "G" Carter
33-13S-15W
C SE SW
1887
3291
-1404
granite wash
Pennsylvanian
3313
Russell
Leben
No. 1 Krug
9-14S-14W
S2 SW SE
1863
3282
-1419
granite wash
Pennsylvanian
3285
Russell
Leben
No. 3 Rusch
16-14S-14W
NW NE NW
1881
3298
-1417
granite wash
Pennsylvanian
3303
Russell
Home-Stake
No. 0-34 "E" Witt
3-14S-15W
C SE SW
1881
3314
-1433
granite wash
Pennsylvanian
3329
Russell
Home-Stake
No. 0-18 Dortland
4-14S-15W
C NW NW
1895
3292
-1397
granite wash
Pennsylvanian
3340
Russell
Home-Stake
No. 0-31 "P" Witt
4-14S-15W
C SE SW
1878
3267
-1389
granite wash
Pennsylvanian
3290
Russell
Home-Stake
No. 0-33 "D" Witt
4-14S-15W
C NE SE
1885
3279
-1394
granite wash
Pennsylvanian
3290
Russell
Home-Stake
No. 0-6 "B" Mermis
5-14S-15W
C NW NE
1905
3301
-1396
granite wash
Pennsylvanian
3316
Russell
Home-Stake
No. 0-21 Dortland
5-14S-15W
C NW SE
1895
3278
-1383
granite wash
Pennsylvanian
3287
Russell
Home-Stake
No. 0-22 Dortland
5-14S-15W
C SE NW
1886
3274
-1388
granite wash
Pennsylvanian
3281
Russell
Home-Stake
No. 0-25 "C" Baxter
5-14S-15W
C NW NW
1895
3290
-1395
granite wash
Pennsylvanian
3302
Russell
Home-Stake
No. 0-26 "B" Mermis
5-14S-15W
C SW NE
1901
3283
-1382
granite wash
Pennsylvanian
3294
Russell
Meltzer
No. 2 Dortland
5-14S-15W
C SE SE
1885
3267
-1382
granite wash
Pennsyl vanian
3276
Ellis
Petroleum Operating
No. 1 Younker (OWWO)
35-14S-19W
SW SW NE
2125
3990
-1865
granite
Reagan
3991
Barton
H-30
No. 4 "B" Schauf
1-16S-12W
SE SW SW
1900
3437
-1537
granite?
Arbuckle
3451
Barton
NCRA
No. 4 "A" Hofmeister (twin)
5-16S-12W
SW SW NW
1823
3218
-1395
quartzite
Pennsylvanian
3224
Rush
Frontier
No. 2 Lippert (twin)
19-16S-17W
SE NE SE
2025
3480
-1455
quartzite
Pennsylvanian
3518
Rush
Frontier
No. 1 Stramel
29-16S-17W
C SW NE
2033
3668
-1635
quartzite
Arbuckle
3676
Rush
Continental
No. 1 Suppes
19-16S-l8W
C NE SW
2052
3642
-1590
20 ft. granite
wash on granite
Reagan
3668
Barton
El Dorado
No. 5 Ehler
11-17S-11W
NE SE SE
1903
3544
-1641
quartzite
Arbuckle
3575
Barton
Raymond
No. 2 Evenson
33-17S-11W
NE SW NE
1803
3678
-1875
granite
Arbuckle
3714
Rush
Frontier
No. 1 Brack
5-17S-17W
C NE
2048
3580
-1532
granite wash
Pennsylvanian
3617
Rush
Frontier
No. 1 "A" Kleweno
16-17S-17W
C SW NE
2089
3576
-1487
granite wash
Pennsylvanian
3599
Rush
Continental
No. 1 Scheuerman
1-17S-18W
SE NW SE
2093
3643
-1550
21 ft. granite
wash on granite
Pennsylvanian
3668
Rice
Glickman
No. 1 Dohrman
22-18S-10W
NW SE NE
1751
3252
-1501
granite wash
Pennsylvanian
3275
Rice
Chief
No. 1 Sittner
28-18S-10W
N2 NE SW
1744
3238
-1494
quartzite
Pennsylvanian
3240
Rush
Morrison
No. 1 Weigt
17-18S-16W
NE SW NE
1944
3457
-1513
28 ft. granite
wash on quartzite
Pennsylvanian
3489
Rush
Morrison
No. 2 Schneider
17-18S-16W
NE NE SW
1950
3505
-1555
granite wash
Pennsylvanian
3511
Rush
Morrison
No. 2 Pechanec
18-18S-16W
SE NE NW
1952
3522
-1570
granite
Pennsylvanian
3529
Rush
Petroleum, Inc.
No. 1 Crotinger
12-18S-17W
NE SW SE
1959
3554
-1595
6 ft. granite
wash on granite
Reagan
3564
Stafford
Virginia
No. 2 Mueller (OWWO)
29-21S-12W
S2 NW SE
1862
4220±
-2358±
granite
Arbuckle
4230
Pawnee
Alpine
No. 2 Blasi
2-21S-16W
NW SE SE
1983
4370
-2387
granite wash
Arbuckle
4378
Hodgeman
Pickrell
No. 1 Hollenbeck
13-21S-24W
C NW SE
2372
4777
-2405
rhyolite
Simpson
4804
Hodgeman
Texa
No. 1 Lippoldts
14-23S-23W
C SE NW
2294
5230
-2936
rhyolite
Arbuckle
5232
Marshall
Nelson
No. 1 Brown
29-1S-10E
S2 SE SE
1410
987
+423
9 ft. granite
wash on granite?
Lansing-Kansas City
1003
Marshall
Continental
No. 1 Neal
5-4S-8E
SW SE NE
1443
1624
-181
granite wash
Simpson
1715
Pottawatomie
Ransopher
No. 1 Washington Estate
7-9S-8E
Lot #13 NE cor.
1315
2337
-1022
granite
Simpson
2339
Marion
CRA
No. 33 Reamey
17-21S-4E
S2 NE SE
1373
3070
-1697
granite
Lamotte
3071
Marion
Watchorn
No. 26 Townsend
5-22S-4E
E2 NE SE
1426
3200?
-1774?
granite
Lamotte
3315
---
Kansas Geological Survey
Placed on web Dec. 7, 2018; originally published in August 1964.
Comments to webadmin@kgs.ku.edu
The URL for this page is http://www.kgs.ku.edu/Publications/Bulletins/170_4/index.html