Kansas Geological Survey, Bulletin 165, pt. 2, originally published in 1963
---
Sources of Error in Thermoluminescence Studies
by Jesse M. McNellis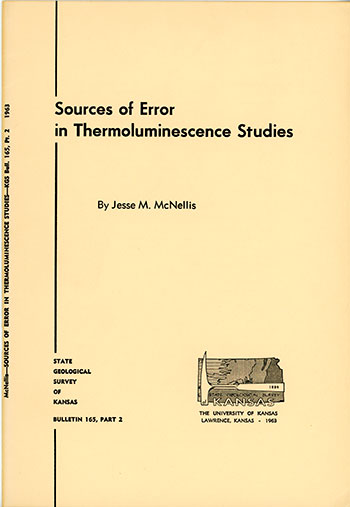 Originally published in 1963 as Kansas Geological Survey Bulletin 165, pt. 2. This is, in general, the original text as published. The information has not been updated.
Abstract
Controlled sampling techniques were applied to a small block of limestone from which solid samples and three grain-size fractions were examined. Data from artificial and natural glow curves were analyzed graphically and statistically.
The most satisfactory grain size for future thermoluminescence studies was found to range from 74 to 125 microns. Significantly more thermoluminescence was obtained from samples heated in a nitrogen atmosphere because the filtering effect of oxidized iron was eliminated. After elimination of the filtering effect, iron still inhibited thermoluminescence. The reliability of the nitrogen atmosphere glow curves was approximately equal to that of the normal atmosphere glow curves. Lateral and vertical variations exist in the limestone within short distances and are thought to be dependent primarily upon the trace element content of the material examined.
Available as an Acrobat PDF file
---
Kansas Geological Survey
Placed on web Nov. 30, 2018; originally published in December 1963.
Comments to webadmin@kgs.ku.edu
The URL for this page is http://www.kgs.ku.edu/Publications/Bulletins/165_2/index.html