Stratigraphy, Depositional Environments and Coalbed Methane Resources of Cherokee Group Coals (Middle Pennsylvanian)--Southeastern Kansas


Kansas Geological Survey
Open-file Report 2003-28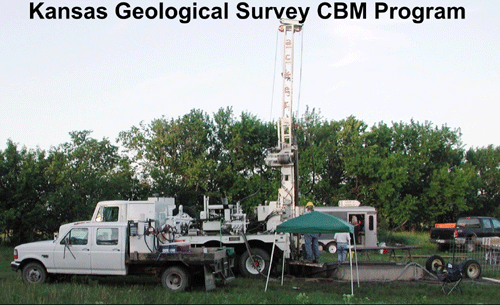 The Kansas Geological Survey plans on continuing the research of Middle Pennsylvanian coalbed methane resources throughout eastern Kansas. Masters thesis work for the Bourbon arch is in progress, while thesis work for the Forest City basin and along the Nemaha ridge will start in the near future.
Conclusions
Thicker and laterally extensive coals develop toward the end of
the transgressive systems tract and beginning of the highstand systems tract.

The Mulky coal is associated with marine carbonate sediments,
which explain its tendency to be a carbonaceous shale or high- ash coal.

The geometry, orientation and associated depositional
environments of the Weir-Pittsburg coal is interpreted as a mire on a coastal plain environment.

The Riverton coal is interpreted to have accumulated in raised and low-lying mires above marsh and lake environments
associated with the karstic Mississippian limestone lows. The Riverton coal thickens into Mississippian lows and thins on highs.

Based on preliminary gas isotopic analysis, Cherokee basin
coal gas samples represent a mixed thermogenic and microbial origin.

Preliminary desorption data indicates that coals of the central
part of the Cherokee basin have higher methane contents than coals at the margins of the basin.
References
Aitken, J. F., 1994, Coal in a sequence stratigraphic framework: Geoscientist, Vol. 4, no.5, p. 9-12.
Bostic, J., Brady, L., Howes, M., Burchett, R., and Pierce, B.S., 1993, Investigation of the coal properties and the potential for coal-bed methane in the Forest City basin: U.S. Geological Survey, Open-File Report 93-576, 44 p.
Flores, R. M., 1993, Coal-bed related depositional environments in methane gas producing sequences: AAPG Studies in Geology Series, no. 38, p. 13-37.
Ham, W. E., and Wilson, J. L., 1967, Paleozoic epeirogeny and orogeny in the central United States, in Symposium on the chronology of tectonic movements in the United States: American Journal of Science, Vol. 265, no. 5, p. 332-407.
Jenden, P.D., Newell, K.D., Kaplan, I.R., and Watney, W.L., 1988, Composition and stable isotope geochemistry of natural gases from Kansas, Midcontinent, U.S.A.: Chemical Geology, v. 71, p. 117-147.
McCabe, P. J., 1984, Depositional models of coal and coal-bearing strata. In: Rahmani, R. A. & Flores, R. M., (eds) Sedimentology of coal and coal-Bearing sequences: International Association of Sedimentologists, Special Publication, 7, p. 13-42.
McCabe, P. J., 1991, Geology of coal; Environments of deposition, in Gluskoter, H. J.,Rice, D.D., and Taylor, R. B., eds., Economic Geology, U. S.: Boulder, CO, Geological Society of America, The Geology of North America, Vol. P-2, p. 469-482.
McCabe, P. J., and Parrish, J. T., 1992, Tectonic and climatic controls on the distributionand quality of Cretaceous coals. In: McCabe, P. J. & Parrish, J. T. (eds) Controls on the Distribution and Quality of Cretaceous Coals, Geological Society ofmerica, Boulder, Special Paper, 267, p. 1-16.
Moore, G. H., 1979, Pennsylvanian paleogeography of the southern mid-continent, in Hyne, N. J., ed., Pennsylvanian sandstones of the mid-continent: Tulsa Geological Society Special Publication 1, p. 2-12.
Saueraker, P. R., 1966, Solution features in southeastern Kansas: The Compass, Vol. 43, no 2, p. 109-128.
Staton, M. D., 1987, Stratigraphy and depositional environments of the Cherokee Group (Middle Pennsylvanian) central Cherokee basin, southeastern Kansas: unpublished masters thesis, University of Kansas, 102 p.
Acknowledgments
I would like to thank the Kansas Geological Survey for providing funding for this project as a
part of my Masters research. I would also like to specifically thank Jim Stegeman of Colt Energy, and Devon Energy for providing log data, Larry Brady and Diane Kamola for insight, and Patricia Acker for graphical support.
| | |
| --- | --- |
| | |
e-mail : webadmin@kgs.ku.edu
Last updated May 2003
http://www.kgs.ku.edu/PRS/publication/2003/ofr2003-28/P3-07.html