Prev Page--Introduction || Next Page--Geology
---
Topography and Drainage
The Grant-Stanton area is a relatively flat plain which lies in the High Plains Phvsiographic Province (Fenneman, 1931; Schoewe, 1949). The plain has an upward slope of about 8 feet per mile from the Crooked Creek area in Meade County to a point near Johnson in Stanton County. The slope of the plain increases from 8 to 22 feet per mile near Johnson and maintains this slope to the Colorado line. Narrow, shallow, flat-bottomed valleys extend from Colorado on the west to the more level plain east of Johnson.
The area is drained by Bear Creek and the Cimarron River and its tributaries, the North Fork Cimarron River, Sandy Arroyo, and Lakin Draw (Pl. 1). The Cimarron River and all its tributaries are intermittent throughout Grant and Stanton counties. Small Springs south of Ulysses flow during wet periods.
The main Bear Creek channel contains water throughout the year in its upper reaches in western Stanton County. Throughout the rest of its course in Kansas, Bear Creek is an ephemeral stream, as is Little Bear Creek.
The southern part of Grant County is deeply dissected by the Cimarron and North Fork Cimarron rivers. Bluffs from 120 to 180 feet above the flood plain extend along both sides of the Cimarron River and are dissected by numerous deep, short draws.
The lowest point in the area is on the Cimarron River where it flows out of Grant County and is 2,820 feet above sea level. The highest point is near the junction of U. S. Highway 160 and the Colorado line and is 3,700 feet above sea level.
The sand dunes in northeastern Grant County are the southern edge of an extensive dune complex along the south side of the Arkansas River (Pl. 1). One of the major dune belts extends for about 19 miles along the south side of Bear Creek in central Stanton County (Latta, 1941). The dunes are relatively stable at the present time, and most of them are covered with some type of vegetation.
Several small undrained areas are found in the counties. One of these depressions is in sec. 32, T. 28 S., R. 38 W. in Grant County.
Climate
The climate of the Grant-Stanton area is semiarid, characterized by low precipitation and low relative humidity, with wide diurnal and seasonal ranges in temperature. The normal annual precipitation is 17.24 inches at Ulysses and 15.03 inches at Johnson. Most of the precipitation occurs during the summer. The annual precipitation for the period 1890-1960 is shown in Figure 3. Grant County is usually frost-free from about April 27, to October 16 and Stanton County from April 28 to October 19.
Figure 3--Annual precipitation (in inches) at Ulysses, Grant County (upper graph), and Johnson, Stanton County (lower graph). Data from Weather Bureau, U.S. Dept. of Commerce.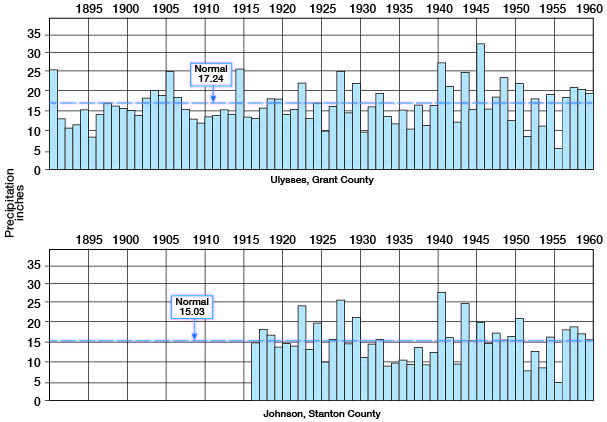 Agriculture
There were 3800,000 acres of farm crops harvested in the area in 1960. The principal crops as reported by the Kansas State Board of Agriculture were wheat and grain sorghums. Beef cattle are raised in the area, and the pasturing of cattle and sheep on winter wheat and fallow land is a major secondary source of income to the farmers. Some cattle are fattened for market in farm feed lots, but no large commercial lots are operating in the two counties. Grant County farmers harvested about 173,450 acres of crops in 1960, of which about 81,000 acres were irrigated. About 214,560 acres were harvested in Stanton County, of which about 68,000 were irrigated. Essentially all of the water used for irrigation in both counties was supplied from ground water.
[From the KU Institute for Policy and Social Research: In 2002, Grant County had 302,052 acres farmed, with 34% irrigated. Stanton County had 435,203 acres in farms, with 28% irrigated.]
Mineral Resources
Except for the large quantities of ground water pumped for irrigation, natural gas is the principal mineral resource. Parts of Grant and Stanton counties are within the Hugoton Gas Field. About 115 billion cubic feet of natural gas was produced in 1960. Total crude oil production for both counties was 41,000 barrels in 1960. The initial production of crude oil in Stanton County was in 1954 and that in Grant County was in 1959.
[From the Kansas Geological Survey: In 2006, Grant County produced 300,945 barrels of oil and 44,045,341 mcf of gas. Stanton County produced 277,189 barrels of oil and 15,643,898 mcf of gas.]
Sand and gravel pits in deposits of Pleistocene age are found throughout the area (Pl. 1). Production from these pits varies with the local demand and is used for road metal, concrete aggregate, and for gravel packing in water wells. Volcanic ash is mined from open pits for use as fines in asphalt paving mix aggregate.
---
Prev Page--Introduction || Next Page--Geology
Kansas Geological Survey, Geology
Placed on web July 17, 2007; originally published December 1964.
Comments to webadmin@kgs.ku.edu
The URL for this page is http://www.kgs.ku.edu/General/Geology/Stanton/03_geog.html