---
By Charles W. Lane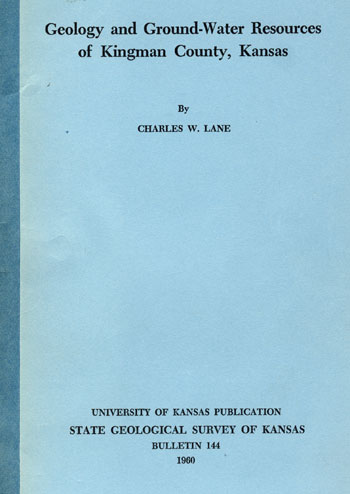 Originally published in 1960 as Kansas Geological Survey Bulletin 144. This is, in general, the original text as published. The information has not been updated.
You may also wish to visit our web site on the Kingman County geologic map.
Abstract
Kingman County, which covers about 864 square miles in the south-central part of Kansas, lies in the High Plains and Red Hills sections of the Great Plains physiographic province. The population of the county in 1955 was 10,857, of which 69 percent was rural. Small-grain farming and livestock raising are the principal occupations. The climate of the county is subhumid, the normal annual rainfall being 29.28 inches and the annual mean temperature 57.9° F.
The rocks that crop out in the county are sedimentary and range in age from Permian to Recent. The Ninnescah Shale of Permian age is the oldest rock cropping out in the county. Most of the county is underlain by unconsolidated deposits of silt, sand, and gravel of Pleistocene age, which were deposited by southeastward-flowing streams. Deposits of the four major stages of the Pleistocene are present in the county. A list of early Pleistocene fossil mollusks collected at two localities in the county is given.
Ground water is one of the most important natural resources of Kingman County. All domestic, municipal, industrial, and most stock and irrigation water supplies in the county are derived from ground water. Withdrawal of ground water for all uses in the county is estimated to be about 5,600 acre-feet per year. The principal aquifer in the county is the Holdrege Formation of late Nebraskan age. The Grand Island Formation of late Kansan age is capable of yielding large water supplies in the western part of the county and is utilized in that area. In the eastern part of the county, where Permian rocks are near the surface, small water supplies for stock and domestic use are generally available from the weathered zone in these rocks. The ground water in the county is moderately hard but satisfactory for most uses, except where water containing excessive sodium chloride infiltrates the aquifer from South Fork of Ninnescah River and where, in the extreme southeastern corner of the county, water from the Permian rocks contains much chloride and sulfate.
The ground-water reservoir in the county is recharged by precipitation within the county and by subsurface inflow along the western and northwestern borders of the county. The general direction of ground-water movement is eastward but toward the major streams. Ground water is discharged principally by evaporation and transpiration in the stream valleys and by seepage into the streams. Discharge by wells and subsurface outflow account for only a small part of the ground-water discharge.
The field data upon which this report is based include records of 79 wells, chemical analyses of water from 21 wells, 2 springs, and 2 rivers, and logs of 247 test holes, 7 wells, and 30 oil-well tests.
---
Kansas Geological Survey, Geology
Placed on web Sept. 8, 2008; originally published March 1960.
Comments to webadmin@kgs.ku.edu
The URL for this page is http://www.kgs.ku.edu/General/Geology/Kingman/index.html