A Place to Visit

Butcher Falls

Chautauqua County,
Kansas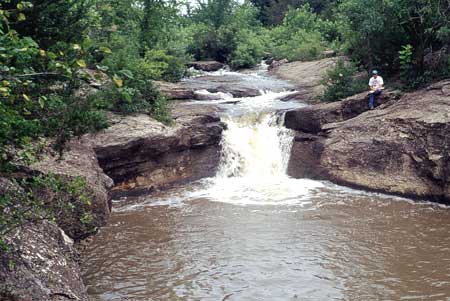 Butcher Falls is a scenic, serene spot northwest of Sedan in Chautauqua County. Here, water from Middle Caney Creek drops about 10 feet over rounded knobs of the Plattsmouth Limestone Member of the Oread Limestone. Butcher Falls is on the Red Buffalo Ranch, a 9,000-acre spread owned by broadcaster and Kansas native Bill Kurtis. The ranch features hiking trails, wagon rides, and a rock sculpture by Lawrence artist Stan Herd. For more information, go to www.theredbuffalo.com. To get to Butcher Falls, drive about
1 mile northwest from Sedan on Kansas Highway 99, then turn west on the county road, which winds west and north about 2.2 miles and crosses Middle Caney Creek. Continue west for another half-mile. Butcher Falls is north of the road, the way marked by a trail.
Upcoming Events
Fall 2003
November 2–5, 2003, Geological Society of America (GSA) annual meeting, Seattle, WA (www.geosociety.org).
November 7–8, 2003, Kansas Environmental Education Conference, sponsored by the Kansas Association for Conservation & Environmental Education (KACEE). For information, contact Shari Wilson, conference manager (913-287-6879 or sharilea@kc.rr.com)

Kansas Geological Survey
1930 Constant Avenue, Campus West
Lawrence, Kansas
66047-3726
(785) 864-3965
Kansas Geological Survey Advisory Council
Dennis Clennan, Hutchinson

Alan DeGood, Wichita

Sharon Falk, Stafford

David Heinemann, Chair, Topeka

Mary Hubbard, Manhattan

Sheila Leiker-Page, Victoria

Larry McCants, Goodland

Melvin Minor, Stafford

Derek Schmidt, Independence

Sidney T. Warner, Cimarron

Hannes Zacharais, Olathe

William W. Hambleton, Emeritus Member, Lawrence

A. Scott Ritchie, KU Geology Assoc. Rep., Wichita
Editors: Liz Brosius, Robert Sawin, Rex Buchanan
Design: Jennifer Sims
The mission of the Kansas Geological Survey, operated by the University of Kansas in connection with its research and service program, is to conduct geological studies and research and to collect, correlate, preserve, and disseminate information leading to a better understanding of the geology of Kansas, with special emphasis on natural resources of economic value, water quality and quantity, and geologic hazards.
The Geology Extension program furthers the mission of the KGS by developing materials, projects, and services that communicate information about the geology of Kansas, the state's earth resources, and the products of the Kansas Geological Survey to the people of the state.