A Place to Visit

Coronado Heights

Saline County,
Kansas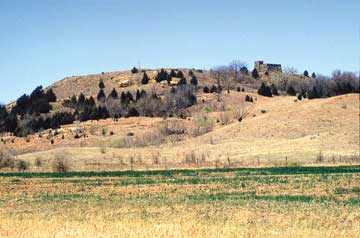 Towering more than 300 feet above the Smoky Hill River valley, Coronado Heights is on the southern end of a 4-mile chain of hills known as Smoky Hill Buttes, located just north of Lindsborg, Kansas, in Saline County (Lindsborg is actually in McPherson County). Capped by hard sandstones of the Dakota Formation that are more resistant to erosion than the softer underlying shales and sandstones, these hills are called erosional remnants—topographic features that remain standing above the landscape after the surrounding area has been reduced by erosion. (The Dakota Formation was deposited about 100 million years ago, during the Cretaceous Period.) Whether Coronado actually visited this site during his 1541 expedition to Kansas remains a topic of debate among historians. On top of Coronado Heights is a picnic area and castlelike building constructed of Dakota sandstone by the Work Projects Administration in the 1930's. To reach Coronado Heights from Lindsborg, drive west on Kansas Highway 4 to the west edge of town and turn north on 13th Avenue (this is Burma Road in Saline County) and follow the pavement 3 miles to Winchester Road (Coronado Heights Road in Saline County), which is the county line. Turn west and drive 1 mile to the park entrance on the north side of the road, just west of the Smoky Hill Cemetery. Follow the winding road to the top. From Interstate 135, use exit 78 near Bridgeport and follow Business U.S. 81/K-4 about 1 mile southwest to Coronado Heights (Winchester) Road, then turn west on the gravel road and drive 3.75 miles to the park entrance. Photo by John Charlton.

Kansas Geological Survey
1930 Constant Avenue, Campus West
Lawrence, Kansas
66047-3726
(785) 864-3965
Kansas Geological Survey Advisory Council
Dennis Clennan, Hutchinson

Sharon Falk, Stafford

Hubert H. Hall, Lecompton

David Heinemann, Chair, Topeka

Mary Hubbard, Manhattan

Sheila Leiker-Page, Victoria

Larry McCants, Goodland

Dennis McKinney, Greensburg

Larry J. Richardson, Wichita

Derek Schmidt, Independence

Sidney T. Warner, Cimarron

Hannes Zacharais, Olathe

William Hambleton, Emeritus Member, Lawrence

A. Scott Ritchie, KU Geology Assoc. Rep., Wichita
Editors: Liz Brosius, Robert Sawin, Rex Buchanan
Design: Jennifer Sims
The mission of the Kansas Geological Survey, operated by the University of Kansas in connection with its research and service program, is to conduct geological studies and research and to collect, correlate, preserve, and disseminate information leading to a better understanding of the geology of Kansas, with special emphasis on natural resources of economic value, water quality and quantity, and geologic hazards.
The Geology Extension program furthers the mission of the KGS by developing materials, projects, and services that communicate information about the geology of Kansas, the state's earth resources, and the products of the Kansas Geological Survey to the people of the state.