Salt PIC
Salt is an abundant and valuable natural resource in Kansas and is mined in Hutchinson, Lyons, and Kanopolis. A new Public Information Circular from the Kansas Geological Survey provides a brief history of salt production in Kansas, explains the geology of salt deposits, describes how salt is mined, and discusses environmental issues associated with salt deposits and salt mining in Kansas. Salt in Kansas (PIC 21) was written by Robert S. Sawin and Rex C. Buchanan and can be obtained free of charge by contacting Publications Sales at the KGS. These circulars also are available electronically through the Survey's web site (www.kgs.ku.edu).

Fossil Poster
Kansas rocks are full of fossils. Some of these fossils—mostly the remains of small, ocean-dwelling creatures—turn up fairly frequently in limestones and shales that crop out around the state. A new poster, Fossils of Kansas, highlights some of the more interesting or common fossils that have lived in this place we now call Kansas. The poster is a joint effort of the Kansas Geological Survey and the University of Kansas Natural History Museum (NHM).

Based on evidence from the fossil record, the poster depicts 29 animals and plants as they might have appeared in life. These reconstructions include a handful of common invertebrates (animals without backbones), such as crinoids, brachiopods, and ammonoids, which lived in the seas that intermittently covered Kansas during the Pennsylvanian and Permian Periods starting about 325 million years ago. Other ocean-dwellers include mosasaurs and plesiosaurs, huge swimming reptiles that preyed on other creatures in the Cretaceous seas, about 100 million years ago. More recent inhabitants of the state, such as the land-dwelling mammoths and mastodons that became extinct roughly 10,000 years ago, are also shown.

The reconstructions are arranged on a state geologic map near the localities where their fossils have been found. The poster's back side provides additional information: explanatory text about each of the animals and plants depicted, photographs of the fossils, a geologic time scale, and a brief introduction to Kansas fossils.

"For the last few decades, there has been both a public and educational demand for a poster to help Kansans understand and appreciate the spectacular fossil history of Kansas," said Jama Kolosick, director of public education at KU's NHM. "We hope anyone who is fascinated by fossils or loves Kansas history will enjoy this poster."

The artwork for the poster was created by KGS graphic artist Jennifer Sims, and the text was written by KGS assistant editor Liz Brosius and Kolosick. KGS photographer John Charlton photographed most of the fossils.

The full-color poster is 19 by 32 inches. The cost of the poster is $5.00, plus shipping and handling. Copies are available from the KGS (1930 Constant Ave., Lawrence, KS 66047-3726; phone: 785-864-2157; email: pubsales@kgs.ku.edu) and the NHM gift shop (1345 Jayhawk Blvd., Lawrence, KS 66045-7561; phone: 785-864-4450).
New
Publications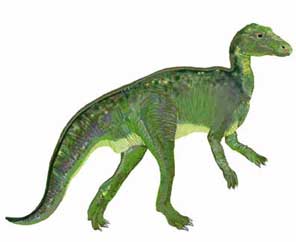 Duck-billed dinosaur (Claosaurus) from the Fossils of Kansas poster.