New Geologic Maps
Several new, full-color county geologic maps are now available from the Kansas Geological Survey. In some cases, the new maps show the geology in counties for which no detailed geologic map was previously available. In other cases, existing maps have been produced at different scales.

Geologic maps show the age and type of rock at the earth's surface and are useful in a variety of construction, engineering, and environmental purposes, along with providing basic geologic information.

A new geologic map of Leavenworth County, by Survey geologist James McCauley, is available for the first time. Even though Leavenworth County was among the first counties in the state to be studied by geologists in the 1860's, a detailed geologic map has never been completed before. McCauley's map is available at a scale of both 1:50,000 (so that one inch on the map equals about 0.8 miles of actual distance) and 1:100,000.

New geologic maps of Wyandotte County and Greenwood County have also been produced. The Wyandotte County map, by James McCauley, is only available at the 1:50,000 scale; the Greenwood County map, by Daniel Merriam, is available at both 1:50,000 and 1:100,000.

In addition, 1:100,000 scale maps are now available, for the first time, of the following counties: Montgomery, Chautauqua, Russell, Butler, Riley, and Ellis. The 1:50,000 scale county maps are $15.00 each; the 1:100,000 scale maps are $10.00. For more information, contact the Survey's Publications Sales office.
Kansas Landslides
In May of 1995, landslides destroyed two homes in Johnson County. That same month, a landslide near Manhattan closed McDowell Creek Road, eventually costing Riley County $880,000 to stabilize the slope and repair the road. Every year, Kansas landslides damage structures or dump debris on roads and railroad beds. Landslides in Kansas, by Survey geologist Greg Ohlmacher, describes what landslides are, what causes them, and how they can be prevented.

Copies of Landslides in Kansas (Public Information Circular 13) can be obtained free of charge by contacting Publications Sales at the KGS. These circulars also are available electronically through the Survey's World Wide Web site under Publications at www.kgs.ku.edu.
New
Publications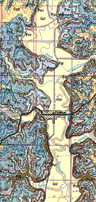 Segment of Leavenworth County
Geologic Map.
A bellowing Tyrannosaurus and a full-sized model of a swimming reptile called a mosasaur will greet visitors at the newly remodeled Sternberg Natural History Museum in Hays, which reopened March 13, 1999. Adjacent to Interstate 70 on the northeast edge of Hays, the Museum includes space for educational programs, research staff, and the museum's collection of several million specimens of fossils, plants, and animals, mostly from the Great Plains. But for most visitors, the highlight will be the reconstruction of life at the edge of the Cretaceous sea that covered western Kansas, roughly 80 million years ago.

The Sternberg Museum, a part of Fort Hays State University, is named after a famous fossil-hunting family that collected extensively from the Kansas Cretaceous. Many of their specimens will be on display at the Museum, including the famous fossilized fish-within-a-fish. There will be an admission charge to the new Museum and the staff expect to draw 150,000 visitors per year. For more information, visit the Museum's web site at www.fhsu.edu/sternberg.

Sternberg Museum Now Open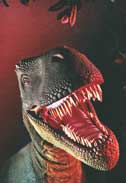 Tyrannosaurus