Chautauqua County Geologic Map
A new and detailed, full-color map of the geology of Chautauqua County is now available from the Kansas Geological Survey. Because geologic maps provide basic information about an area's geology, they are useful in construction and engineering projects, city and county planning, and a variety of environmental activities.
The Chautauqua County map was compiled by Dan Merriam of the KGS. Merriam and KGS director Lee Gerhard presented copies of the new map to the Chautauqua County Commissioners at a meeting in Sedan on January 23.
The map is at a scale of 1:50,000 (one inch equals about 0.8 of a mile). Copies of the new map are available for $15.00 plus tax and shipping from the KGS.
Climate and Weather Atlas
Weather and climate are important factors in the formation of the soils that are so important to an agricultural state like Kansas. A new publication from the Kansas Geological Survey, Climate and Weather Atlas of Kansas, uses maps of precipitation, average high and low temperatures, and the first and last frost-free days in Kansas to provide basic information on the weather and climate of Kansas. The publication also includes a map showing the state's weather stations, a glossary, and a list of suggested additional reading. The lead author is state climatologist Mary Knapp, of Kansas State University.
Climate and Weather Atlas of Kansas (Educational Series 12) is available from the KGS for $5 plus tax and shipping.
New
Publications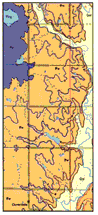 Segment of Chautauqua County Geologic Map.
The Kansas Earth Science Teachers Association and Kansas Geological Foundation have recognized Jim Clark, earth science teacher at Wichita North High School, with the 1995–96 Excellence in Kansas Earth Science Education Award. This award of $1,000, funded by the Kansas Geologicial Foundation, is given to an outstanding earth science teacher in grades K–12. The award was presented in December at the Kansas Geological Foundation's annual meeting in Wichita. Other finalists for the award were Sam Wine (Eureka High School), Dan Kuhlman (Eudora Middle School), Bob Pearce (Cherryvale Middle School), Patricia Baab (Maize High School), Vincent Coons (Iola High School), and Janice Harryman (Girard Middle School), who received publications from the Kansas Geological Survey.
Clark is the third recipient of the Excellence in Earth Science Eduation Award. Last year's winner was Randy Rose, earth science teacher at Blue Valley North High School in Overland Park.
Excellence in Earth Science Education Award