Field Development and Renewed Reservoir Characterization for CO2 Flooding of the Hall-Gurney Field, Central Kansas



Kansas Geological Survey
Open-file Report 2001-38
Pilot Well Configuration
Final configuration will be determined in the coming months. This figure shows one arrangement that has six producers, two CO2 injectors and five water injection containment wells. Smaller configurations are also being considered.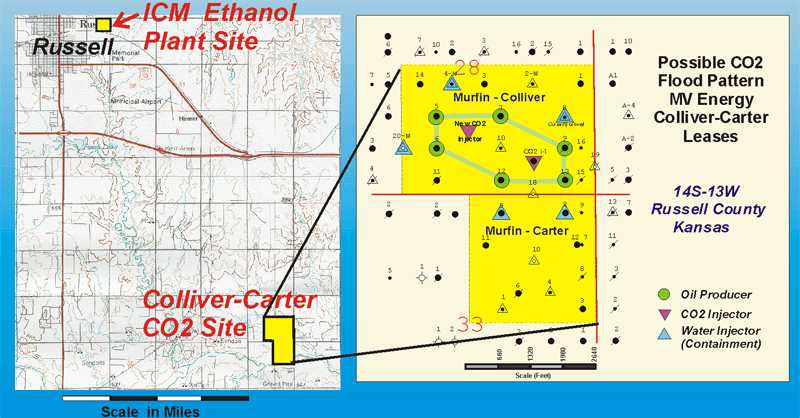 CO2 from Ethanol Plant
The initial plan for supplying CO2 to the demonstration project was to truck it 200 miles to the site as a chilled liquid from Guymon, Oklahoma. A recent and fortuitous development, the construction of a new ethanol plant in Russell, seven miles from the pilot site provides a close source of supply for the demonstration project, and possibly for small commercial floods in the area. ICM, Inc. the design-builder and co-owner of the ethanol plant has joined the project as a partner. The 25 million gallon per year ethanol plant will yield 200 tons (3.4 MMCF) of CO2 per day as a byproduct of the fermentation process. Maximum demand for the pilot is approximately one million cubic feet per day and the CO2 will be either liquefied and trucked or delivered by a seven-mile high-pressure pipeline.
| | |
| --- | --- |
| | |
---
e-mail : webadmin@kgs.ku.edu
Last updated December 2001
http://www.kgs.ku.edu/PRS/publication/OFR2001-38/P3-10.html