Kansas Geological Survey, Open-file Report 2007-16
---
Type Log Showing Stratigraphic Horizons for Ness County, Kansas
by
Benjamin J. Ramaker
Kansas Geological Survey


KGS Open File Report 2007-16
June 2007
The Schaben #4 well (API: 15-135-21452) is located in Northeast Aldrich field in the northwestern portion of Ness County, Kansas (Figure 1, Table 1). The existing type log from the collection assembled by the Kansas Geological Society (1966) is located approximately 2.5 miles southwest of the new type log. Revisions in stratigraphic nomenclature and modifications to the classification of stratigraphy created a need for the new type log. The Schaben #4 type log ends in the Osagean Stage, which precludes deeper strata that are present on a limited number of well logs in Ness County, Kansas.
Figure 1--Map of Ness County, Kansas, with oil fields shown in green. The type log location indicated by red dot.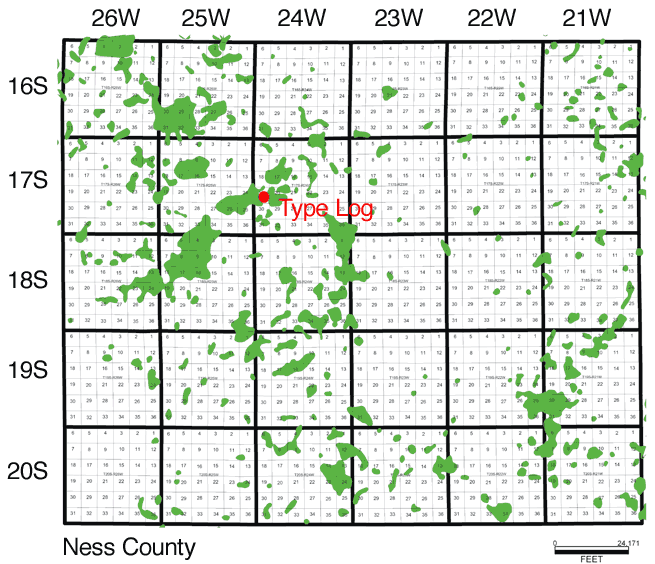 Stratigraphic horizons on the type log are based on data from the older Ness County type log and other type logs in the surrounding counties. The stratigraphic horizons reflect the revisions from the classification and nomenclature of the lower Upper Pennsylvanian that were originally proposed in 1968 (Heckel and Watney, 2002).
The type log uses gamma ray and neutron tracks recorded from 0 to 4550 feet as well as guard resistivity and caliper tracks from 3500 to 4550 feet.
Type Log
Table 1--Well information and tops picked.
Well Name: Schaben #4
API Number: 15-135-21452
Company: Walters Drilling Company
Field: Northeast Aldrich
County: Ness
Location: E. of C-NE-SE Sec 19, T17S, R24W
Top
MD
Log Section
Greenhorn Limestone
198
One
Graneros Shale
282
One
Dakota Formation
361
Two
Kiowa Formation
618
Two
Cheyenne Sandstone
689
Three
Whitehorse Formation
852
Three
Nippewalla Group
991
Four
Dog Creek Formation
991
Four
Blaine Formation
1009
Four
Flower Pot Shale
1026
Four
Cedar Hills Sandstone
1095
Four
Salt Plain Sandstone
1321
Five
Harper Sandstone
1416
Five
Stone Corral Formation
1643
Five
Ninnescah Shale
1675
Six
Wellington Formation
1802
Six
Hutchinson Salt Member
2077
Seven
Chase Group
2400
Eight
Nolans Limestone
2400
Eight
Odell Shale
2436
Eight
Winfield Limestone
2462
Eight
Gage Shale Member
2485
Eight
Towanda Limestone Member
2535
Eight
Holmesville Shale Member
2577
Eight
Fort Riley Limestone Member
2595
Eight
Blue Springs Shale member
2650
Eight
Wreford Limestone
2681
Eight
Council Grove Group
2699
Nine
Funston Limestone
2713
Nine
Blue Rapids Shale
2738
Nine
Crouse Limestone
2785
Nine
Easly Creek Shale
2796
Nine
Bader Limestone
2809
Nine
Stearns Shale
2817
Nine
Beattie Limestone
2847
Nine
Eskridge Shale
2899
Nine
Grenola Limestone
2918
Nine
Red Eagle Limestone
2996
Nine
Johnson Shale
3052
Nine
Foraker Limestone
3061
Nine
Admire Group
3086
Ten
Wabaunsee Group
3137
Ten
Root Shale
3198
Ten
Stotler Limestone
3241
Ten
Nemaha Subgroup
3307
Ten
Shawnee Group
3408
Eleven
Topeka Limestone
3408
Eleven
Calhoun Shale
3468
Eleven
Deer Creek Limestone
3479
Eleven
Larsh-Burroak Shale member
3540
Eleven
Tecumseh Shale
3550
Eleven
Lecompton Limestone
3554
Eleven
Kanwaka Shale
3604
Eleven
Oread Limestone
3616
Eleven
Heebner Shale Member
3688
Eleven
Toronto Limestone Member
3708
Eleven
Douglas Group
3721
Twelve
Lansing Group
3732
Twelve
Stanton Limestone
3732
Twelve
Vilas Shale
3757
Twelve
Plattsburg Limestone
3768
Twelve
Lane Shale
3803
Twelve
Kansas City Group
3817
Twelve
Wyandotte Limestone
3817
Twelve
Iola Limestone
3867
Twelve
Chanute Shale
3910
Twelve
Cherryvale Formation
3923
Twelve
Dennis Limestone
3948
Twelve
Stark Shale Member
3961
Twelve
Swope Limestone
3972
Twelve
Hushpuckney Shale Member
3994
Twelve
Hertha Limestone
4003
Twelve
Marmaton Group
4019
Thirteen
Pawnee Limestone
4148
Thirteen
Labette Shale
4217
Thirteen
Fort Scott Limestone
4226
Thirteen
Cherokee Group
4248
Thirteen
Mississippian System
4322
Thirteen
Osagean Stage
4406
Thirteen
References
Heckel, P.H., and Watney, W.L., 2002, Revision of Stratigraphic Nomenclature and Classification of the Pleasanton, Kansas City, Lansing, and Lower Part of the Douglas Groups (Lower Upper Pennsylvanian, Missourian) in Kansas: Kansas Geological Survey, Bulletin 246, 68 p. [available online]
Kansas Geological Society, 1966, Type Logs of Kansas, vol. 2, Ness and Trego Counties.
---
Kansas Geological Survey, Energy Research
Updated June 29, 2007
Comments to webadmin@kgs.ku.edu
The URL for this page is http://www.kgs.ku.edu/PRS/publication/2007/OFR07_16/index.html