Seismic Volumetric Curvature Interpretation
Curvature describes how bent a surface is at a particular point and is closely related to the second derivative of the curve defining the surface. The more bent a surface is, the larger the value of the curvature attribute. Positive curvature refers to an antiform feature, negative curvature refers to a synform feature, and zero curvature refers to a planar feature.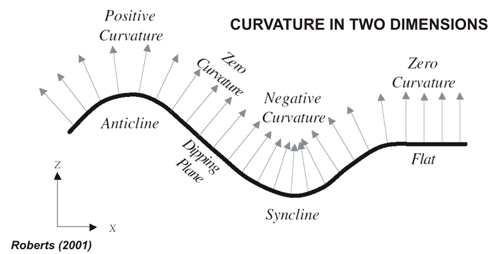 Various curvature attributes reveal useful information relating to folds, faults, and lineaments contained within the surface (Roberts, 2001). Most published work of curvature analysis applied to 3-D seismic data has been limited to calculations based on gridded interpreted horizons (e.g., Hart et al., 2002; Masaferro et al., 2003; Sigismondi and Soldo, 2003). However, recently, a suite of volumetric curvature attributes has been developed, where reflector curvature is calculated directly from the seismic data volume, with no prior interpretation required (Al-Dossary and Marfurt, 2006).
Of the numerous volumetric curvatures calculated, the most positive and most negative curvatures, which measure the maximum positive and negative bending of the surface at a given point, are the most useful in delineating faults, fractures, flexures, and folds (Al-Dossary and Marfurt, 2006; Blumentritt et al., 2005; Nissen et al., 2005; Sullivan et al., 2005).
In the study area, slices through the most negative curvature and most positive curvature volumes extracted along the BMS/KYS and Kinderhook show several sets of large-scale high curvature lineaments.
Curvature lineaments are aligned along orientations that parallel basement structural orientations, as well as the Las Animas Arch.
Interpreted curvature lineaments may reflect subtle structural features, fractures, or reservoir compartment boundaries that are the cause of the production inconsistencies in the Cheyenne Wells and Smoky Creek fields.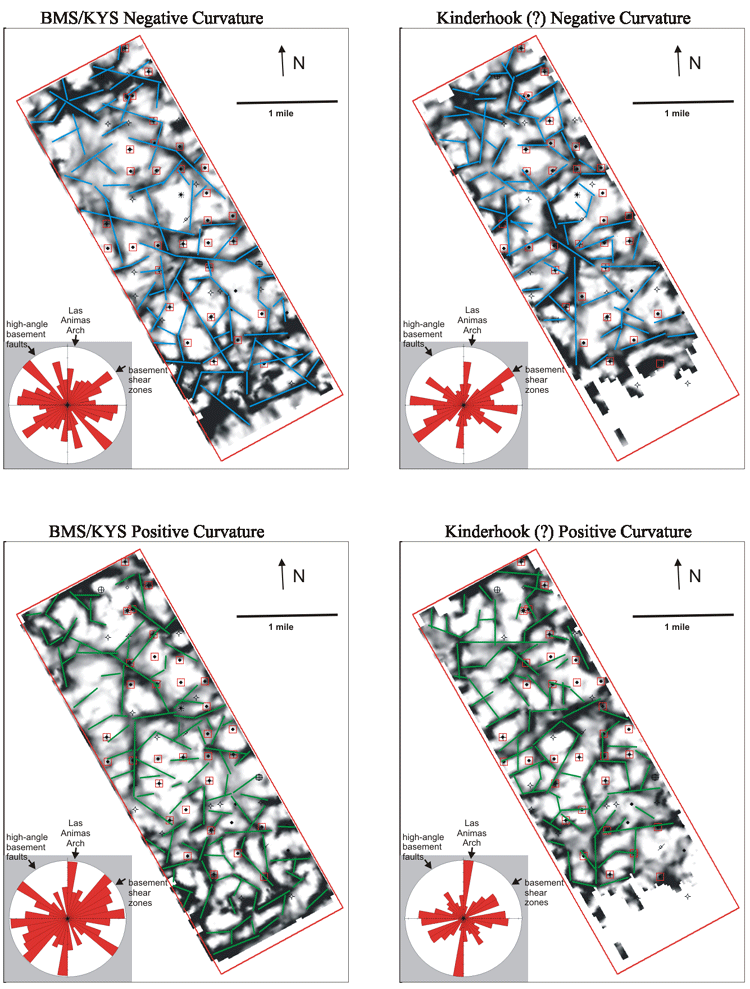 Most positive and most negative curvature extractions along the BMS/KYS and Kinderhook horizons. Tighter curvature is shown in black and dark gray. Orientations of interpreted negative curvature (blue) and positive curvature (green) lineaments have been analyzed using length-azimuth rose diagrams (red).
---
http://www.kgs.ku.edu/PRS/publication/2006/2006-14/p3-05.html
Last Modified May 2006