Fracture and Karst Features Affecting Reservoir Performance in a Mississippian Reservoir, Cheyenne County, Colorado

Natalie B. Givens, University of Kansas, Kansas Geological Survey
Susan E. Nissen, Kansas Geological Survey, University of Kansas
Abstract
As part of a project to improve geologic and engineering models of mid-continent fracture and karst-modified reservoirs using new 3-D seismic attributes, we are conducting an integrated study of a Mississippian reservoir in Cheyenne County, Colorado, which has scattered and variable production. The focus of this study has been to integrate new 3-D seismic attributes with geological data to increase probability of identifying fractures and karst features that affect reservoir performance. Core and wireline log data have been used to determine lithofacies, depositional facies, diagentic signatures, and petrophysical properties for the reservoir. Geometric attributes from a 5.5 square mile 3-D seismic survey over the reservoir show subtle lineaments that parallel regional structural trends. These lineaments may reflect fracture orientations that controlled karst development on the Mississippian surface. Seismic attributes, correlated to log and core data, are used to help delineate fractures and reservoir compartments, as well as to guide distribution of petrophysical properties in a reservoir model. The results of this study provide key input to the synthesis of a best-practices workflow for characterizing fractured and karst-modified reservoirs in other areas.
Geological Overview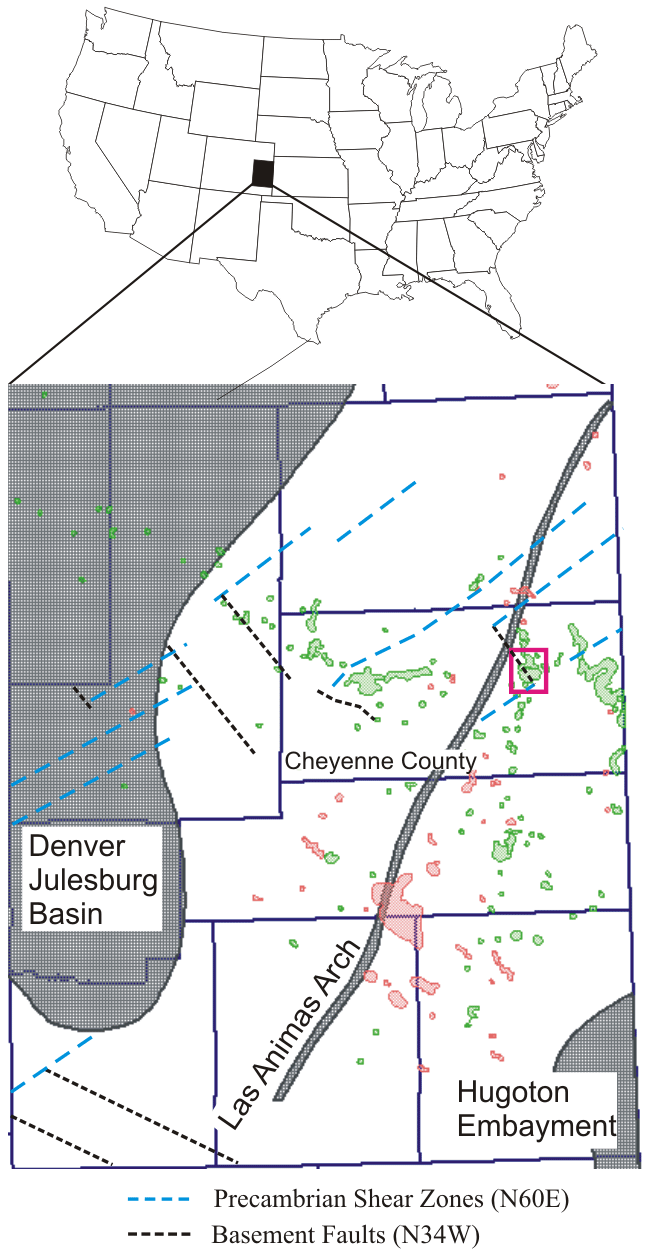 Map of major structural features of eastern Colorado showing oil (green) and gas (red) fields. The pink box outlines the location of the study area (Cheyenne Wells and Smoky Creek fields), map modified from Sims et al. (2001) and http://oil-gas.state.co.us/infosys/maps.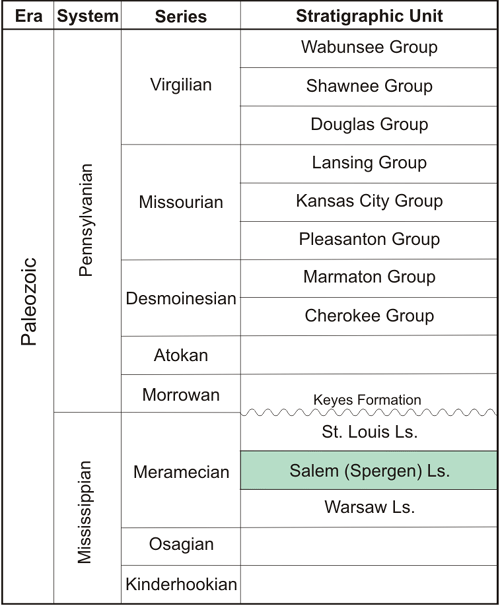 Stratigraphic column for east central Colorado. Spergen reservoir interval is highlighted in green.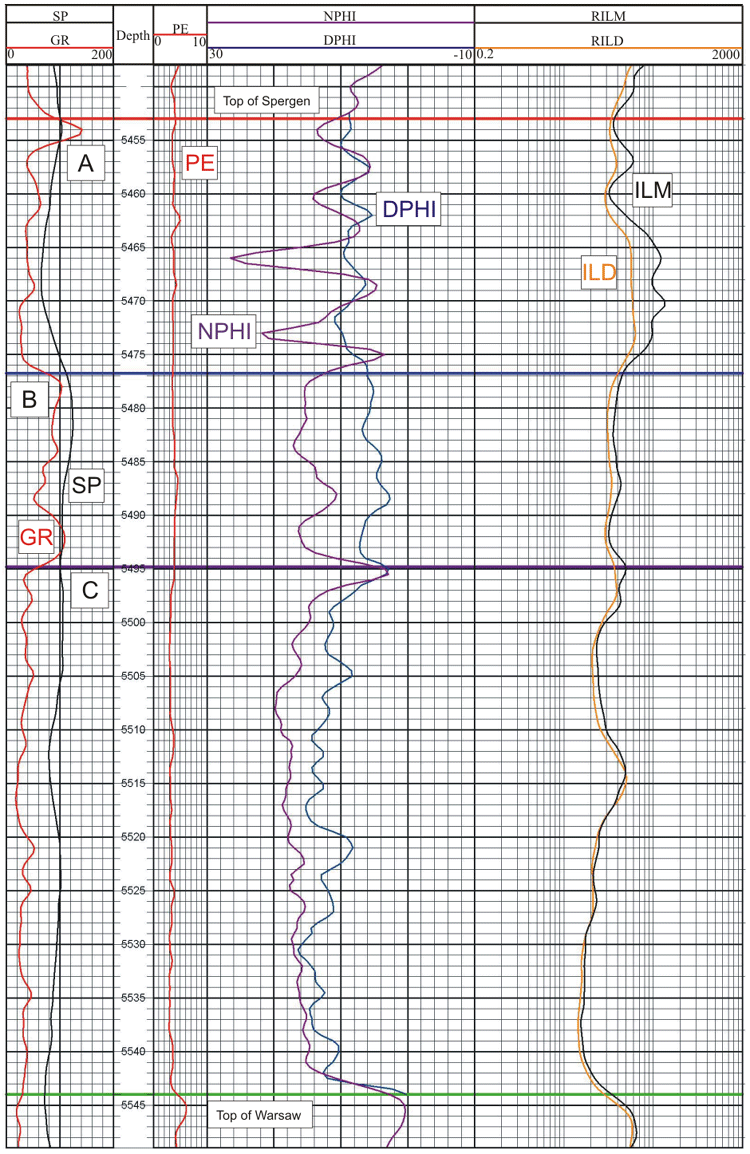 Logs of the Spergen for a well in the study area. Top of Spergen (red), top of Warsaw (green), and three field wide correlatable zones (A, B, C) are shown.
Lithology and Depositional Environment of Spergen Reservoir Interval in Eastern Colorado
The Spergen is very finely to medium crystalline saccharoidal dolomite and dolomitic limestone with silica and calcite replacement, localized ooids, glauconite, pyrite and chert, and calcedony, megaquartz, and baroque dolomite fracture and void fills. Kidwell and McKenna (1983) describe the Spergen as nonargillaceous and fossiliferous to very argillaceous carbonate rock. Nonargillaceous facies are associated with the flanks of Mississippian paleohighs.
Deposited in platform or shelf-like conditions (Goebel, 1966).
Dolomitization has overprinted most original textures and structures.
Regional Tectonics
Las Animas Arch - N-NE trending episodic history of tectonism (Ouachita and Laramide).
Precambrian shear zones (N60E) and high-angle basement faults (N34W) (Sims et al., 2001).
---
http://www.kgs.ku.edu/PRS/publication/2006/2006-14/p1-01.html
Last Modified May 2006