Kansas Geological Survey, Open-file Report 2005-53
---
Type Log Showing Stratigraphic Horizons for Russell County, Kansas
by
Benjamin J. Rocke
Kansas Geological Survey


KGS Open File Report 2005-53
Dec. 2005
The Kaufman #2 well (Russell County, Kansas) is located in the North Trapp field, on the eastern flank of the Central Kansas uplift (Fig. 1, Table 1). The existing type log from the collection assembled by the Kansas Geological Society (1966) ends at the base of the Pennsylvanian, which precludes identification of deeper strata on other well logs in Russell County. Strata such as the Pennsylvanian Hushpuckney Shale Member, which gives a distinctive gamma ray signal useful in correlation, and the Ordovician Arbuckle Group, a productive horizon in Russell County, are left out of the current type log.
Figure 1--Map of Russell County, Kansas, with oil and gas fields shown (green is oil, red is gas, orange is oil and gas). Large oil field at south-central part of county is North Trapp field, type log location indicated by red dot.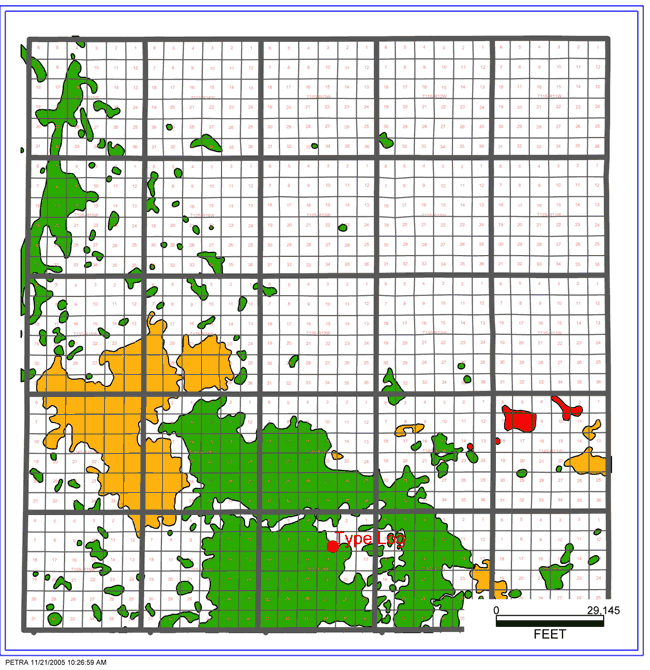 Stratigraphic horizons on the type log are based on data from the older Russell County type log and deeper type logs in surrounding counties and include strata down to the top of the Arbuckle Group (Lower Ordovician). Furthermore, the stratigraphic horizons reflect modifications made to the nomenclature and classification of the stratigraphy of the lower Upper Pennsylvanian in Kansas from the conventions set in 1968 (Heckel and Watney, 2002).
The type log uses gamma ray and neutron tracks recorded from 0 to 3,500 feet and gamma ray and neutron density tracks recorded from 2,100 to 3,500 feet.
Type Log
Table 1--Well information and tops picked.
Well Name: Kaufman #2
API Number: 15-167-22181
Company: Hupfer Oil and Gas
Field: North Trapp
County : Russell
Location: NW-SE-SE Sec 10 T15S R13W
Top
MD
Log Section
Graneros Shale
50
Two
Dakota Formation
80
Two
Blaine Formation
485
Two
Stone Corral Formation
780
Three
Ninnescah Shale
815
Three
Wellington Formation
960
Three
Hutchinson Salt Member
1190
Four
Geuda Springs Shale Member
1420
Four
Chase Group
1600
Five
Odell Shale
1632
Five
Winfield Limestone
1650
Five
Gage Shale Member
1680
Five
Towanda Limestone Member
1728
Five
Holmesville Shale Member
1750
Five
Fort Riley Limestone Member
1760
Five
Oketo Shale Member
1800
Five
Florence Limestone Member
1810
Five
Blue Springs Shale Member
1850
Five
Wreford Limestone
1900
Five
Council Grove Group
1935
Six
Funston Limestone
1948
Six
Blue Rapids Shale
1952
Six
Crouse Limestone
1955
Six
Easly Creek Shale
2000
Six
Bader Limestone
2030
Six
Stearns Shale
2060
Six
Beattie Limestone
2073
Six
Eskridge Shale
2080
Six
Admire Group
2090
Six
Roca Shale
2130
Six
Red Eagle Limestone
2142
Six
Johnson Shale
2165
Six
Foraker Limestone
2185
Six
Janesville Shale
2223
Six
Falls City Limestone
2275
Seven
Onaga Shale
2284
Seven
Wabaunsee Group
2308
Seven
Root Shale
2378
Seven
Stotler Limestone
2424
Seven
Pillsbury Shale
2444
Seven
Tarkio Limestone Member
2489
Eight
Auburn Shale
2552
Eight
Bern Limestone
2562
Eight
Scranton Shale
2579
Eight
Howard Limestone
2629
Eight
Severy Shale
2686
Nine
Topeka Limestone
2704
Nine
Larsh-Burroak Shale Member
2786
Nine
Deer Creek Limestone
2791
Nine
Tecumseh Shale
2793
Nine
Lecompton Limestone
2798
Nine
Kankawa Shale
2851
Ten
Oread Limestone
2858
Ten
Heebner Shale Member
2933
Ten
Toronto Limestone Member
2953
Ten
Douglas Group
2973
Ten
Lansing Group/Missourian Series
3026
Ten
Hickory Creek Shale Member
3067
Eleven
Merriam Limestone Member
3070
Eleven
Kansas City Group
3078
Eleven
Wyandotte Limestone
3082
Eleven
Iola Limestone
3098
Eleven
Muncie Creek Shale Member
3148
Eleven
Paola Limestone Member
3153
Eleven
Dewey Limestone
3157
Eleven
Nellie Bly Formation
3170
Eleven
Westerville Limestone Member
3177
Eleven
Winterset Limestone Member
3198
Eleven
Stark Shale Member
3212
Eleven
Galesburg Shale
3218
Eleven
Swope Limestone
3233
Eleven
Hushpuckney Shale Member
3252
Eleven
Sniabar Limestone Member
3259
Twelve
Marmaton Group
3278
Twelve
Arbuckle Group
3300
Twelve
References
Heckel, P.H., and Watney, W.L., 2002, Revision of Stratigraphic Nomenclature and Classification of the Pleasanton, Kansas City, Lansing, and Lower Part of the Douglas Groups (Lower Upper Pennsylvanian, Missourian) in Kansas: Kansas Geological Survey, Bulletin 246, 68 p. [available online]
Kansas Geological Society, 1966, Type Logs of Kansas, vols. 1 and 2, Barton and Russell Counties.
---
Kansas Geological Survey, Energy Research
Updated Dec. 23, 2005
Comments to webadmin@kgs.ku.edu
The URL for this page is http://www.kgs.ku.edu/PRS/publication/2005/OFR05_53/index.html