The Role of Moldic Porosity in Paleozoic Kansas Reservoirs and the Association of Original Depositional Facies and Early Diagenesis With Reservoir Properties


Kansas Geological Survey
Open-file Report 2003-32
Discussion & Conclusions - All Systems
Multi-scale carbonate-dominated sequences were deposited in subtidal to supratidal environments on the broad shallow Kansas shelf throughout the Paleozoic.
A repeating association of original depositional facies and early diagenesis for these rocks produced lithofacies ranging from mudstones to grainstones with abundant moldic porosity. The nature of the molds varied through time reflecting the change in primary carbonate grain constituents:

U. Cambrian-L. Ordovician Arbuckle peloid and ooid molds
Mississippian carbonate/siliceous sponge spicule and echinoderm/ brachipod molds
Pennsylvanian ooid and bioclast molds
Primary Factors Controlling Reservoir Properties
Depositional Facies - grainstones/boundstones exhibit best properties, properties improve from mudstone to grainstone/boundstones.
For the systems investigated, depositional facies are dominant control even with: 1) extensive and various, early and late diagenesis; 2) biotic constituent differences; 3) warm-cool water environments; 3) karst overprinting; 4) burial overprinting.
Reservoir properties for each system, including porosity and permeability, are strongly correlated with original depositional facies despite significant fabric transformation, and in some cases even complete reversal of solid and pore space, with reservoir quality increasing from mudstone through grainstone.
The final moldic rocks exhibit petrophysical-lithofacies trends that parallel those of original primary porosity carbonates.
Understanding facies locations is important for both stratigraphic and structural plays.
Secondary Factors Favoring Reservoir Properties
Stratigraphy - e.g., shallowing upward high frequency cycles
Diagenesis - e.g., dissolution of carbonate grains to form molds, extensive dissolution to establish direct mold-mold connections
Paleotopography - e.g., local relief that accentuates diagenetic processes
Structure/Burial - e.g., fracturing, crushing to establish direct mold connectivity
Synthesizing Lithofacies-Petrophysical Properties for All Systems
A Pore Understanding
Correlation of permeability and pore throat size in moldic-porosity rocks is similar to that of intergranular-porosity rocks. This can be interpreted to indicate that, despite some rocks having very high moldic porosity, permeability is primarily controlled by matrix properties. However, the strong association of increasing permeability with increasing grain size and packing (i.e. mudstone to grainstone) indicates that matrix pores must also be increasing in size.
Enhanced mold connectivity resulting from extensive dissolution, crushing, or fracturing creates high permeability parallel flow systems.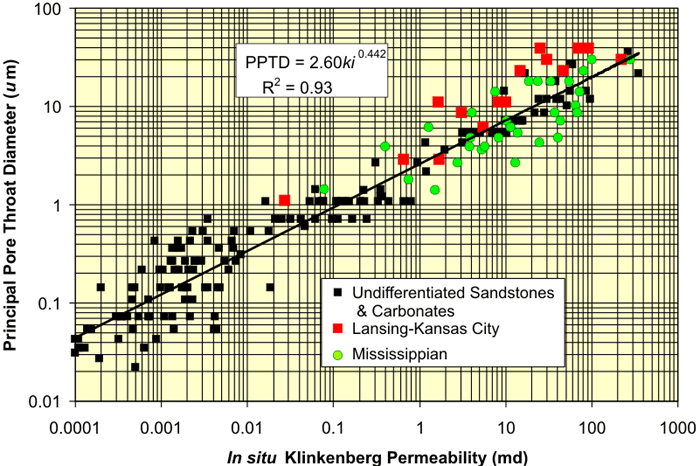 Dominant control of matrix properties in rocks with high moldic porosity is consistent with a pore-scale series-flow model of low permeability matrix and high permeability moldic pore bodies. The strong correlation of permeability with connectivity may result from the establishment of increasing pore-scale parallel flow, effectively "short-circuiting" the series-flow dominated system.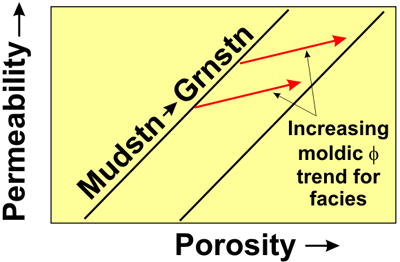 Portions of this research were derived from programs funded in part by the U.S. Department of Energy - National Petroleum Technology Office. We are grateful for their support
---
| | |
| --- | --- |
| | |
e-mail : webadmin@kgs.ku.edu
Last updated June 2003
http://www.kgs.ku.edu/PRS/publication/2003/ofr2003-32/P3-07.html