The Role of Moldic Porosity in Paleozoic Kansas Reservoirs and the Association of Original Depositional Facies and Early Diagenesis With Reservoir Properties


Kansas Geological Survey
Open-file Report 2003-32
Moldic Porosity and Petrophysics
Early dissolution of grains and dolomitization created moldic, intercrystalline and vuggy porosity important for favorable reservoir conditions.
Very finely crystalline (<10-50 µm) dolomite is characteristic of early reflux or mixing zone dolomitization. The predominance of original evaporites in M1 strata is supportive of a reflux mechanism.
Lithofacies and early diagenesis are the major controls on the nature and distribution of reservoir properties despite overprinting by sub-Pennsylvanian subaerial exposure and burial processes.
Despite complex diagenetic overprinting, core plug petrophysical data (porosity-; permeability-k; pore size; capillary pressure properties, including "irreducible" water saturation-Swi) in the different fields show similar, unique trends that are directly linked to depositional lithofacies.
Increasing moldic content, and associated increasing , increase k at a lower rate than overall k- trend indicating matrix properties dominate control of flow in these rocks.
High sponge-spicule mold content in Chat rocks is associated with proximity to exposure surface, similar to L-KC.
High spong-spicule mold content in Chat is associated with very high Archie cementation exponents consistent with high micro-vug content but electical current flow dominated by matrix pores. Knowing these values is critical to quantitative wireline log interpretation.
Permeability and Pore Throats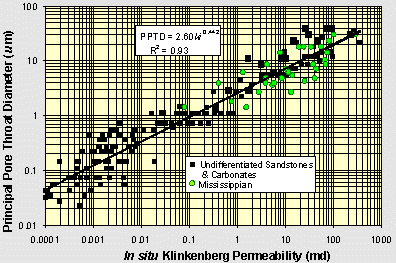 Though permeability is shown correlated with porosity, variables that control permeability in Mississippian rocks include pore throat size and distribution, grain size distribution, moldic pore size and packing, and moldic pore connectivity. Porosity is only one of the variables
controlling permeability and bivariate correlation therefore relies on the correlation between porosity and the other controlling variables. A crossplot of permeability and principal pore throat diameter (PPTD) illustrates the control PPTD exerts on permeability.
Events Important to Reservoir Properties in the Schaben Field
Burrow mottling created networks for diagenetic fluids rich in silica resulted in variable porous and tight areas
Early dolomitization and dissolution of grains created moldic, intercrystalline and vuggy porosity
Early silica replacement and cementation tends to result in relatively tight and impermeable layers in echinoderm-rich facies
Some silicified areas contain abundant microcrystalline porosity (tripolitic chert)
Silica replacement and cementation in mudstones and sponge-rich facies is variable; more moldic and vuggy porosity is present, especially where evaporites were dissolved or replaced
Silica replacement partially or totally replaces matrix and grains, or replaces the dolomite matrix and leaves spicules as molds
Several generations of fracturing, brecciation, cementation and sediment fills create complex fabrics that variably enhanced or destroyed reservoir characteristics
Early differential compaction resulted in brittle fracturing of silicified areas and soft-sediment deformation of surrounding matrix imparting a fracture and breccia fabric
Internal subaerial exposure event resulted in coarse calcite replacement and cementation of strata in lower portions of cores (MO strata) important in occluding porosity in much of the echinoderm-rich facies
Post-Mississippian subaerial exposure, burial compaction and structural uplift resulted in brittle fracturing and brecciation of all facies and previous diagenetic events.
| | |
| --- | --- |
| | |
e-mail : webadmin@kgs.ku.edu
Last updated May 2003
http://www.kgs.ku.edu/PRS/publication/2003/ofr2003-32/P2-05.html