Statistically-based Lithofacies Predictions for 3-D Reservoir Modeling:An Example from the Panoma (Council Grove) Field,Hugoton Embayment,Southwest Kansas


Kansas Geological Survey
Open-file Report 2003-30
Log Response and Lithofacies
The eight lithofacies can be discriminated effectively by four wireline log properties. Although the log distributions of the separate lithofacies show overlaps in their ranges, their collective use within multivariate statistical analysis results in good predictions of lithofacies identity as decisions rooted in probability.
Gamma-ray log contrasts the generally low radioactivity within the carbonates to higher levels emitted from clay minerals and silt fractions.

Photoelectric effect is a direct function of the lithofacies aggregate atomic number and can be related to mineral content.

Resistivity log is sensitive to both pore volume and pore fluid content in the carbonates as well as conductivity caused by clay mineral cation-exchange properties in the shaly lithofacies.

Delta Phi transform (neutron minus density porosity) is highly correlated with the grain density of the lithofacies and is another useful and independent indicator of mineralogy.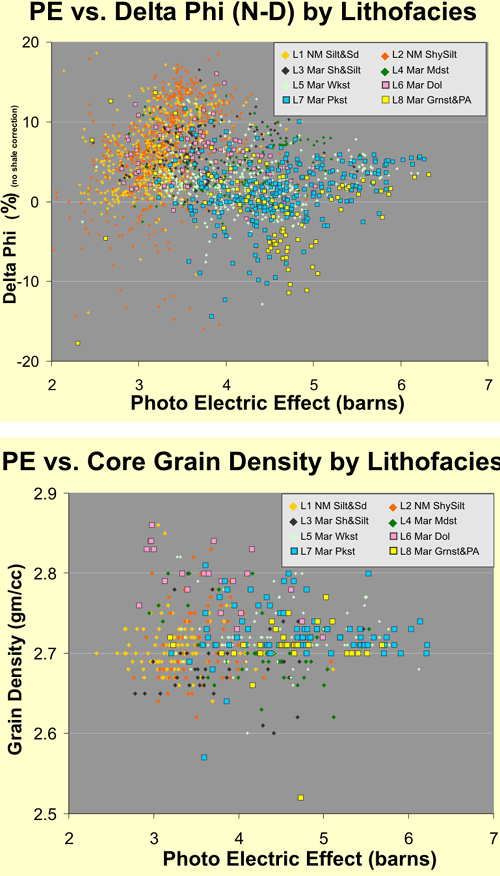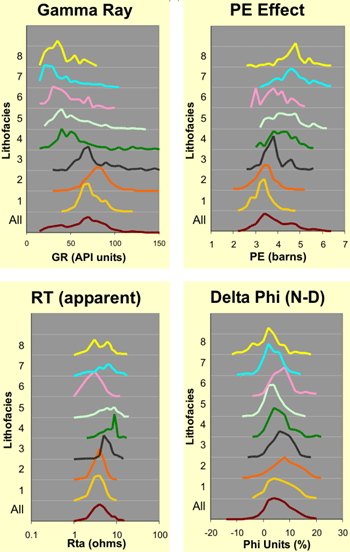 | | |
| --- | --- |
| | |
e-mail : webadmin@kgs.ku.edu
Last updated May 2003
http://www.kgs.ku.edu/PRS/publication/2003/ofr2003-30/P2-06.html