---
Planning for Kansas' Energy Security
Testimony presented to the Special Committee on Utilities
September 28, 2000
by
M. Lee Allison, State Geologist and Director, Kansas Geological Survey
Tim Carr, Kansas Geological Survey, KU Energy Research Center
Scott White, KU Energy Research Center

Need for an Energy Plan
Energy is critical for the economic vitality and security of Kansas. Energy supply is too important to leave to chance. Does Kansas need an energy plan? Absolutely! This is particularly important given the federal government's failure to develop a comprehensive and meaningful energy policy over the past three decades. At the time of the 1973 energy crisis, net imports accounted for 35% of U.S. oil supply. Today, net imports are nearly two-thirds of total supply.

Over the next few months of winter, the U.S. and Kansas faces a very real potential for short-term supply shortages of energy. Near term, little can be done in this country to increase supply.

Energy is a vital component of our society, serving as a lynchpin for all facets of our economy from transportation, agriculture, and computing to space conditioning. All sectors of our economy are energy consumers. Diesel fuel runs the equipment of the agriculture sector, gasoline fuels travel and commuting, natural gas warms homes, produces electricity and fuels the western Kansas farm irrigation, coal fuels our largest power plants, and electricity drives every area of our lives and is vital to computing and high-tech businesses. Estimates are that computers, for example, now consume more than 10% of U.S. electricity production, up from less than 2% a decade ago. Energy in Kansas plays an even larger role than in many states. Notably we are energy consumers but we have a sizeable energy-producing sector in the state in our oil and gas operators.

Major shifts are occurring in the U.S. energy industry, including deregulation of natural gas and electric utilities, a decline in small and independent utilities, and transformation of oil companies into energy companies. The increasing industrial demands for natural gas, particularly for electricity production, creates strong competition with agricultural irrigation and home heating needs, driving up prices for all. Energy restructuring is going forward in all our neighboring states, except Nebraska. What impacts will this have on Kansas energy markets?
Current Situation
Short-Term Supply Situation
As of September 15, storage of distillate fuel oil is at 115.9 million barrels, 19% below last year's level and 15% behind the average for the last three years (Figure 1). This includes a 0.5 million barrels addition to the federal strategic heating oil storage. With refineries running at near capacity, the 30 million barrels that have been released from the Strategic Petroleum Reserve will have little to no effect on distillate supplies. Even with a rapid build up we will enter the winter with insufficient inventories to meet extended cold weather demand and may be unable to weather any significant production or deliverability disruption.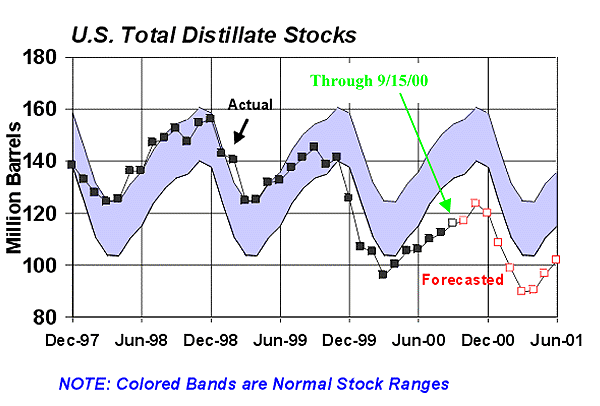 Figure 1--US Total Distillate Fuel Oil Inventories. Data from Energy Information Agency Monthly Stocks and American Petroleum Institute for stocks as of 9/15/00. Forecasted stocks simply follow the average trend for previous years.
Why should Kansans be concerned? After all, Kansans use very little heating oil. Isn't this is a problem for the eastern part of the country? In fact, fuel oil for heating and diesel fuel are largely the same (varying only in sulfur content). Diesel can be used for fuel oil. If during this winter there are price spikes and shortages of home heating oil, there will be price spikes and shortages of diesel fuel that we need for agricultural and transportation purposes. If there is a shortage of distillate fuel oil for electric generation in the northeast, utilities will switch to natural gas and Kansas will feel the shortage.
In recent weeks, refineries have redirected runs away from gasoline and toward distillate for winter. The result is a precipitous drop in gasoline inventories. We have already seen the affect - increased gasoline prices. This summer, we saw the federal government cajole refineries into over-focusing on gasoline production. We, as a nation, appear to be lunging from one product shortage to another--from "crisis" to "crisis" without plans or policies. If the winter is cold in the consuming states of the Northeast or in the consuming countries of northern Europe, Kansas will be faced with significantly higher prices for transportation and industrial fuels.
As of September 8, natural gas in storage in the U.S. for this winter was 69% of capacity, 15% behind last year's level (Figure 2). The absolute deficit is 421 billion cubic feet behind where we were last year (equivalent to over 6 months of Kansas production). In terms of demand, storage is only equivalent to 42 days of September demand compared to 51 days at the same time last year. It appears that in November, at the time of peak natural gas inventories, the U.S. will be more than 500 BCF behind last year's storage level. With cold weather or supply disruption (i.e., hurricane or pipeline failure) supplies could be extremely short and prices could spike.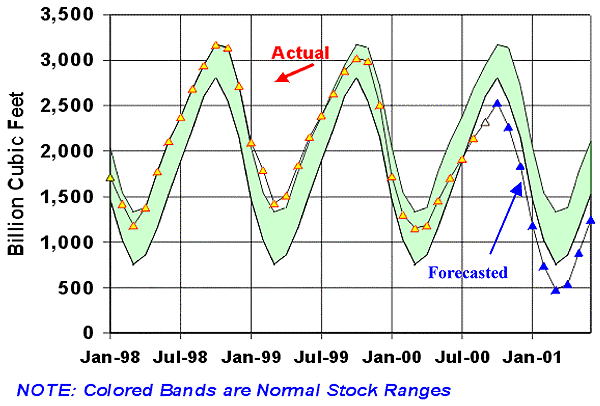 Figure 2--US Total Working Gas in Storage. Data from Energy Information Agency Monthly Stocks and American Gas Association for stocks as of 9/15/00. Forecasted stocks simply follow the average trend for previous years.
Why should Kansans be concerned since Kansas produces far more natural gas than it consumes? In producing regions such as Kansas, our industries maintain far less natural gas in storage, and we tend to tie up far less gas in long-term contracts. Kansas industries and agricultural interests rely to a greater extent on the spot market. Utilities in the consuming regions are more price insensitive and maintain higher inventories in nearby underground storage. This tendency can be seen in the distribution of storage facilities and in the current storage numbers by region. On a national level we are at 69% of capacity. However, the consuming region of the East Coast is at 73% of capacity (still behind where it should be), the producing regions, which include Kansas, are only at 53% of capacity.
If colder than normal weather strikes the Midwest or Northeast, Kansans could be faced with significant price spikes. Gas could be moving through our pipelines to the Midwest and East while we face critical shortages.
Long-Term Supply Situation
Do the U.S. and Kansas have enough energy resources and energy infrastructure to meet future demand, or know where we will get this resource? The answer is a qualified yes. We need additional investment, research, and development for all sources of energy. We need to encourage alternative energy sources. We need improved efficiencies and conservation. However, we cannot, as we have in the last decade, abandon our traditional energy sources that provide the majority of power today and will power this nation through the majority of the 21st century.

Between 1985 and 1999, petroleum product demand in the United States rose from 15.7 million barrels of oil per day (BOPD) to 19.2 million BOPD. At the same time our domestic production of crude oil declined by one-third from 8.9 million to 5.9 million BOPD. The United States now imports over 60% of its crude and refined product supply. Petroleum imports are one of the largest components of our foreign trade deficit.

Between 1985 and 1999, domestic proven reserves dropped by more than 25% from 28.4 billion barrels to 21.0 billion barrels. In 1970, domestic reserves were at a peak of 39 billion barrels after the discovery of the 10 billion barrel Prudhoe Field in Alaska. The potential remains in the United States for major reserves of oil. However, access is denied or severely restricted largely due to environmental concerns. The potential exists through new technologies for major increases in production from our older fields in Kansas and the United States. However, the remaining domestic industry consists of independent oil and gas producers who are starved for capital dollars as a result of the comparatively low return and uncertainty on investment of the last two decades. Our domestic energy industry also faces an infrastructure that has been decimated by major reductions in personnel, loss of equipment, and limited access to new technologies. The U.S. is no longer the premier worldwide leader in the technologies for energy production.

Demand for natural gas has risen from 17.3 trillion cubic feet in 1985 to 22 trillion cubic feet in 1999. Prior to the end of this decade, demand is expected to climb over 30 TCF/year as more electric generation relies on natural gas. In the summer of 2000, it is estimated that over 1.5 TCF of additional natural gas production was required to fire new electric generation units. This summer, instead of being injected at a normal seasonal rate into local storage sites for winter use, natural gas is firing electric power plants to run air conditioners and the Internet. (It has been estimated that the increase in computer usage and the Internet has contributed 10-13% of total U.S. electric power demand. The dot-com revolution is powered by fossil fuels.) Similar increases in natural gas fired generation to meet surging demand for electricity will be required and are planned for subsequent years. Storage levels are well below where they should be this time of year. We have no margin to meet extended cold weather demand, or weather any significant gas production or deliverability disruption this winter.

The dynamics of the current supply/demand equation for natural gas have resulted in surging natural gas prices. Last year, the average NYMEX spot price at the Henry Hub was $2.25/MMBTU. This year, the Henry Hub spot market price has soared to over $5.00/MMBTU. The NYMEX 12 and 24-month futures prices indicate that strong demand will continue to keep pressure on supply for the foreseeable future. Market analysts have predicted that a cold winter this year or a short curtailment of production could result in gas price spikes of over $7.00/MMBTU. Residential gas consumers can expect a $200 to $300 increase in their winter gas-heating bill; some can ill afford that cost.

The United States has the resources to supply the increased demand. The 1999 National Petroleum Council (NPC) study concluded that the United States has a remaining conventional gas resource base in the Lower 48 states of 1,466 TCF. Only 157 TCF, or just 10% of the identified resource, is considered proven. There are an additional 313 TCF in Alaska alone. The total identified U.S. gas resource, including Alaska, is a whopping 1,779 TCF. If we include Canada and nonconventional gas resources, the technically recoverable resource increases to over 2,500 TCF (Figure 3). Even at a consumption level of 32 TCF/year, there is more than a 75-year supply of natural gas. Cumulative domestic production over the past hundred-plus years is estimated to be about 890 TCF. There is the potential for near-term major additional new gas reserve discoveries in the United States, but many of the most prospective areas--like the Outer Continental Shelf outside the Gulf of Mexico, and vast areas in the Rocky Mountains--are now off-limits (Figure 4).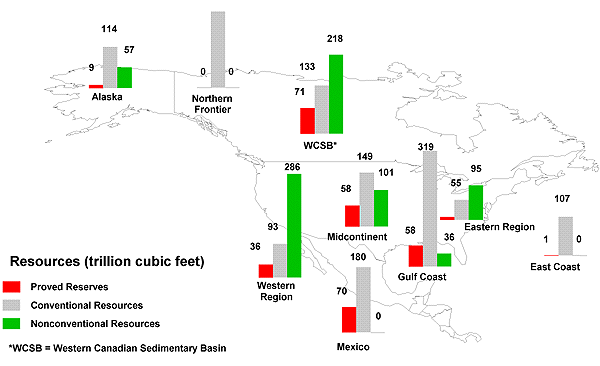 Figure 3--Technically recoverable natural gas resources in North America. Total exceeds 2,500 trillion cubic feet. (Source Energy Information Agency of the US Department of Energy).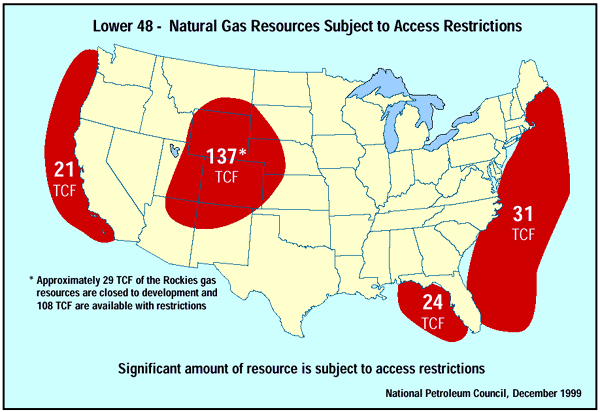 Figure 4--Conventional gas resources that are subject to federal access restrictions or moratoriums. Source National Petroleum Council.
Fossil Energy Production in Kansas
The area of a proposed Kansas Energy Plan that we want to address today is focused mostly on fossil energy. Fossil fuels--oil, natural gas, and coal--make up 91% of the energy consumed by Kansans. Fossil fuels will continue to dominate energy markets in Kansas, the nation, and the world for at least the next 20 - 40 years and will be important for most of the century. However, Kansas oil and gas fields are entering the third and likely final phase of their production lives.
For most of Kansas' energy producing history, we have been a net energy exporter. This means that in a given year, more energy was produced in the state than was consumed, thereby allowing energy to be exported outside of the State. Net energy exports peaked in 1964 when 882 trillion BTU more energy was produced than consumed (see Figure 5). Since this time, the difference has grown steadily smaller. Figure 6 illustrates the changes of energy produced versus consumed. From 1965 through 1982, energy production declined rapidly, while energy consumption grew steadily. Since the early 1980's, both energy production and consumption have remained fairly steady with individual peaks and valleys. In 1982, the state became a net energy consumer for the first time, though reversed this trend over the next three years as well as for much of the 1990's. In 1997, there was a positive balance of 13 trillion BTU, though preliminary results for 1998 show that the negative balance was greater than ever.
Over two-thirds of Kansas' current energy production comes from natural gas. The state has always produced more gas than it has consumed with production peaking in 1970 at 900 billion cubic feet per year (BCFY) and consumption peaking two years later at 600 BCFY (see Figure 7). Infill drilling of the Hugoton Field of southwestern Kansas reversed a production decline in the early 1980's, creating a second production peak at just over 700 BCFY in 1996 after a drop to 430 BCFY.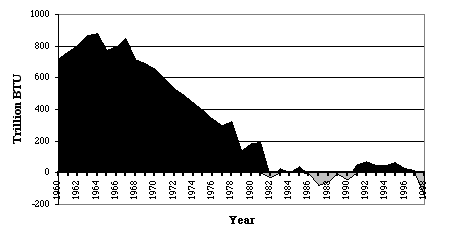 Figure 5-- Kansas net energy production, 1960-1998.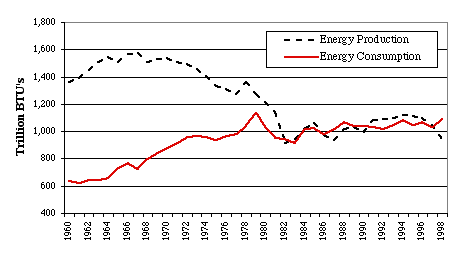 Figure 6--Kansas energy production and consumption, 1960-1998.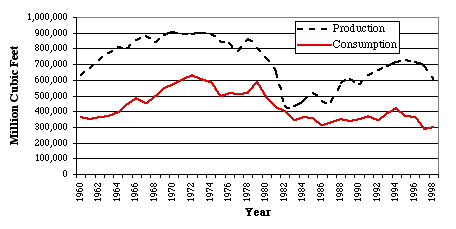 Figure 7--Kansas Natural Gas Production and Consumption, 1960-1998.
Oil currently provides 22% of the state's energy production, a much more minor role than in 1960 when it accounted for 48% of the state's total energy. Kansas has ranked in the top 10 oil-producing states for many decades with a current ranking of 8th. Until the 1973 Arab Oil Embargo, Kansas produced more oil than it used. As seen in Figure 10, production peaked at 124.5 million barrels (bbls) in 1956 and was followed by a steady decline to 56 million bbls in 1979. Deregulation of oil prices in the early 1980's temporarily reversed this downward trend when increased drilling of new leases produced another production peak of 75 million bbls in 1985.
A deficit between production and consumption initially occurred in 1974, was briefly reversed in 1982-1983, and then began again, continuing to the present. Since that time, production and consumption have decreased, though the gap between consumption and production has widened. In 1997, Kansas crude oil production was 40 million bbls, while consumption was around 70 million bbls.
Coal production has served a minor, but important role in the Kansas energy picture. Through 1973, more coal was produced in the state than was consumed. With the 1973 addition of the La Cygne power plant in Linn County, and other large coal-fired power plants in subsequent years, coal consumption rose dramatically in the state. During the rest of the decade, annual coal consumption rose twenty-fold from a half million tons in 1972 to over 10 million tons in 1980 (see Figure 9). Coal production on the other hand only exceeded 1.5 million tons annually once in that period. For the past decade, production has not surpassed a million tons in any given year, while consumption has increased to around 17 million short tons annually. The deficit between consumption and production continues to be in contrast to the United States as a whole, which produces more coal than it consumes. In 1997 the U.S. consumed 1.03 billion tons of coal, while producing 1.09 billion tons. Large coal seams in Wyoming and Montana account for a good share of this production.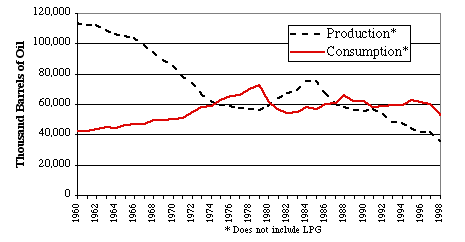 Figure 8--Kansas oil production and consumption, 1960-1998.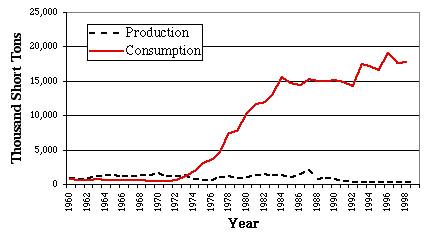 Figure 9--Kansas Coal Production and Consumption, 1960-1998.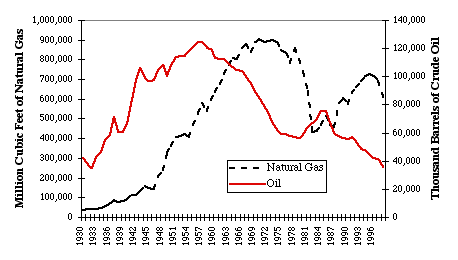 Figure 10--Kansas Oil and Gas Production since 1930.
In 1999, there were only 20,770 oil and gas well completions in the United States, down from a peak of 70,000-85,000 wells per year in the period 1980-1985. The average drilling rig count was only 623 per week in 1999, the lowest since the 1940's. With the recent rise in prices the number of active rigs has increased to just over 1,000 (1,010 on 9/15/00). This is probably near the maximum that our present energy infrastructure of rigs and trained crews can support. In 1982, there were over 4,000 drilling rigs at work in the United States.
In Kansas average deep drilling activity reached a historical low of 6 per week in 1999 (in 1982 there were over 200 deep rigs at work in Kansas). In 2000 with the increase in oil and gas prices the active deep rig count has increased to approximately 25. Through August, we have already surpassed the total number of drilling permits issued by the Kansas Corporation Commission for all of 1999 (1188 as of 9/1/00 compared to 1,037 for all of 1999). Workover activity has increased from 60 to 80 rigs at work to 150 to 170 rigs at work. Again this is probably the maximum activity that the infrastructure can support without a major increase in equipment and personnel.
The economic incentives have just not been adequate to attract capital dollars to increase drilling activity and maintain our infrastructure. To rebuild our material and human infrastructure will require a sustained period of stable oil and gas prices in the range of $22-$26 per barrel and $3.00/MCF. With fears of government interference in the market it is difficult to attract long-term investment dollars.
Worldwide petroleum demand is climbing at about 2.4% annually, and will continue to increase with the growing prosperity in Asia. There is a new and fast growing "consumer class" in the emerging economies of the world. Here is a very telling statistic - the U.S. with less than 5% of the world's population, consumes 25% of the world's petroleum (and mineral) resources. We use approximately 24 barrels of crude oil per capita per year. China, India, Pakistan, and Indonesia, with 40% of the world's population use less than one barrel per capita/year. Asia is entering the mass consumer age where everyone wants electric power, consumer items, and motorized transportation. How will the U.S. compete on the world market for the energy supply required to maintain our economy? As the third largest producer of oil and the largest producer of natural gas in the world, we no longer encourage sufficient investment in our energy infrastructure.
Forecasts
Natural Gas
Natural gas is fueling 98% of the 250 new power plants under construction or under development today in the U.S. There are no new nuclear, no new coal, or no new hydro power plants of any consequence being built in this country. Demands on natural gas for electric power generation are absorbing all the excess natural gas supply during warm months that traditionally was put into storage for use in home heating during the winter. As a result, we have seen prices for natural gas go from $1.70/MCF only two years ago, to $2.25/MCF this past spring, to over $5.00 currently. This coming winter could see prices exceed $7/MCF and spike at $9-10/MCF if there are production disruptions as might occur from hurricanes in the Gulf of Mexico, or if unseasonably cold weather occurs in major population areas.
Farmers in western Kansas who use natural gas to run their irrigation pumps are particularly vulnerable to high gas prices. Most utility companies have long-term contracts for natural gas that will protect them from sudden price increases or at least delay the onset of them. Farmers generally do not have such contracts but rather buy gas on the spot market. They are going to be hit with a doubling or tripling of energy costs to irrigate their fields.
Last year (1999) the value of natural gas production at the wellhead in Kansas was $1.034 billion. This year, we project that figure will reach $1.5 billion. That figure is based on producers receiving an average of $2.25/MCF for the remainder of the year. Although the current price is more than double that, we do not know what long-term contracts that individual producers have. If a large portion of Kansas production is sold at market prices, the value could reach $1.7 billion for the year.
Oil
Kansas oil production is on a long-term decline. Higher prices will make marginal producers economically viable and extend the life of many fields. Last year, oil production in Kansas at the wellhead was valued at $547 million. This year, due to higher prices, we project the total value of oil production to pass $1 billion.
Energy Self Sufficiency
A Kansas Energy Plan must address all aspects of energy: increasing supply, more efficient distribution, and reduced consumption through conservation. The underlying philosophy of such a plan is that Kansas should be self sufficient in energy. It would be preferable to be a net exporter of energy. Energy self-sufficiency ensures that business, including agriculture, will be more likely to survive and thrive despite problems at the national and international level. Energy self-sufficiency ensures that outside forces will be less able to control supplies and thus prices.

Until the mid 1980s, Kansas was a net exporter of energy. Since then, declining oil and gas production, coupled with increasing consumption, has pushed Kansas into a neutral position - our consumption of energy is roughly matched by our production. In the coming years, Kansas will be a dramatic net importer of energy. We will need to sell more products outside of the state in order to pay for our growing energy demands if we want to avoid shrinking the economy. To understand the implications of this, consider the U.S. balance of payments. In 1980, U.S. citizens owned $400 billion more of foreign assets than foreigners owned of the U.S. Twenty years later, foreign ownership of U.S. assets is $1.2 trillion higher than U.S. ownership of foreign assets. In 20 years we have seen a net transfer of $1.6 trillion of U.S. assets overseas. Much of those assets went to pay for imported oil.

Let us address some of the problems associated with achieving self-sufficiency in oil production alone. The U.S. produces much less than half its oil needs. We have never been this dependent on foreign sources. The oil business in the U.S. is fundamentally different than it was during the oil price shocks of 1973 and 1979. The country is much less able to respond with higher production for a number of reasons:

Small companies without technology--Major oil companies are focused internationally, not domestically. Many U.S. companies and assets are owned or controlled by foreign companies and interests. Much of the U.S. production is by small independent companies, similar in many ways to family farms, with few technological capabilities, a lack of financial reserves, and declining oil reserves.

Companies financially drained--The low oil prices of the past couple of years depleted the financial resources of many small producers. Commonly they are paying off debt acquired during the low price period and are wary of making major investments for increasing production due to the lack of confidence that the market price will not collapse again.

R&D capacity gone--The industry's research and development capabilities have been largely lost as the major companies merge, move overseas, and streamline. The Department of Energy's Fossil Energy program is proposed to divert research money in FY01from 'upstream' (exploration and development) activities, to 'downstream' functions that will do nothing to increase production.

Critical data disappearing--Vast quantities of data about the oil fields have been lost or are in danger of being lost through takeovers, mergers, and business failure. Capturing and preserving these data are critical to maintaining future oil production.
Increasing Supply
One part of the solution is to increase U.S. oil production in concert with other approaches (including taxes, pricing, foreign supply, efficiency, conservation, and alternative energy and fuels). This needs to be a long-term effort to assure continued domestic production and reduced reliance on uncertain foreign supplies.

Our approach is to get technological help to the small companies that now form the backbone of U.S. oil production. The Kansas petroleum industry is made up of more than 3,000 independent oil producers and 1,450 gas producers (Figure 11). Less than 1% of operators employ more than 100 employees; 89% have fewer than 20 employees. This is not "Big Oil" we commonly associate with petroleum production. This industry is more like that of the small family farmers who dominate Kansas agriculture. This means that the small Kansas oil producers do not have the research capabilities to find and apply new technologies. This means that the small Kansas oil producers do not have vast financial resources to immediately invest in new wells whenever prices make the business profitable. We need to provide support for the small Kansas oil producer the way we do for the small family farmer.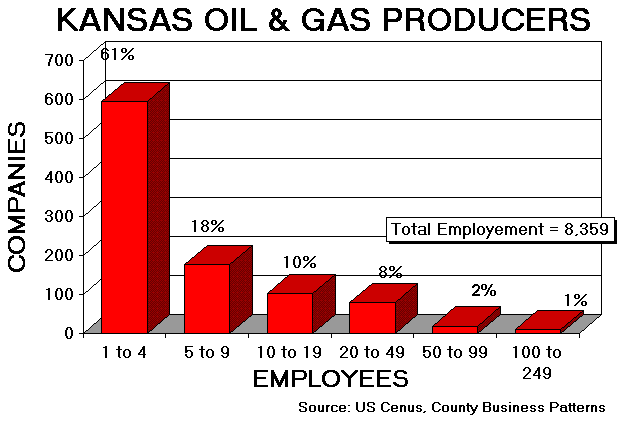 Figure 11--Employment by Kansas oil and gas producers
The major oil companies have shifted their focus out of Kansas to frontier areas and out of the U.S. to more favorable resource and regulatory environments overseas. Mergers and acquisitions have eliminated or downsized industry research labs. In the last 14 years the U.S. global advantage in petroleum technology has been systematically dismantled and lost. We can no longer rely on traditional pathways for technology development and application.
We recommend a multi-faceted approach to increasing energy supplies with an emphasis on applied technology:
1) Increase available risk capital that is directed towards application of innovative technologies to produce more Kansas energy.

Background--The Kansas Geological Survey (KGS) and the KU Energy Research Center (ERC) have had success forming coalitions with Kansas energy producers to modify and apply new technologies. Examples include application of nuclear magnetic resonance (NMR) technology to analyze how oil is distributed in the reservoir, using full-field reservoir simulation to optimize the location of new infill and horizontal wells, drilling of cost-effective horizontal wells, and demonstration of carbon dioxide miscible flooding as an improved oil recovery technique. All past projects have required significant monetary investment from both government and private industry. (The 50/50 dollar match usually required for field demonstrations helps the small energy producer to overcome the risk of new technologies, but at the same time assures that proposed technologies have a realistic chance of success.) All projects require that results are publicized and transferred to all Kansas energy producers. The program has been constrained and limited by the national competition for very limited federal funds (i.e., oil recovery projects from the U.S. Department of Energy). A Kansas based program could focus on a broader portfolio of energy resources and types of technology. In addition to improved oil recovery this portfolio should include demonstration of improved natural gas production, field management practices to automate production and minimize environmental impact, alternative energy systems, recovery of energy from Kansas coal resources, and integrated cogeneration energy systems.

2) Promote training for Kansas energy producers in the latest technologies.

Background--The Kansas Geological Survey (KGS) and the KU Energy Research Center (ERC) operating through the Petroleum Technology Transfer Council (PTTC) have used very limited funding to initiate a pilot program of continuing education for Kansas energy producers. Due to funding constraints the present program is focused on oil and gas production, and does not reach all of the 3,000 Kansas operators. Federal funding for the program will end after the next fiscal year. These small energy producers have difficultly keeping abreast of rapidly changing technologies. The program should be expanded in both size and scope to provide all Kansas energy producers with the latest technology. The goal is to make the Kansas energy producer aware of potential technologies that can reduce unit production costs (i.e., dollars of operating costs per BTU of energy produced), and keep us competitive in a national and international market.

3) Develop an integrated energy database that is available online to all stakeholders.

Background--Kansas energy data is critical to private enterprise, government policy makers, and the public. Present energy data collection and dissemination in Kansas could be improved with coordination and integration. Examples include oil and gas production data which are collected by the Kansas Department of Revenue for each of the 40,000 leases, but is not tied to well data collected by the Kansas Corporation Commission on each of the more than 360,000 wells drilled in the state. Until recently, all data was relegated to paper in dusty files. With the advent of Internet and relational databases, we have begun to integrate this data and provide online access. These initial steps have had an impact on the state in the development of regulation and policy. It is also helping to attract private sector capital investment for projects such as CO2 miscible flooding. However, the scope and size of legacy data (the "paper dinosaur") limits the timeliness, completeness, and accuracy of data. Limited funds could go a long way to moving Kansas to a completely digital integrated energy database.

4) Establish an Energy Extension Service.

Background--The Agricultural Extension Service is one of the reasons for the success of American agriculture. Field agents seek out or develop best practices and share them with individual farmers. New techniques and technologies, developed in the laboratories and universities, are implemented in the field. The same approach would benefit Kansas if we put local agents (geologists, engineers) in the field to aid small energy producers with technological information and advice. The Petroleum Technology Transfer Council initiated a successful small pilot program of continuing education for Kansas oil and gas producers that will end after next fiscal year. The small producer cannot keep abreast of rapidly changing technologies. An Energy Extension Service could help make Kansas energy producers aware of technologies that can reduce production costs and keep them competitive in a national and international market, thus extending the life of our oil and gas fields.
Alternative energy in Kansas
Wind power--Wind power in Kansas is not a new concept. For decades, ranchers and farmers used the power of blowing winds to pump water to fill stock tanks and to irrigate crops. With changes in needs and technologies, the wind is now also seen as a viable means to generate electricity. A 1991 study by Pacific Northwest Laboratory ranked Kansas as having the third best wind energy resource, after North Dakota and Texas, with the potential to produce 321 billion kWh annually based on 25-35% capacity factors, which are standard for the technology. For comparison, Kansas utilities generated 41.5 billion kWh in 1998. Yet, thus far, the wind resource for electricity generation has largely gone untapped, as Kansas ranks 13th in actual electricity produced from wind, and will soon drop to 19th as current projects in other states come on-line.

For wind energy to gain a foothold in Kansas, it will require initiatives from the Kansas legislature. Tax credits, mandates requiring utilities to provide "green energy" options to their customers, retail wheeling, and net metering are some of the possible legislative actions that could increase development of alternative resources. Currently, only utility companies are allowed to sell electricity in the state. Entrepreneurs or alternative-energy developers who want to produce electricity in Kansas are required to sell the electricity to the local utility, which is neither required to buy it nor pay more than the "avoided cost" rates for the electricity, which normally is in the 1 - 2 1/2 cent per kWh range.

To generate the full potential of 321 billion kWh, 162,800 wind turbines would be needed, each rated at 750 kW. Each turbine (and access roads and auxiliary equipment) uses less than one acre of land, but needs to be spaced apart to ensure proper operation. On large wind farms, 40 acres may be needed per turbine. Thus, wind turbines could conceivably affect over 10,000 square miles of Kansas, about 1/8th of the state.

However, to simply match the current electric generation capacity of Kansas would only require about 21,000 turbines, affecting about 1300 square miles.

Energy farms--The Kansas agricultural industry can contribute to the energy mix. Ethanol from corn is already an important component in gasoline production. Other uses for agricultural products are emerging such as work at Pittsburg State University on converting vegetable oils into functionalized oils for high-performance plastics. Bio-engineered crops may be specially designed for their energy value and grown in place of traditional food crops. New research has found that pork lard can serve as a low polluting substitute for fuel oil in steam boilers with comparatively good efficiency.
Funding a Kansas Energy Plan
The combined value of oil and gas production in Kansas may be $2.5 billion or higher this year, up $1 billion or nearly 70% from 1999. With this will come a windfall in tax revenues for state and local governments. The State of Kansas may see an additional $40-50 million in tax revenues for 2000. We suggest it would be appropriate to use a small portion of these extra funds, perhaps 10% of the increase, to reinvest in a state energy plan to address the range of issues including the programs we outlined above, to help maintain the economic vitality of Kansas energy production and provide energy security for Kansas consumers.
---
For more information contact
Lee Allison (no longer with the Survey)
Tim Carr (no longer with the Survey)
Scott White (no longer with the Survey)
Kansas Geological Survey
Placed online Oct. 3, 2000, based on testimony delivered Sept. 28, 2000
Comments to webadmin@kgs.ku.edu
URL="http://www.kgs.ku.edu/General/News/2000/energy_plan.html"