Kansas Geological Survey, Open-file Report 2012-6
---
Flint Hills Ecoregion
compiled by John W. Dunham
Produced with the Symphony in the Flint Hills
KGS Open File Report 2012-6
June 2012
Background
The following discussion is summarized from Chapman et al. (2001).
The Flint Hills Ecoregion, the largest remaining intact tallgrass prairie in the Great Plains and the western edge of the tallgrass prairie, is characterized by rolling hills composed of Permian shale and cherty limestone, and rocky soils. Climate is marked by humid, wet summers, and average annual precipitation of 28 to 35 inches. Erosion of the softer limestones has left the more resistant chert (flint) on the surface, producing the area's coarse soils. This rocky surface, with its steep slopes, is difficult to plow; consequently, the region has historically supported very little cropland agriculture (Chapman et al., 2001). The natural tallgrass prairie is still intact in most of the ecoregion and is used for range and pasture land. However, some cropland agriculture has been implemented in river valleys and along the periphery of the Flint Hills, especially in the northwest corner where the topography is more level.
Ecoregions are areas that are similar in ecosystems and environmental resources; they are a way of mapping, studying, assessing, managing, and monitoring ecosystems and ecosystem components in a given area (Chapman et al., 2001). The Flint Hills Ecoregion boundary is based on the premise that ecological regions can be identified through the analysis of the patterns that reflect differences in ecosystem quality and integrity, including geology, physiography, vegetation, climate, soils, land use, wildlife, and hydrology (Wiken, 1986; Omernik, 1987, 1995).
The map is available as an Adobe Acrobat PDF file.
To view this map, you will need the Acrobat PDF Reader, available free from Adobe.
References
Chapman, S. S., Omernik, J. M., Freeouf, J. A., Huggins, D. G., McCauley, J. R., Freeman, C. C., Steinauer, G., Angelo, R. T., and Schlepp, R. L., 2001, Ecoregions of Nebraska and Kansas (color poster with map, descriptive text, summary tables, and photographs): U.S. Geological Survey, scale 1:1,950,000.
Omernik, J. M., 1987, Ecoregions of the conterminous United States (map supplement): Annals of the Association of American Geographers, v. 77, no. 1, p. 118-125, scale 1:7,500,000.
Omernik, J. M., 1995, Ecoregions--a framework for environmental management; in, W. S. Davis and T. P. Simon, eds.: Biological Assessment and Criteria--Tools for Water Resource Planning and Decision Making: Boca Raton, Florida, Lewis Publishers, p. 49-62.
Wiken, E. B., 1986, Terrestrial ecozones of Canada: Ottawa, Environment Canada, Ecological Land Classification Series no. 19, 26 p.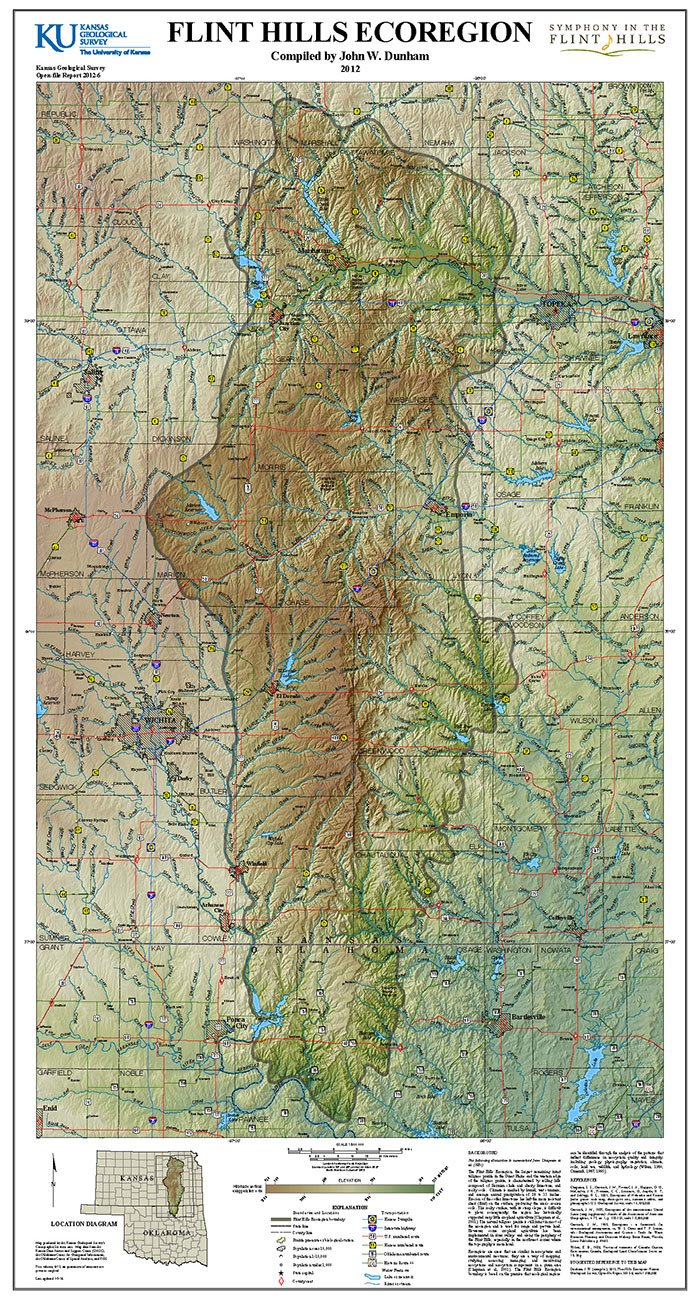 ---
Kansas Geological Survey
Placed online Jan. 26, 2017
Comments to webadmin@kgs.ku.edu
The URL for this page is http://www.kgs.ku.edu/Publications/OFR/2012/OFR12_6/index.html