Kansas Geological Survey, Open-file Report 2005-33
---
Kansas Artistic Geologists and Illustrators
by
Daniel F. Merriam, William W. Hambleton, and John R. Charlton


KGS Open File Report 2005-33
October 2005
Presented at the 2005 Salt Lake City Annual Meeting, Geological Society of America
Abstract
Kansas geologists have been long on artistic talent from the early days. Preparing graphic illustrations of stratigraphic and cross sections for publication requires some artistic proficiency. Artistic ability also is necessary for depiction of fossils and their reconstruction and restoration. Some of the geologists were competent enough to qualify as good amateur artists. Several Kansas geologists/university professors, including Raymond C. Moore and John C. Frye, had a special aptitude for illustrative art; others used their artistic abilities as needed to demonstrate and illustrate their point. University of Kansas geologists, including Orestes St. John, Samuel Wendell Williston, and John (Jack) W. Koenig, associated with the Kansas Geological Survey and KU Department of Geology, were multi-talented artistically. These gifted geologists provided a graphic record of their talent in a series of illustrations. They had the ability to represent geology in the field on drawing paper or canvas--an inherent ability and one that was used extensively in the classical (pre-computer) period in geology. Some, Moore, Williston, and Koenig, also produced accurate and meticulous drawings of fossils. Advent of photography eliminated the need for graphic field illustrations by the geologist, but a few have carried on the classical tradition of previous generations.
The presentation is also available as an Adobe Acrobat PDF file.
artgeo2.pdf (3.2 MB)
To read this file, you will need the Acrobat PDF Reader, available free from Adobe.
Introduction
Until the turn of the 20th Century, most illustrations in books and scientific articles were line drawings produced by woodcuts, lithographs, or etchings. Many of the line drawings were actually done in the field by the geologist for reproduction in a publication. So, up to the turn of the 20th Century, the geologist had to be a pretty good illustrator or have a competent assistant. This was the time of qualitative geology, and geology was even considered by some as part of the arts, not the sciences. If Lord Kelvin's notion is remembered, "if it can't be expressed in numbers, it isn't science," then geology at that time was not a science in his view.
Some of these early workers were very artistically talented. After all this was the "classical" (descriptive) age of geology. As photography became more accepted and accessible by the late 20th Century, it became the preferred method of illustrating. Now, of course, photography using film has been replaced by digital photography, eliminating darkrooms and chemicals, and thus is easier to use.
However, there is a mystique about field sketches and drawings. They are rendered in the perception of the one who makes the sketch, who sees certain features and emphasizes them in relation to others--a rendering that cannot be captured in photographs. There is a benefit in using pen and ink drawings in that certain features can be accentuated in an image for emphasis.
There are two sides to geo-art: (1) the geologist who represents what he sees and highlights what is important geologically, and (2) the artist who draws what he sees in the landscape either as a faithful presentation or as an image as imaged. The geologist may be more interested in the details and the geological relationships shown in the picture, whereas the artist may see the composition by light and shadow.
In addition to field sketches, there are other uses for pen and ink drawings. Block diagrams, for example, are preferred and essentially the only way geomorphologists can represent the development of land forms through time. Several workers of the classical era made their own 3D diagrams including Hans and Ernst Cloos, W.M. Davis, Douglas Johnson, P.B. King, A.K. Lobeck, R.C. Moore, and Erwin Raisz. Paleontologists have drawn their fossil illustrations for decades by hand, with the help of a camera lucida, or with the aid of photographs.
With paintings the third dimension is rendered in landscapes by shading, perspective, and technique. Portraits, popular prior to photographs and still popular in certain circles, require a special talent. Some art can be learned, but some inherent ability must be there to master the subject. Some geologists have this unique ability and probably could make their living as either as an artist or a commercial illustrator. Only a few representative geo-artists associated with Kansas are critiqued here.
Kansas Geo-artists and Illustrators
Several geologists who worked in Kansas, some associated with the Department of Geology at the University of Kansas or with the Kansas Geological Survey, were blessed with artistic talent. State geologists, who also were KU faculty members, included Benjamin Mudge, Erasmus Haworth, Raymond C. Moore, and John C. Frye. In addition, Orestes St. John, Samuel Wendell Williston, and John (Jack) W. Koenig each applied their artistic aptitude in their artistic renditions.
Benjamin Franklin Mudge
Mudge was the first State Geologist but just for one year; his short final report submitted in 1866 did not have any illustrations. Later, however, he did include illustrations in his Kansas Department of Agriculture reports and an example is give here (Fig. 1, page 2 of PDF; Mudge, 1878, p. 84). It is rather modest, stylized diagram illustrating a point--the cross-cutting relationship of a dike to horizontal beds.
Fig. 1--Benjamin Mudge's detail drawing of stratigraphic relations (Mudge, 1878).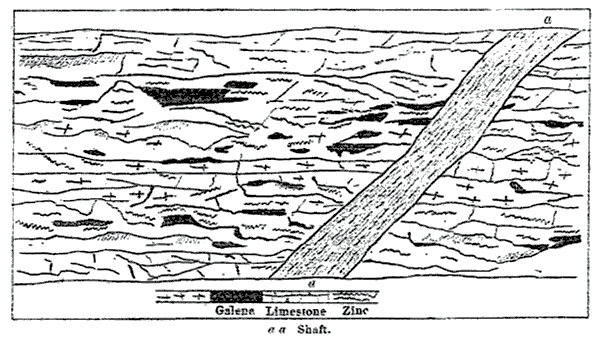 Erasmus "Daddy" Haworth
Erasmus Haworth did some of his own illustrations, however, he usually had professionals for the job, partly to expedite the publication time. Hattie M. Huntsman, Erasmus' sister-in-law, did many of his illustrations. An example of one of his drawings, a "stiff" cross section, looks as if it had been drawn with a straightedge. From this example (Fig. 2, page 2 of PDF; Haworth, 1896, p. 202), it can be seen that he could illustrate a geological relationship, but was not a talented artist.
Fig. 2--Cross section by Erasmus Haworth showing nature of benches caused by surface erosion (Haworth, 1896).

Orestes St. John
St. John was the Assistant State Geologist of Iowa when he illustrated the Report of the Geological Survey of the State of Iowa (v. I and II) in 1870. St. John worked in Kansas on numerous occasions mainly in the western part of the state and published his results in reports of the Kansas State Board of Agriculture as did Benjamin Mudge. Prior (1975) notes that his sketches have historical interest, artistic excellence, and scientific value. The sketches are heavily annotated (Fig. 3, page 4 of PDF). Recently, a cache of his "lost" drawings have been discovered.
Fig. 3--A field rendition by Orestes St. John in 1868 of area along Des Moines River at Keosauqua, Iowa (Prior, 1976).

Samuel Wendell Williston
Wendell Williston was a paleontologist and one of the three original members of the third Kansas Geological Survey along with Haworth and chemist Edgar H.S. Bailey. His publications concerned with fossils were works of art (Shor, 1971). Williston crafted many of his own illustrations especially the restoration of fossil animals in their environment (Fig. 4, page 5 of PDF). He also sketched his interpretation of landscapes (Fig. 5, page 6 of PDF).
Fig. 4--Samuel Wendell Williston's rendition of an ancient environment and animals in Permo-Carboniferous time (Shor, 1971).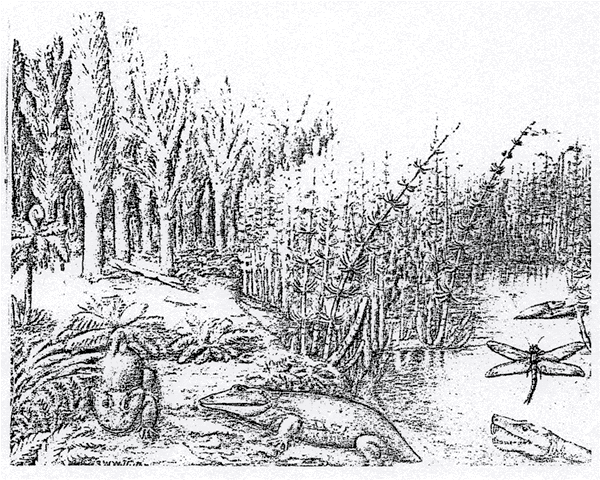 Fig. 5--Monument Rocks (Cretaceous Niobrara chalk) in Gove County, Kansas, by Wendell Williston.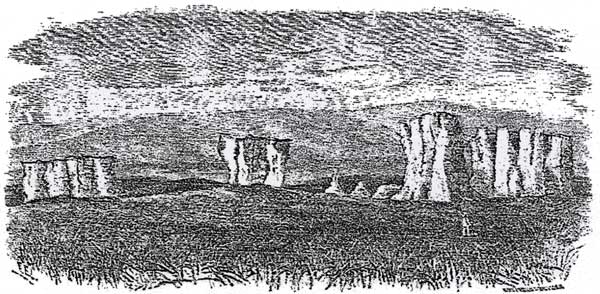 John Chapman Frye
Frye also made sketches while in the field. His colleague of many years, Byron Leonard, noted in his memorial to Frye that he "...had a special talent for field diagrams; he could sit down at the side of the road with his notebook on his knee and produce a field sketch that needed only a bit of lettering before publication. It was a pleasure to watch him work" (Leonard, 1983). From the example given here (Fig. 6, page 7 of PDF) it is clear that Frye's field sketches were adequate for his purpose but scarcely of a quality for publication. A search of Frye's field notebooks revealed many similar diagrams, but none that would be considered art.
Fig. 6--A field sketch of a detailed measured stratigraphic section in Henderson County, Illinois by John Frye (courtesy of Illinois State Geological Survey).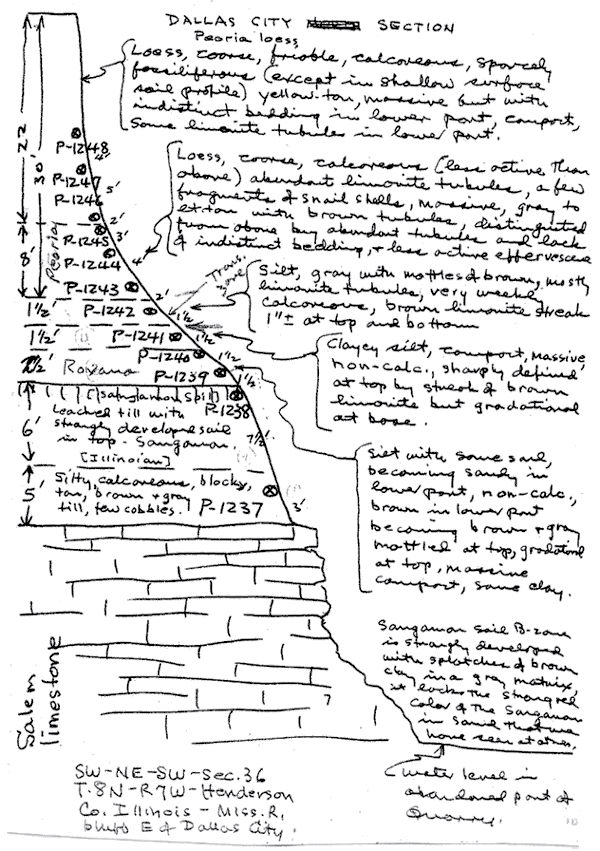 John (Jack) W. Koenig
Koenig "found" his talent in the late 1940s when he first painted a portrait of his major professor, R.C. Moore, while he was a graduate student (Fig. 7, page 8 of PDF). In addition to the portrait of Moore which hangs in the entrance way of Moore Hall on the KU Campus West (Fig. 8, page 9 of PDF), Jack also painted portraits of William Heroy for the Heroy Geology Laboratory at Syracuse University in New York, and J.R. Berg for the Department of Geology at Wichita State University.
Fig. 7--An oil portrait of R.C. Moore by Jack Koenig painted in about 1945. The original has been lost and only a 35mm slide is preserved (courtesy of Karl Koenig).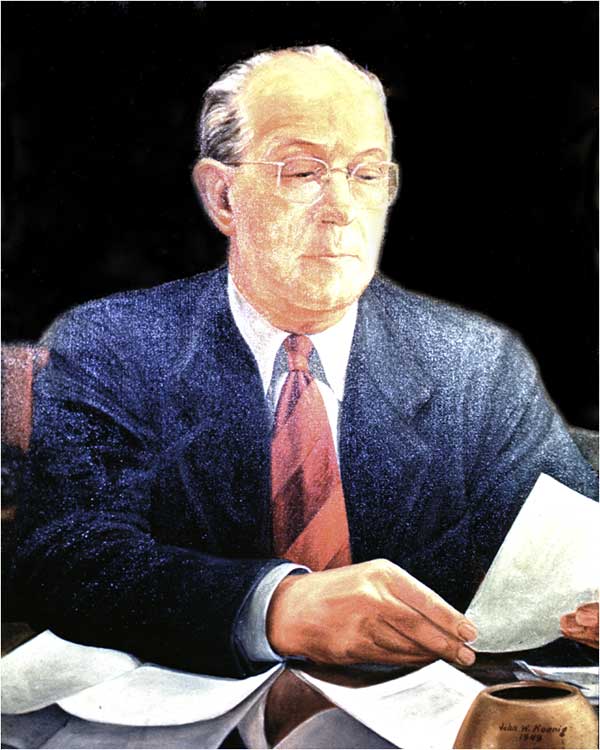 Fig. 8--R.C. Moore's formal portrait by Jack Koenig hanging in Kansas Geological Survey Moore Hall on KU Campus West.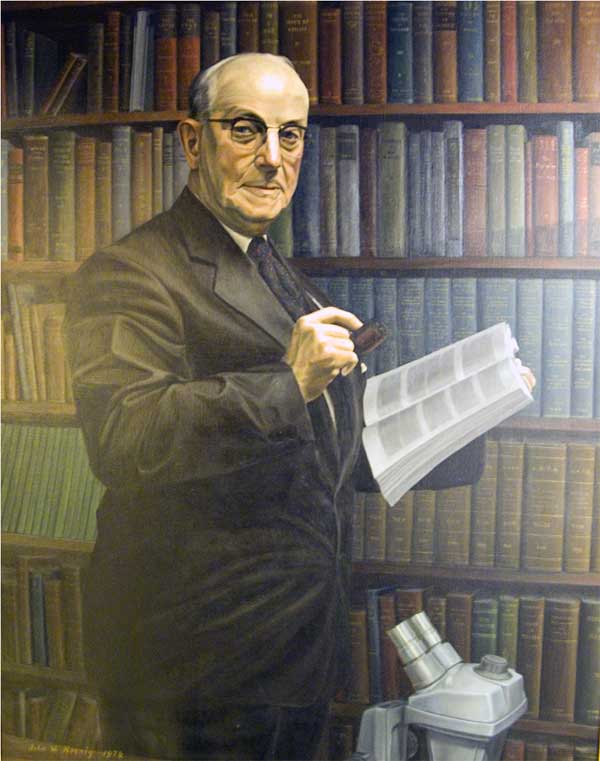 Jack Koenig was the main illustrator for Moore's Treatise on Invertebrate Paleontology for many years and later worked at the Missouri Geological Survey. Jack was good enough that R.C. Moore once mistakenly claimed one of Jack's sketches as his own.
Raymond Cecil Moore
Moore, State Geologist and Director of Research and Distinguished Professor of Geology, was a multi-talented geo-artist. He could make his field sketches on the spot and his field notes are works of art (Fig. 9, page 10 of PDF). Moore applied his talents early in illustrating his doctoral dissertation (Fig. 10, page 11 of PDF), then on the Birdseye Expedition on the Colorado River in the Grand Canyon (Fig. 11, page 12 of PDF), and later in his textbooks. In addition to his drawings, he produced excellent paintings (Fig. 12, page 13 of PDF) and it is rumored, but not confirmed, he sculptured.
Fig. 9--Field sketch by R.C. Moore of stratigraphic section along Kansas Turnpike. Note every bed can be identified.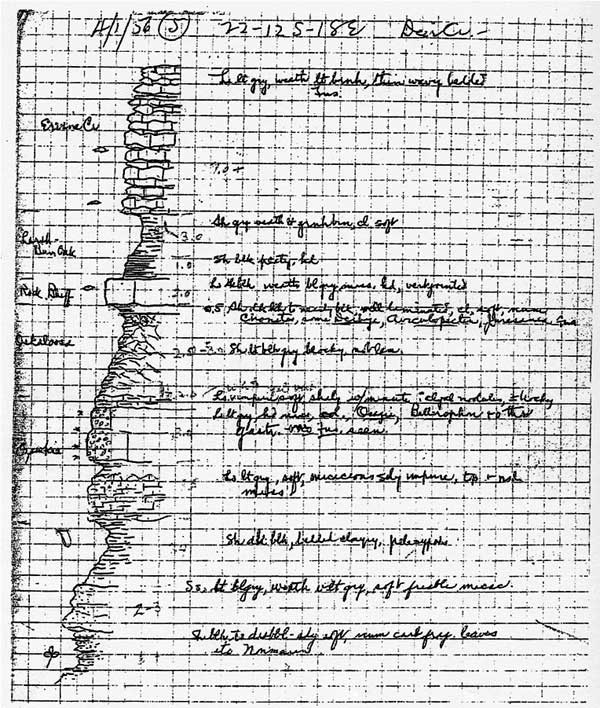 Fig. 10--View of geologic relations by Moore in his dissertation field area in Missouri in 1916.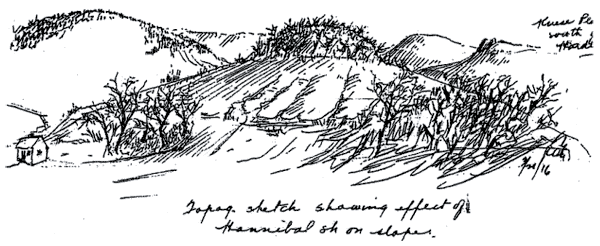 Fig. 11--R.C. Moore field notebook sketch of Marble Canyon made on the Birdseye expedition in the Grand Canyon in 1923.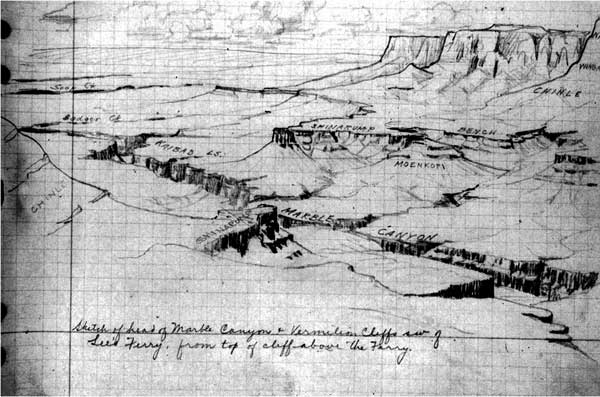 Fig. 12--One of R.C. Moore's known oil paintings of European landscape in 1928 (courtesy of KU Spencer Art Museum archives).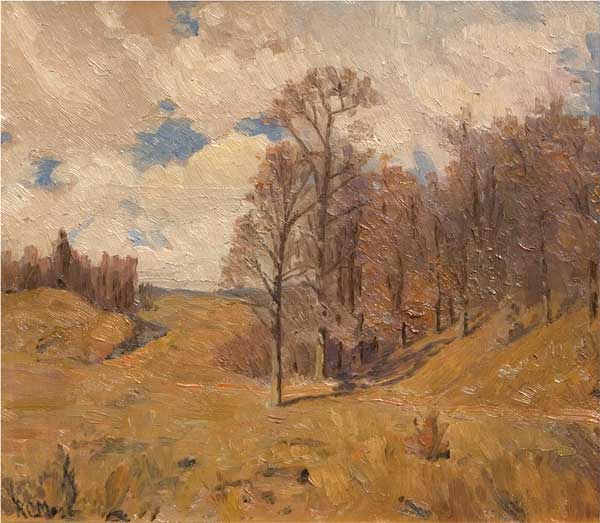 Later, when Moore was pressed for time, he would take photographs of what he wanted to show, ink the photos in the office, and then bleach out the photo leaving the line drawing, or he would not put the photos in the fixer and let them fade and then ink (Figs. 13 and 14, pages 14 and 15 of PDF). Either way this was effective and time saving and the final result was almost as good as if he did the drawing in the field.
Fig. 13--Diagrams made by inking on photographs and then bleaching the photo of outcrops along route of a field trip. From field trip along US 40 led by Moore in 1959.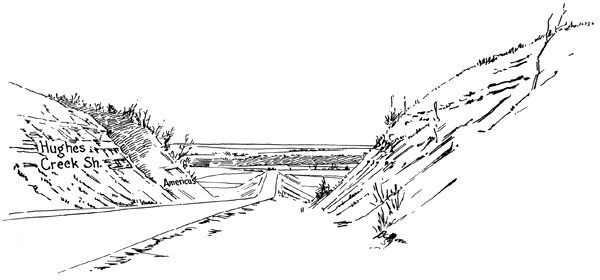 Fig. 14--Another pen and ink sketch by Moore made by bleaching the photo leaving the ink drawing along Kansas Highway 18 in Riley County. Made for a field trip led by Moore in 1959.

Block diagrams were and are favorite views of geologists used to present a point. Moore was effective in using this venue to show development through time. One example he liked was the before and after arrival of the Europeans in Kansas (Fig. 15, page 16 of PDF).
Fig. 15--Block diagram by Moore of Mt. Oread (home of the University of Kansas) then and now. On cover of field guide from 1959.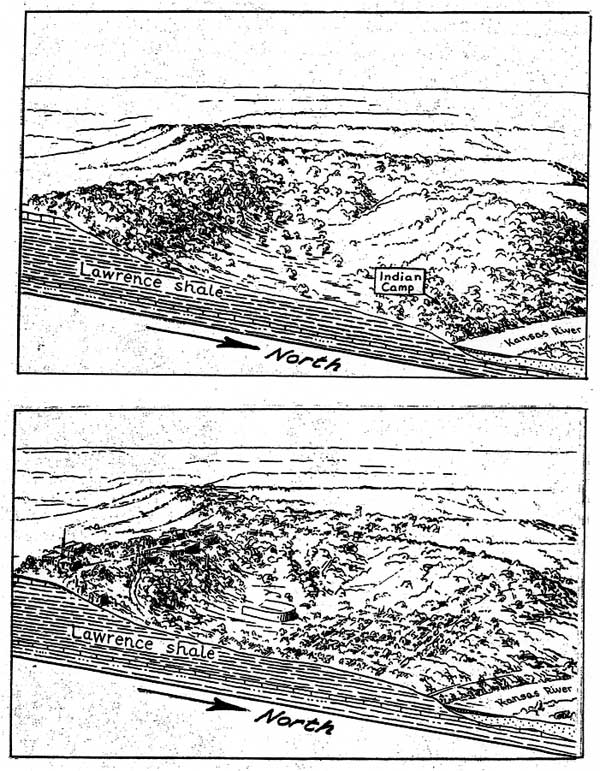 Moore also made pen and ink sketches of friends and colleagues as much as anything as to relax (Figs. 16a, 16b, and 16c, page 17 of PDF). They are extremely good likenesses. He also painted the portrait of Erasmus Haworth, which was displayed for many years in the Survey's Moore Hall on Campus West of the University of Kansas (Fig. 17, page 18 of PDF).
Fig. 16a--Sketch of John Frye by Moore.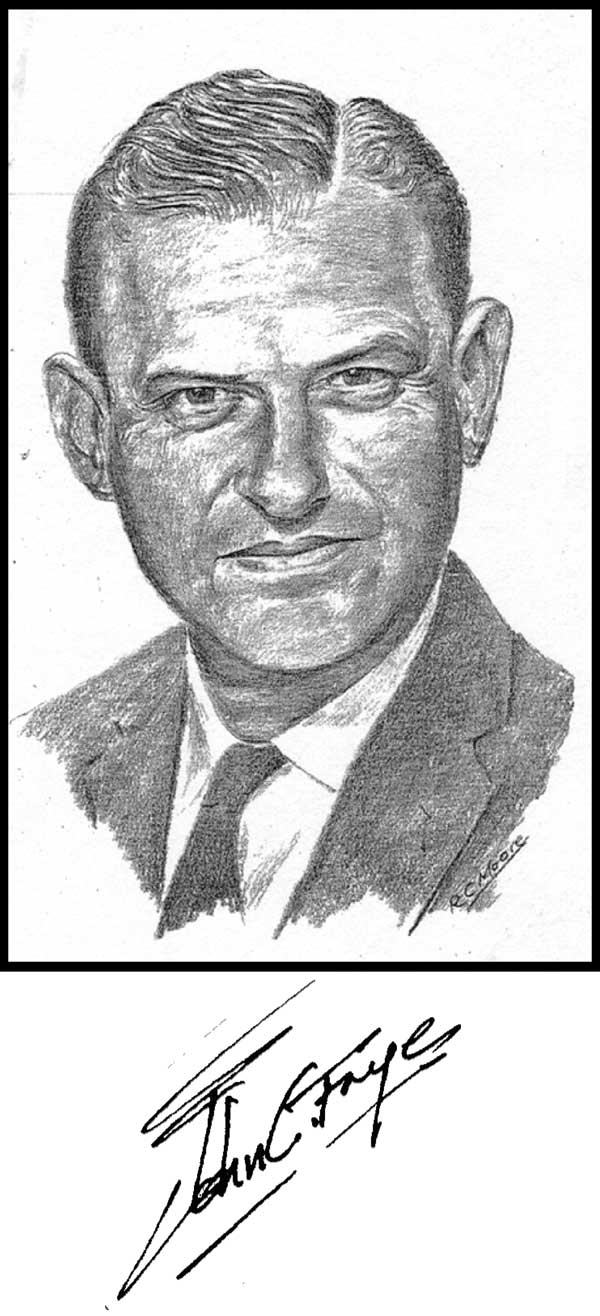 Fig. 16b--Sketch of Frank Foley by Moore.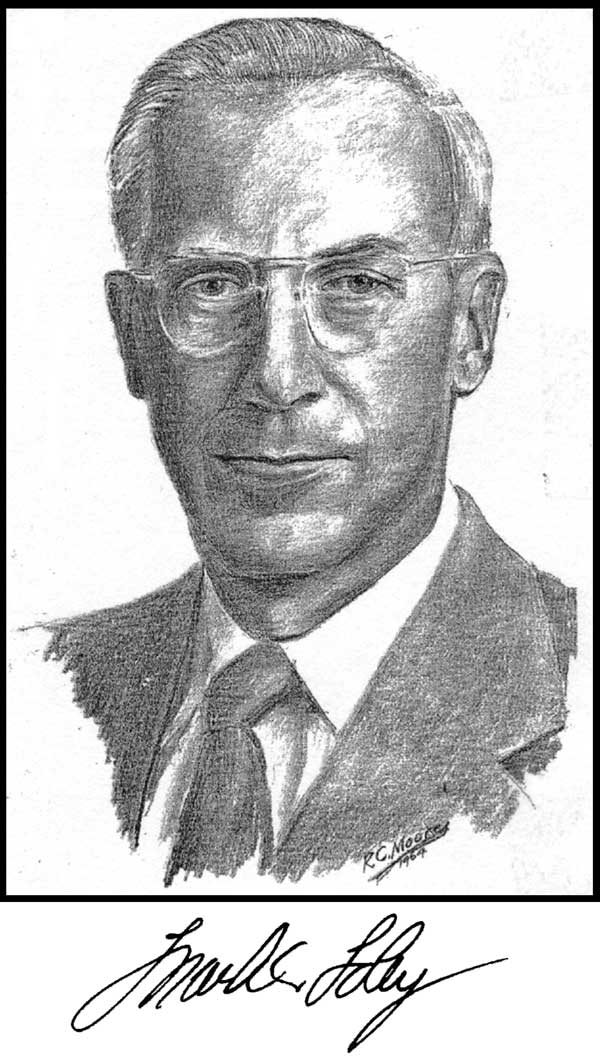 Fig. 16c--Sketch of Bill Hambleton by Moore.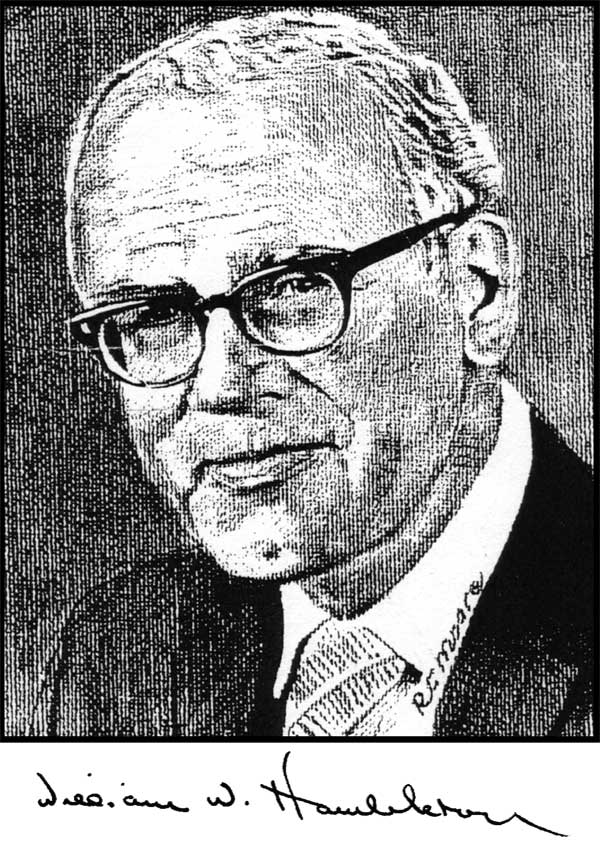 Fig. 17--Oil portrait of Erasmus "Daddy" Haworth by Moore in 1929.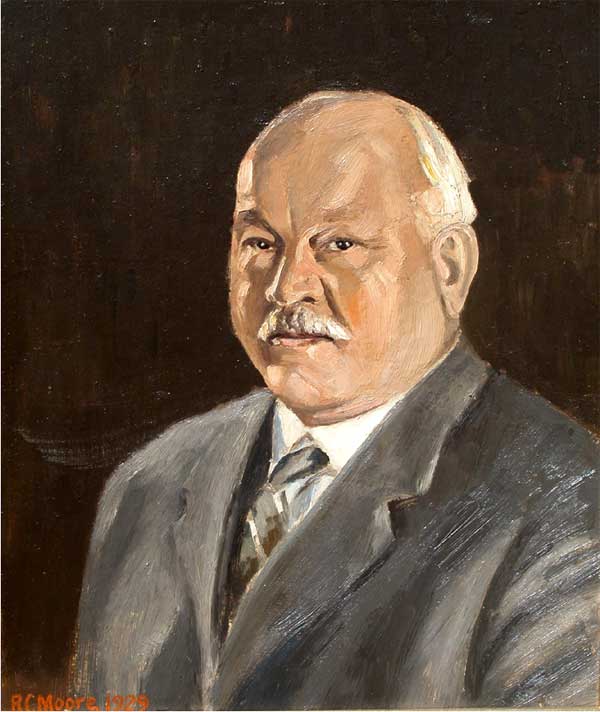 Summary
Art work of six Kansas geologists is presented as representative of their artistic ability. Examples range from stylistic representations to beautiful renditions depending on the talent of the particular geologist and the purpose. The development of geologic illustrations semi-parallels that of the general development of scientific illustrations with exception of the exceptional artistic one, such as R.C. Moore, who was a true artist and continued producing works of art through his lifetime.
Acknowledgments
We would like to thank Patricia Acker of the Kansas Geological Survey for digitizing and arranging the illustrations. Louis Copt, a Midwest regional artist, critiqued R.C. Moore's paintings and drawings. A version of this paper was presented at the session on the History of Geology at the 117th Annual Meeting of the Geological Society of America in Salt Lake City, Utah, on 17 October 2005.
References
Haworth, E., 1896, The University Geological Survey of Kansas, vol. I: The Kansas State Printing Co., Topeka, 320 p. plus illustrations. [available online]
Leonard, A.B., 1983, A better friend hath no man: Kansas Geol. Survey, The Journal, v. 5, no. 1, p. 6-8.
Moore, R.C., and Merriam, D.F., 1959, Kansas Field Conference, 1959: Kansas Geol. Survey, Guidebook, p. 1-55; modified and reprinted as Guidebook, 23rd Field Conference: Kansas Geol. Society, p. 1-52.
Mudge, B.F., 1878, Geology of Kansas, in First Biennial Report of the State Board of Agriculture: Kansas State Board of Agriculture, Topeka, p. 46-88.
Prior, J.C., 1975, A regional guide to Iowa landforms: Iowa Geol. Survey, Educ. Ser. 3, 72 p.
Shor, E.N., 1971, Fossils and flies, the life of a compleat scientist (1851-1918): Univ. Oklahoma Press, Norman, 285 p.
---
Kansas Geological Survey, Geology
Updated Nov. 4, 2005
Comments to webadmin@kgs.ku.edu
The URL for this page is http://www.kgs.ku.edu/Publications/OFR/2005/OFR05_33/index.html