Kansas Geological Survey, Subsurface Geology 12, p. 15-16
---
Orbital forcing of glacioeustasy--requirement of a realistic two-dimensional forward model
by
R. K. Matthews1 and Cliff Frohlich2
1Department of Geological Sciences, Brown University
2Institute for Geophysics, University of Texas at Austin
Orbital forcing of climate change at key latitudes has long been recognized as a probable cause of variation in continental ice budget and thereby sea level. The precision cycle, variation in tilt of the earth's axis relative to the sun, and variation in the eccentricity of the earth's orbit about the sun all effect seasonal solar insolation. The seasonal solar insolation signal at any particular latitude is complex, with periods ranging upwards from 20,000 years to hundreds of thousands of years. Further, non-linear responses of the earth system (e.g., slow buildup and rapid destruction of continental ice sheets) can convert modulation of short-period signals into long-period signals of up to two (perhaps five?) million-year periods.
This complexity of expected glacioeustatic sea-level signal places important requirements on two-dimensional forward-model construct. First, sea-level changes of a few meters can send the shoreline migrating hundreds of kilometers. Given the prospect of periods as short as 20,000 years to as long as 5 m.y., we are talking perhaps 500 reversals of sea level just to model one stratigraphic sequence (taken as nominally 5 m.y. long). Second, rapid changes in sea level can have a profound effect on a related alluvial system which is constantly linked to the marine depositional system by sea level.. Source/sink relations, which might be overlooked if sea level were slowly moving in one direction for long periods, can drastically modify availability of clastic sediment to the marine environment.
We are currently constructing a two-dimensional forward model specifically designed to quantitatively study these and similar consequences of orbital forcing of glacioeustasy throughout the Phanerozoic. Fig. 1 presents an example of output. Further examples of reasonable, synthetic sea-level input curves and examples of model-sensitivity tests will be available at the conference.
Figure 1--Stratigraphic cross section (A) and chronostratigraphic chart (B) depicting output of a forward model which interacts a 2.15-m.y. interval of calculated (quite preliminary, highly arbitrary) orbitally forced glacioeustatic signal with a submarine shelf having an initial slope of 1 m/km. Topset units are taken to be sand and arbitrarily 10 m (33 ft) thick; these are the units depicted in (B). Note the stratigraphic complexity that is to be anticipated to result from a scant 2 m.y. of orbitally forced glacioeustatic sea-level fluctuation.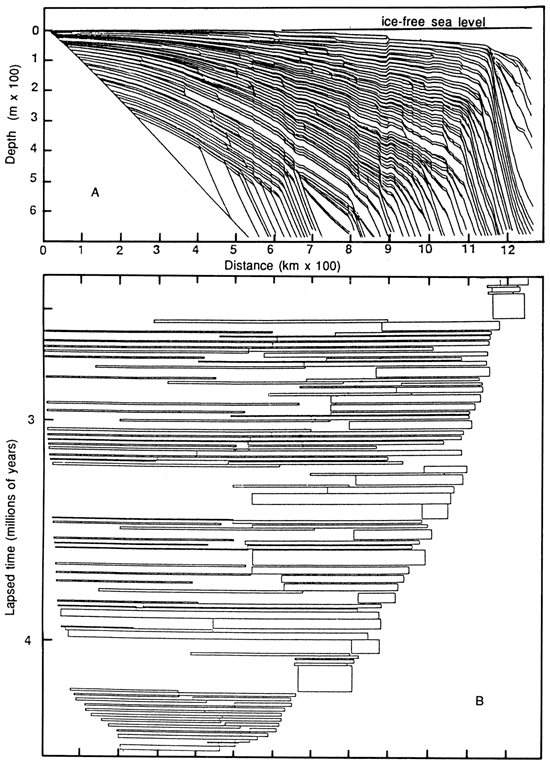 ---
Kansas Geological Survey
Comments to webadmin@kgs.ku.edu
Web version May 7, 2010. Original publication date 1989.
URL=http://www.kgs.ku.edu/Publications/Bulletins/Sub12/Matthews/index.html