Prev Page--Contents || Next Page--Stratigraphy
---
Purpose of the study--The central Great Plains (Fenneman, 1931) is a region generally lacking in hard durable rock for construction and other uses. The pre-Tertiary bedrock of western Kansas consists predominantly of shales, chalky limestones, friable sandstones, and relatively soft siltstones of Cretaceous, Permian, and locally Triassic age, blanketed by gravel, sand, and silt of Pliocene and Pleistocene age. In some areas the chalky limestones--and to a less extent some of the sandstone beds--have been used for building purposes, but they are inadequate to meet the requirements of heavy construction and such other uses as railroad ballast, concrete aggregate, and riprap. Plans for extensive construction projects being formulated by the United States Engineer office, Kansas City, Missouri, and the United States Bureau of Reclamation, in addition to the large number of inquiries concerning hard rock that have come to the Geological Survey from railroad companies, quarry operators, and contractors, have emphasized the need for an inventory of durable rock in western Kansas. Although at several localities tightly cemented sandstone beds included within the strata of the Dakota formation are known to constitute a desirable material for many purposes, by far the largest quantity of hard and durable rock--more than nine million tons--is represented by silicified zones in the Ogallala formation of Pliocene age. It is with this rock that the present report is concerned. All formerly known localities have been visited in the field and many new deposits have been located. Petrographic studies of samples from many exposures were made. The first part of this report treats the general distribution, stratigraphy, physiographic expression, and petrology of silicified rocks in the Ogallala formation. This is followed by descriptions of individual silicified rock localities in each of 12 counties in western Kansas.
Distribution of silicified rock--Silicified rock is known to occur in the Ogallala formation over a region extending from South Dakota to west-central Texas. The largest quantities of quartzite, or silicified sand and gravel, are believed to occur in the north-central and northwestern parts of Kansas. The distribution of the Kansas localities studied by us is shown in Figure 1. Quartzite has been reported from the Ogallala formation in Franklin County, Nebraska, just north of the Kansas line, and from the Missouri Valley area in northeastern Nebraska and southeastern South Dakota. Samples were also obtained from two localities in Texas, one 13 miles northeast of Midland and one 3 miles south-southwest of Canyon. Chert occurs at many stratigraphic positions within the Ogallala formation and is more widespread geographically in Kansas than quartzite, but it has smaller potential value as a construction material.
Fig. 1--Map of western Kansas showing localities from which samples of Ogallala quartzite and chert were collected for study.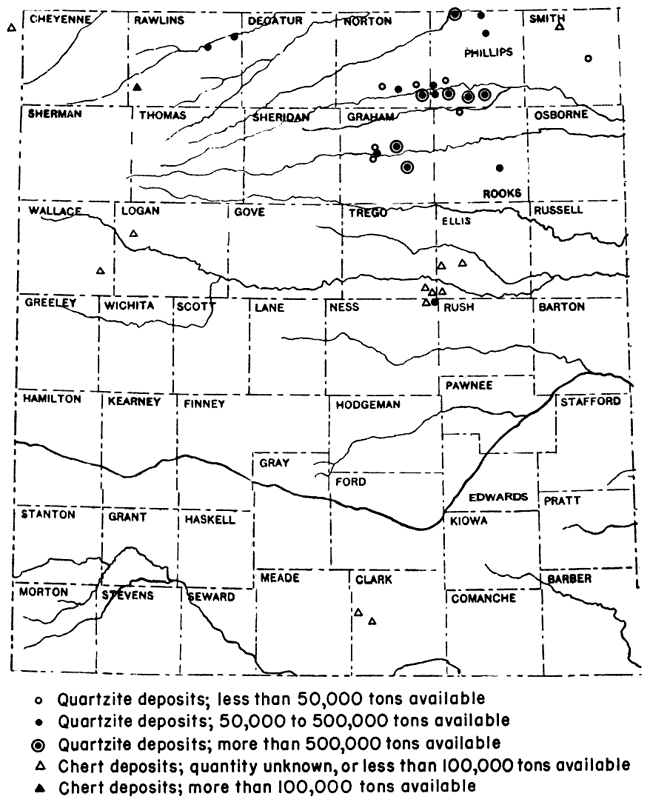 Possible commercial uses--Field examination, petrographic studies, chemical analyses, and physical tests indicate that the silicified Ogallala rock has a wide range of possible commercial uses. Ogallala quartzite has been quarried for construction of buildings in several northern Kansas towns and for foundations of numerous farm buildings; it has also been used as road material, railroad ballast, concrete aggregate, and for other purposes. At some localities the striking colors and the mottled appearance of the conglomeratic zones suggest their value as an ornamental stone and in terrazzo. The extensive construction program of flood control and irrigation dams being planned for northern Kansas and adjacent Nebraska probably will create a large demand for durable rock to be used in this area as concrete aggregate and riprap.
Acknowledgments--We are especially indebted to the staff of the United States Engineer office, Kansas City, Missouri. Mr. Clifford Philo spent three days in the field with Frye locating and sampling quartzite deposits, and furnished data concerning other deposits that he had previously examined; Dr. Stafford C. Happ furnished geological information concerning several localities; and Mr. James Bishop supplied us with samples from a locality in Phillips County. The chemical analyses and physical test data included in this report were furnished to us by the United States Engineer office, Kansas City, Missouri, through the courtesy of Colonel William E. Potter.
Mr. Alvin R. Leonard, of the Federal and State Geological Surveys Ground Water Division office at Lawrence, contributed to the field data in Phillips and Rooks Counties. Mr. E. C. Reed, Associate State Geologist of Nebraska, furnished samples of Ogallala quartzite from northern Nebraska and southern South Dakota. Dr. M. K. Elias of the Nebraska Geological Survey, supplied several samples from the Ogallala of western Texas, and identified fossil seeds collected from strata associated with the quartzite deposits of western Kansas. The manuscript has been read and criticized by Dr. Raymond C. Moore, Dr. Robert M. Dreyer, and Dr. Stafford C. Happ.
---
Prev Page--Contents || Next Page--Stratigraphy
Kansas Geological Survey, Geology
Placed on web Aug. 20, 2007; originally published July 1946.
Comments to webadmin@kgs.ku.edu
The URL for this page is http://www.kgs.ku.edu/Publications/Bulletins/64_2/02_intro.html