Kansas Geological Survey, Bulletin 157, pt. 3, originally published in 1962
---
What's new in Volcanic Ash for Industry?
by Maynard P. Bauleke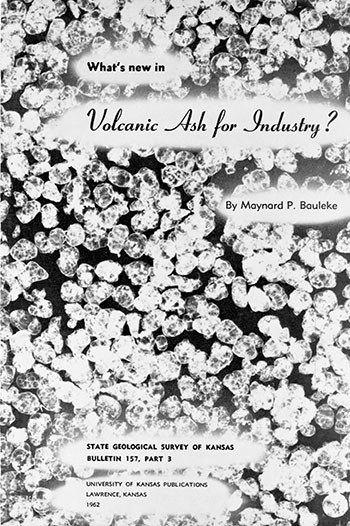 Originally published in 1962 as Kansas Geological Survey Bulletin 157, pt. 3. This is, in general, the original text as published. The information has not been updated.
Introduction
"Popped" volcanic ash is one of the latest developments in product research by the State Geological Survey of Kansas. In the laboratories of the Survey, Kansas ash bas been bloated, or "popped"-and in this form has new industrial applications. Crushed, cracked, screened, and bonded, the "popped" ash has been tested for its suitability in various products. Bloated ash from Kansas has some interesting characteristics and, we think, potential for development. Results achieved thus far are analyzed in this report. Experiments are continuing, and not all Kansas ash has yet been tested for its bloating characteristics.
Volcanic ash is a little-used Kansas resource, but is available in 40 counties. Estimated reserves exceed 20,000,000 tons. Recognized by Kansas settlers at least as early as the 1880s, Kansas volcanic ash was not commercially produced until early in this century, when it was used as an ingredient in scouring soaps. By 1916 Kansas ranked first among the states in commercial volcanic ash production, and it remained in the lead through 1944. Peak annual production was 51,907 tons in 1923, and soon thereafter the State Geological Survey published its first comprehensive report on this resource (Landes, 1928). Since 1945 commercial production has steadily declined, and only two producers operated in Kansas in 1960.
The raw ash has been used for various purposes, most generally as an abrasive, but huge though unrecorded amounts have been used in Kansas blacktop roads. As the decline in production since 1945 reflects, ash as an abrasive has been replaced by other materials. Increased production of Kansas ash will depend upon development of products that utilize other properties of ash.
Kansas deposits tested for bloating characteristics of the ash
Ellsworth County
(Geological Survey Code # EL V-24) Pearlette ash; bloated. SE NW sec. 28, T. 16 S., R. 7 W.
Gove County
(GV-1) Pearlette ash; bloated. NE SW sec. 21, T. 13 S., R. 26 W.
Jewell County
(JV-6) Pearlette ash; bloated. NW NE sec. 16, T. 1 S., R. 6 W.
Lincoln County
(LV-2) Pearlette ash; bloated. SW SE sec. 27, T. 13 S., R. 10 W.
Norton County
(NNV-1) Calvert ash; did not bloat. NW SW sec. 25, T. 2 S., R. 22 W.
Pratt County
(PRV-4) Pearlette ash; bloated. NW SE sec. 34, T. 27 S., R. 12 W.
Kansas volcanic ash deposits and commercial producers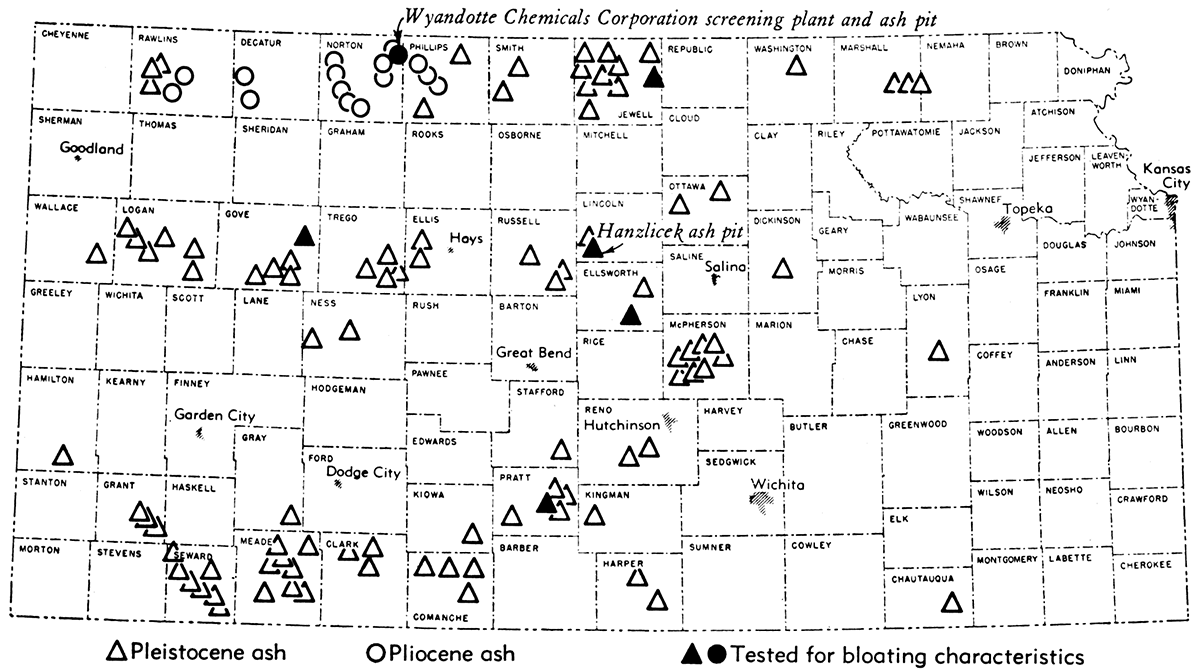 Available as an Acrobat PDF file
---
Kansas Geological Survey
Placed on web Dec. 10, 2018; originally published 1962.
Comments to webadmin@kgs.ku.edu
The URL for this page is http://www.kgs.ku.edu/Publications/Bulletins/157_3/index.html