Odyssey-Supported Laboratories
Fieldwork is a small fraction of what archaeologists and geoarchaeologists do on a daily basis. A majority of time is spent cleaning and cataloging artifacts, conducting laboratory analyses, teaching, giving public presentations, and writing results and interpretations in reports and peer-reviewed journals.
At the Kansas Geological Survey, the Odyssey program uses three shared laboratory spaces (Moore 101, 105, and Parker 18) to analyze the soil and sediment from a majority of its archaeological sites to understand and characterize late-Quaternary landscape evolution and paleoenvironments. Soils are important archives of paleoenvironmental information, and represent former stable land surfaces that are targets for locating in situ prehistoric cultural material and features. At Odyssey sites, soils are collected from cutbank profiles, excavation units, or with a Giddings hydraulic soil probe (Photo 1), and returned to the labs for preparation and analyses. The Moore Hall "Sedimentology and Stratigraphy" labs at KGS are used to conduct stable carbon isotope and soil micromorphology sample preparation (Photos 2 - 4). The Parker Hall "Geoarchaeology and Paleoenvironment Research" lab is used for phytolith analysis, particle-size analysis (pipette method), and determinations of soil organic matter and content (Photos 5 - 8). Former post-doctoral researcher Adel Haj and graduate research assistant Laura Murphy set up the Sedimentology and Stratigraphy labs in 2007. Laura Murphy set up the Geoarchaeology and Paleoenvironment lab in 2010, which is USDA compliant to analyze international soil, and serves Odyssey projects, as well as KGS, KU, and outside research. The Geoarchaeology lab employs 1-4 graduate students per semester, with Bridget Sanderson (B.S. Geology, KU) serving as a laboratory technician.
In addition, the Odyssey program provides support for the curation of many artifacts, fieldnotes, and pictures in a collaborative effort with the KU Archaeological Research Collections (ARC) facility, a unit of the Biodiversity Research Institute, housed in Spooner Hall. Also, Odyssey assists with funds for computers and programs such as ArcGIS to facilitate research of Odyssey sites and materials at the ARC (Photo 9).
Photo 1--Dr. Rolfe Mandel taking soil cores on a terrace surface within the Neosho River drainage in the Flint Hills of Kansas. Photo by Laura Murphy.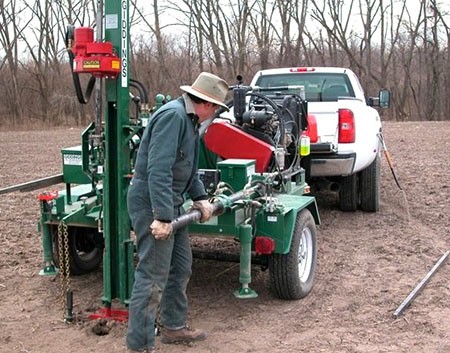 Photo 2--Laura Murphy with stable carbon isotope samples in Moore 101. Photo by Jon Smith.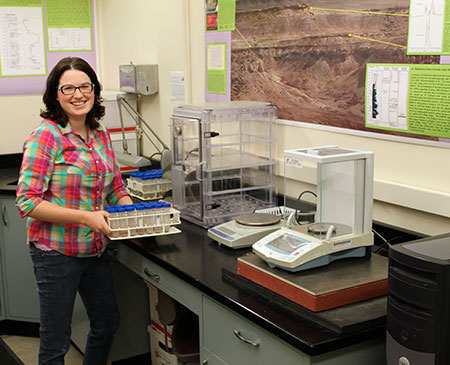 Photo 3--Moore 105 laboratory space. Photo by Greg Ludvigson.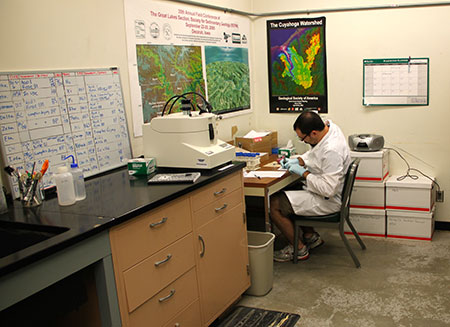 Photo 4--Stable carbon isotope preparation in Moore 105. Photo by Greg Ludvigson.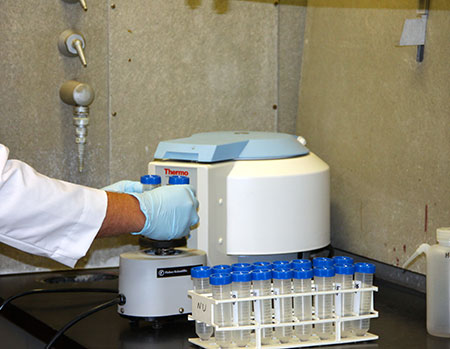 Photo 5--Sedimentation bottles ready for particle-size analysis in Parker 18. Photo by Laura Murphy.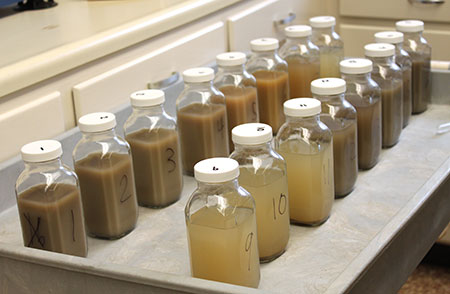 Photo 6--Kevin Fenyak mixing soil for particle-size analysis in Parker 18. Photo by Laura Murphy.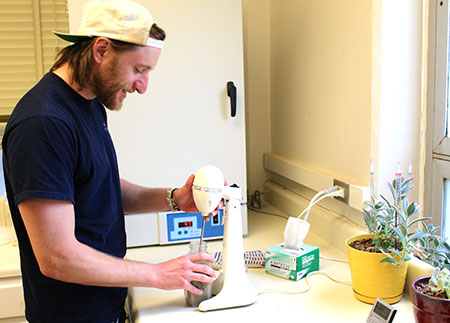 Photo 7--The pipette apparatus used to take aliquots of soil at specific depths and times for particle-size analysis in Parker 18. Photo by Greg Ludvigson.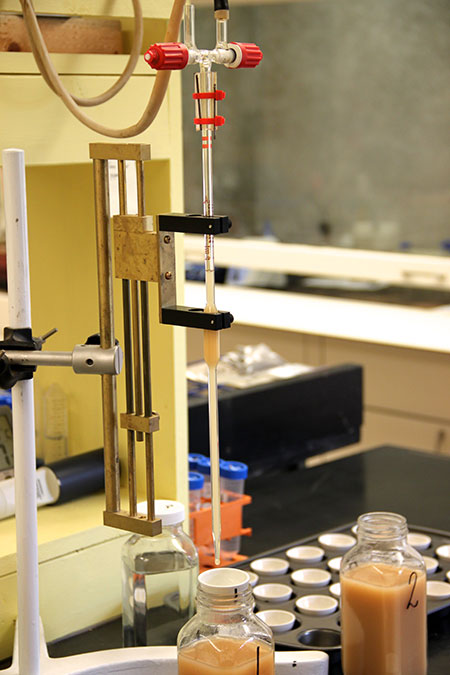 Photo 8--Bridget Sanderson pipettes a portion of the soil sample to centrifuge and measure the fine clay fraction for particle-size analysis in Parker 18. Photo by Laura Murphy.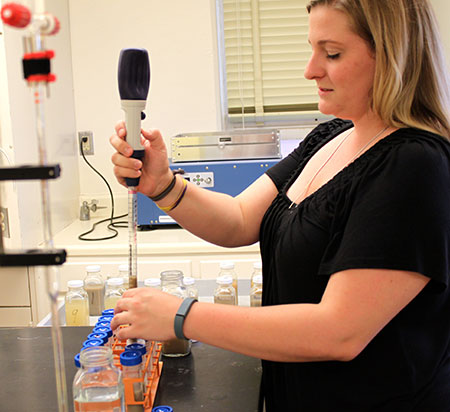 Photo 9--Anna Wieser logs soil profile pictures and information at the ARC.