1. Most of the photos in our collection refer to a location in Kansas. You can select photos by clicking on a map of Kansas. Find all the photos in a single county or in a single physiographic province.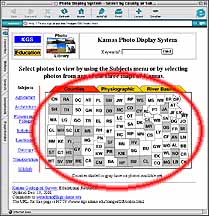 2. We've also arranged the photos in several general categories. Click on a main subject heading to view all photos that deal with "Architecture," "Landscapes," or other general topics. Each main category is split into smaller grouping to help find the photo you're interested in.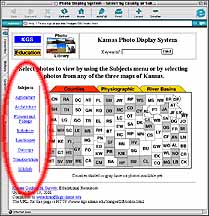 3. Finally, you can type in a set of keywords and find photos that fit one or more of the words. Photo titles, subject assignments, and special keyword lists for each photo are searched for matches. The search is an "AND" search--photos matching all of your words are found. Please don't add quotation marks; they will not help. The search is not case sensitive.