Prev Page--Pennsylvanian || Next Page--Mineral Resources
---
No attempt was made to map structures in this investigation but the general structure of the surface rocks is shown on the areal map (Pl. 1). The dominant structure of the area is a gentle homocline dipping slightly north of west. Superimposed on this are many smaller synclinal and anticlinal structures, some of which are large enough to be recognizable on the areal geologic map without structural mapping.
Three faults are shown on the geologic map although at several other localities it is possible that small faults are present but the fault plane is not observable.
The fault in sec. 36, T. 18 S., R. 15 E. along the Osage-Coffey County line can be traced for at least a mile into Coffey County and has an estimated throw of 20 or 30 feet and was first noted by a geologist of the State Highway Commission mapping in that area.
The fault north of Quenemo along Salt Creek Valley (Pl. 4G) has a throw of 30 to 40 feet in sec. 3, T. 17 S., R. 17 E. and there is considerable evidence that it extends eastward some distance into Franklin County.
Plate 4G--Fault in Lawrence shale along K-31 in SW NW sec. 3, T. 17 S., R. 17 E.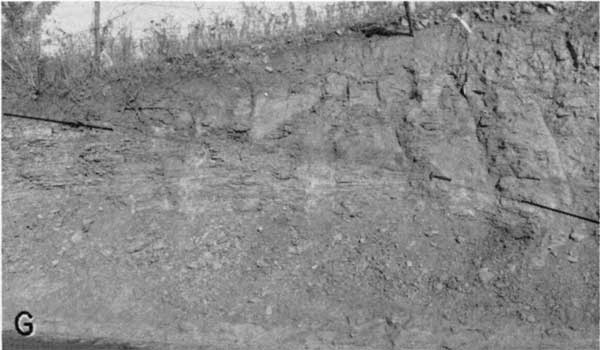 Small displacements along faults in parts of the Howard and Oread limestones have been reported in several mining operations.
The many sharp structures observable in the Oread limestone and to a lesser extent in the Lecompton limestone in southeastern Osage County suggest considerable crustal unrest concurrent with the deposition of these late Pennsylvanian sediments. Rich (1932) has reported similar crustal movements and faulting in southern Douglas County.
---
Prev Page--Pennsylvanian || Next Page--Mineral Resources
Kansas Geological Survey, Geology
Web version April 2002. Original publication date May 1955.
Comments to webadmin@kgs.ku.edu
The URL for this page is http://www.kgs.ku.edu/General/Geology/Osage/03_struct.html