Stratigraphy, Depositional Environments, and Coalbed Methane Potential of Pennsylvanian Coals -- Bourbon Arch Region, Eastern Kansas


Kansas Geological Survey
Open-file Report 2003-51
Coal Quality
The chart below gives the average (green circles) and range of values of moisture (%; as received), ash and sulfur (%; both moisture free), calorific value (in thousands of Btu/lb; moisture-, ash-free basis), depth (in feet), and gas content (scf/ton; moisture-, ash-free basis) for coals across the Bourbon Arch region. Data are from core and drill cuttings samples from the Kansas Geological Survey and private operating companies, as well as from previous mine surveys in the area (Wedge and Hatch, 1980; Erten and Bostic, 1990). Coals are in stratigraphic order from youngest (top) to oldest (bottom).

click on the above image to show more detail
The second set of graphs below show trends of gas content vs. ash and sulfur content, depth, and calorific value.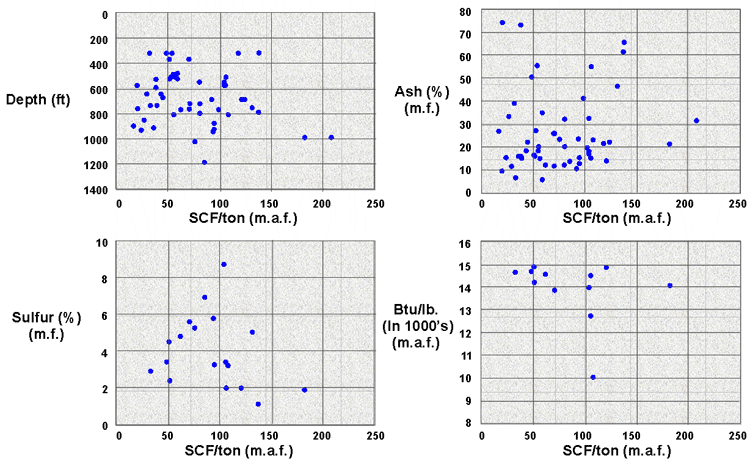 ---
| | |
| --- | --- |
| | |
e-mail : webadmin@kgs.ku.edu
Last updated October 2003
http://www.kgs.ku.edu/PRS/publication/MidAAPG2003-1/P3-02.html