GEMINI
(Geo-Engineering Modeling through INternet Informatics)


Kansas Geological Survey
Open-file Report 2002-10
Geoinformatics
A. Opportunities in Geoinformatics.
Change exploration and production enterprise by utilization of large datasets
provide new insights
increase competiveness for companies and parties gaining from resource development
better descriptive models:

less interpretation,
More robust models,
more predictive and portable models

quantification of results to increase precision and accuracy of models and aid in effective design of engineering efforts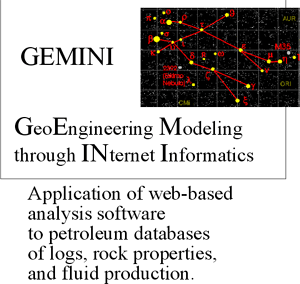 B. Issues in Geoinformatics
Automated integration of disparate datasets Computer-driven data analysis and integration of results:

updating files
printing and downloading "on the fly"
popular exporting formats and report construction

Accommodate multiple users
Security
Speed in transactions
Adaptability of system to new hardware and software updates
User friendly
Robust - backup and archival support to preserve institutional knowledge
C. Geoinformatics concepts applied specific to GEMINI
Well model defined as integrated well log analysis and well completion data viewed through integrated desktop (user screen - Java servelets).
Geo-engineering model as iteratively refined and independently validated, quantitative description of 3-D reservoir volume (computer-assisted layering, gridding, volumetrics, and material balance to optimize simple reservoir characterization and drive mechanism.
Develop robust input parameters for reservoir simulation to minimize or limit ad hoc modification of reservoir parameters.
D. Goals of GEMINI Project
Develop simple validated petrophysical reservoir model.
Define parameters for fluid flow reservoir simulation.
Keep mature oil province (Midcontinent) competitive.
E. Engine behind GEMINI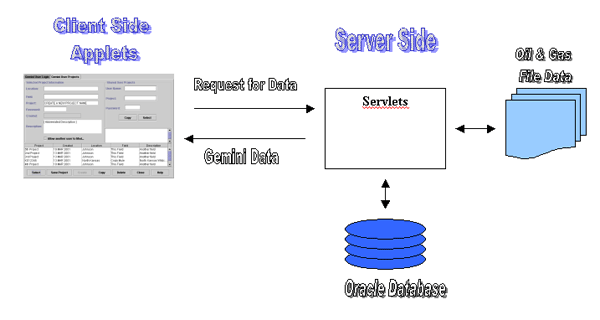 Innovations in technology & refined concepts
Keep Kansas competitive
Incubate integrated Entrepreneurial teams
Optimize time and funds
Produce quantitative results
Improve success
F. General Considerations behind Web-based Application
Access to information and results (formats, server, network connectivity, number of users, flexibility, design of upload, download, and import/export)
Application development and testing - prototyping involving geologist, engineer, and programmer
Software release - follow programming standards for debugging, "help" documentation, tutorial
Development - enhancement with additions and upgrading software and hardware
G. Why Geoinformatics in Reservoir Modeling?
Data bases incomplete and in multiple locations. Limited staff so data assembly limited
Poorly known field conditions

Reservoirs often underproduced
Common bypassed reservoir layers
Unknown applications for new technologies

Characterization is multiscaled problem and interdisciplinary in nature

Scales range from pore (type & fabric) to facies, bedding, structure, and diagenesis (12 orders of magnitude -- see panel to right)
Characterization is a 3-D problem
Defining, correlating, and distributing properties in layers is multivariate petrophysical and geo-engineering problem
Validation of petrophysical model a multidisciplined, iterative approach
Necessity to keep model simple and accessible vs. no modeling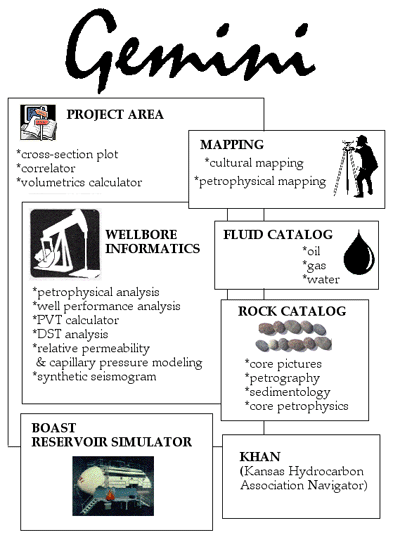 | | |
| --- | --- |
| | |
---
e-mail : webadmin@kgs.ku.edu
Last updated March 2002
http://www.kgs.ku.edu/PRS/Poster/2002/2002-10/P1-03.html