Prev Page--Recommendations, References || Next Page--Model Values
---
Listing of registered wells and their appropriate pumpage in the Pawnee Valley
Figure 48--Well description format for Pawnee County.
Legend for Figure 48.
(a)
NNS
NSS
NES
NWS

---

Near E*(W,N,S) side
(b)
NSA*(B,C,D)
SSA*(B,C,D)
ESA*(B,C,D)
WSA*(B,C,D)

---

E*(W,N,S) side of A*(B,C,D)
(b')
NNH
NSH
NEH
NWH

---

Neear center of E*(W,N,S)
(c)
NHA*(B,C,D)
SHA*(B,C,D)
EHA*(B,C,D)
WHA*(B,C,D)

---

E*(W,N,S) half of A*(B,C,D)
(d)
NAX
NBX
NCX
NDX

---

Near center of A*(B,C,D)
Groups (a) through (d)describe well location in decreasing order of acreage for a given section.
Groups (b)and (b')describe the same location.
Any letter in parenthesis can be substituted for the one with an asterisk right before it.
The letter X following any two letters from the group (A,B,C,D) is considered blank.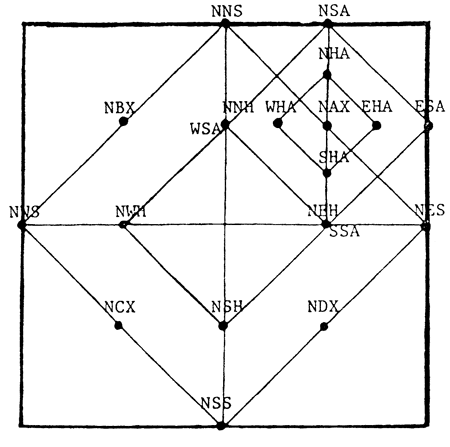 Pumping Wells
Pawnee County+
Explanation: *Designates the maximum pumpage a single well can pump or a member of a group of overlapping wells can individually pump provided that the group of overlapping wells pump simultaneously.
+For an explanation of well location designations for Pawnee County refer to Figure 48.
Water Right Number
(VR = vested right)
Location
Pumpage
(Acre feet)
Township
Range
Section
2872
21
16
29 AAX
185
26,461
21
16
32 CDA
185
2872
21
16
33 CBX
185
2872
21
16
33 BDX
185
26,461
21
16
33 ACE
185
26,461
21
16
33 ACC
185
7,652
21
16
33 BAX
80
VR 627
21
16
33 BCX
22
26,461
21
16
33 CCD
185
26,461
21
16
33 CDA
185
26,461
21
16
33 CDD
185
11340
21
16
33 DBD
95
11339
21
16
33 DBD
95
7633
21
16
33 DBD
95
8705
21
16
33 DBD
95
9320
21
17
27 CDX
60
12,898
21
17
31 BDA
294
10,886
21
17
31 DCC
158
10,886
21
17
31 DCD
158
18,065
21
17
32 DCD
684
31,121
21
17
33 NAD
140
19,378
21
17
36 CCC
81
30,896
21
18
31 ADC
133
30,896
21
18
31 BAD
133
30,896
21
18
31 BCB
133
VR 6213
21
18
31 CAX
230
24,228
21
18
31 DDA
114
24,229
21
18
32 BBA
176
VR 6215
21
18
32 CCC
218
VR 6214
21
18
32 DCB
210
13,010
21
18
33 ACA
196
13,010
21
18
33 ABD
196
28,494
21
18
33 BCB
36
21,559
21
18
33 CBB
141
21,559
21
18
33 CBC
141
19,990
21
18
33 DCB
404
4,935
21
18
133 NAX
300
7168
21
18
33 S2 S2 B
47
11,227
21
18
33 S2 S2 B
47
21,559
21
18
33 S2 S2 B
47
VR 6219
21
18
35 CBX
140
2506
21
19
14 BBD
90
15211
21
19
16 CBA
147
21,243
21
19
18 ADD
240
8,143
21
19
19 CXX
64
5324
21
19
19 NDX
300
VR 6223
21
19
20 CCC
122
10,161
21
19
20 CCC
122
10,161
21
19
120 CDC
122
12,515
21
19
21 ACA
110
680
21
19
21 CCB
190
3,323
21
19
21 DCA
140
2,823
21
19
23 BAB
40.5
4,945
21
19
23 BAB
40.5
4,945
21
19
23 NED
81
VR 6225
21
19
27 CCX
152
10,160
21
19
27 CCX
152
24,430
21
19
27 DBC
153
12,296
21
19
28 ABC
177
31,723
21
19
28 BCC
240
5,169
21
19
28 DBC
120
VR 6226
21
19
28 DBX
46
20,099
21
19
28 DDA
67
5,275
21
19
29 ADB
281
6,132
21
19
29 BCB
338
9,964
21
19
29 CBB
238.5
9964
21
19
29 CDD
119.25
VR 6227
21
19
29 CDD
119.25
26,364
21
19
30 DBA
99
26,364
21
19
30 DCB
99
5,323
21
19
30 AXX
300
26,364
21
19
30 CCD
49.5
8,142
21
19
30 CCD
49.5
24,840
21
19
30 NBX
209
8142
21
19
30SHA
99
13,925
21
19
31 AAB
407
11,041
21
19
31 BAX
320
10,606
21
19
32 DBX
497
16,788
21
19
33 ABC
106.5
5,229
21
19
33 ABX
106.5
VR 6,228
21
19
33 BBB
150
3,858
21
19
33 CBC
150
24,971
21
19
33 CCB
105
30,325
21
19
33 CCB
105
16,708
21
19
33 DAA
192
9011
21
19
33 CDB
150
VR 6229
21
19
36 ACX
117.5
7803
21
19
36 BCC
117.5
6,097
21
19
36 BDX
157.7
VR 6230
21
19
36 DBX
157.7
9,388
21
19
36 WCC
157.7
25,600
21
20
4 BDD
71.4
25,600
21
20
4 DBB
71.4
25,600
21
20
4 DDD
71.4
14,954
21
20
DDD
71.4
10,338
21
20
DDD
71.4
10,338
21
20
DDD
71.4
12,849
21
20
8 CDX
382
10,338
21
20
9DAA
71.4
14,954
21
20
9 DAAA
71.4
10,339
21
20
9 DAAA
71.4
25,600
21
20
9DAAA
71.4
19,558
21
20
13 DCA
240
27,369
21
20
14 CCB
85
27,369
21
20
14 CCC
85
28,526
21
20
15 CCD
240
14,203
21
20
15 DBC
85
VR 6232
21
20
15 DBX
85
15,014
21
20
16 DBB
95
5166
21
20
16 DBB
95
5166
21
20
16 DBB
95
15020
21
20
16 NCX
120
15013
21
20
17 BDA
377
13709
21
20
17 CDC
52
VR 6233
21
20
17 CDX
52
16,343
21
20
17 DCC
52
28196‡
21
20
18 CCD
347
27,366
21
20
18 DCC
120
27,366
21
20
18 DDD
120
4454
21
20
19 AAX
240
8732
21
20
19 CBB
236
14,453
21
20
19 DAX
240
VR 6235
21
20
120 ABC
52
5,444
21
20
20 ABC
52
VR 6234
21
20
20 BAX
180
VR 6236
21
20
20 DDX
60
3990
21
20
21 BBX
111
7677
21
20
21 BXX
111
VR 6237
21
20
21 CBX
180
17,417
21
20
21 DCB
201
20,802
21
20
22 ABB
138
VR 6239
21
20
22 CDC
350
9,846
21
20
22 CDC
350
20,802
21
20
22 NEH
138
27,368
21
20
23 AAC
42
27,370
21
20
23 AAC
42
27,368
21
20
23 ACD
84
12,969
21
20
23 CBX
197
26,363
21
20
23 CDX
157
9129
21
20
23 NBD
300
VR 6240
21
20
24 ACX
240
18,657
21
20
26 ABB
80
VR 6242
21
20
26 ABX
80
16,190
21
20
26 BBB
240
VR 6241
21
20
26 DAX
50
18,657
21
20
26 NNA
80
8,413
21
20
28 AXX
180
8,388
21
20
28 BBB
140
10,376
21
20
28 CAA
168
8,413
21
20
28 NHD
180
26,208
21
20
29 BAA
69.5
VR 6243
21
20
29 BAX
69.5
26,208
21
20
29 BBB
139
26,208
21
20
29 BCB
69.5
VR 6243
21
20
29 BCX
69.5
26,208
21
20
29 NNB
139
31,751
21
20
30 AAB
115
25984
21
20
39 ABX
43.5
29,057
21
20
30 ABX
43.5
28,579
21
20
30 ABX
43.5
29,057
21
20
30 BBB
130.5
19,016
21
20
30 CBC
65.3
29,057
21
20
30 CBC
65.4
5,228
21
20
30 DAA
174
29057
21
20
30 NNH
130.5
VR 6247
22
16
4 BAX
40
16,948
22
16
4 BBD
131
9,475
22
16
4 CBX
15
VR 6248
22
16
4 WBB
75
VR 6249
22
16
5 CDX
8
2,872
22
16
5 AAX
185
26,126
22
16
6 ACA
150
4,615
22
16
6 CCC
240
10,184
22
16
7 DBD
104
20,085
22
16
8 NDX
234
15,287
22
17
1 ACA
55.5
15,287
22
17
1 ACC
55.5
19,387
22
17
1 BBB
81
16,734
22
17
1 DCA
140
19,378
22
17
2 ABC
81
VR 6276
22
17
2 DCA
40.5
19,378
22
17
2 DCA
40.5
19,378
22
17
2 DCD
81
19,103
22
17
3 DCC
309
25,331
22
17
4 BBB
120
5,017
22
17
4 EHB
160
18,550
22
17
5 BBB
96
4,939
22
17
5 BBB
96
6,991
22
17
5 BBB
96
13,318
22
17
5 BDA
144
18,550
22
17
5 BDA
144
18,550
22
17
5 CBB
72
4,940
22
17
5 CBB
72
6,991
22
17
5 CBB
72
13,318
22
17
5 CBB
72
18,550
22
17
5 DAD
288
23,519
22
17
6 ACC
240
26,683
22
17
10 EHC
360
5,704
22
17
11 BCX
490
15,217
22
17
12 ABB
300
14,690
22
17
12 CBB
168
VR 6254
22
17
12 CCX
50
15,530
22
17
14 CDA
213
22,261
22
17
14 NAX
140
7,430
22
17
15 XXX
1040
15,225
22
17
16 NBX
234
30,491
22
17
16 CAD
112.5
30,491
22
17
16 CDD
112.5
15,226
22
17
17 BAA
240
3430
22
17
18 AAX
120
VR 6255
22
17
18 AAX
120
6817
22
17
22 CDD
156
6599
22
17
22 SHA
120
16,789
22
17
24 CBC
372
21,999
22
17
24 NAX
240
26,072
22
17
27 ABD
156
26,340
22
17
28 NDX
330
10,065
22
18
1 BCC
160.6
6,558
22
18
1 BCC
160.7
19'110
22
18
1 BCC
160.7
28,028
22
18
1 DCB
203
3,105
22
18
SHA
105
31,688
22
18
1 SHA
105
9473
22
18
2 CBC
53.5
7745
22
18
2 CBC
53.5
3,635
22
18
2 DCX
180
5719
22
18
3 BCX
320
14,545
22
18
3 NAX
9,471
22
18
3 NWC
5,748
22
18
3 NWC
5,748A
22
18
3 NWD
9,472
22
18
3 NWD
7745
22
18
3 WSC
7745
22
18
3 WSD
10,066
22
18
3 WCB
9,135
22
18
4 ACC
120
8,311
22
18
4 ACC
120
8,311
22
18
4 BCC
80
7,565
22
18
4 BCC
80
9,135
22
18
4 BCC
80
VR 6257
22
18
4 CBX
99
5242
22
18
4 CBA
99
16,003
22
18
4 NDX
237
VR 6258
22
18
5 DBB
270
13,599
22
18
5 NBX
480
VR 6260
22
18
6 AAX
100
VR 6259
22
18
6 BBX
120
15,386
22
18
7 AAB
111
16,049
22
18
8 ABB
162
29,065
22
18
8 BCD
145
VR 6261
22
18
8 BCB
145
22,389
22
18
8 DBB
145
30,891
22
18
8 NHB
162
VR 6263
22
18
9 BBX
116
5269
22
18
9 BBX
116
VR 6264
22
18
9 CBX
168
10,750
22
18
9 CBX
168
11,602
22
18
9 NWA
310
7369
22
18
10 BBX
60
VR 6266
22
18
10 BBX
60
15,314
22
18
10 CBB
90
VR 6265
22
18
10 CBB
90
15,314
22
18
10 CCC
180
15,323
22
18
10 NSA
147
15,324
22
18
10 SSA
183
8199
22
18
11 ABX
240
15,735
22
18
11 BCC
234
15,806
22
18
11 CAA
117
VR 6267
22
18
11 CDB
60
28,602
22
18
11 CDB
60
4,406
22
18
12 ABX
254
30,351
22
18
13 DBB
118.5
30,351
22
18
13 NSD
118.5
VR 6268
22
18
14 ABX
97
11,472
22
18
14 BCX
190
VR 6269
22
18
15 ABX
87
3138
22
19
1 ABX
140
7340
22
19
1 ABX
121
13,437
22
19
1 BCC
234
22,914
22
19
1 CCC
238
15,931
22
19
2 CAB
120
15,931
22
19
2 CBA
120
28.921
22
19
2 DAB
238
16,252
22
19
3 BAB
317
10,766
22
19
3 BDD
158.5
10,765
22
19
3 BDD
158.5
10,766
22
19
3 NAX
158.5
10,765
22
19
3 NAX
158.5
11,097
22
19
4 AAB
234
28,696
22
19
4 BAB
75
20,252
22
19
4 BCD
75
28,696
22
19
4 CAC
120
28,696
22
19
4 CAC
120
22,225
22
19
4 DAA
115.5
29,235
22
19
5 BDB
240
27,053
22
19
6 NDX
240
20,237
22
19
7 DDA
240
16,838
22
19
ACD
240
22,769
22
19
8 BAC
240
26,122
22
19
8 CCX
120
17,340
22
19
8 DBC
120
24,231
22
19
18 DDD
120
30,892
22
19
112 ABA
290
18,369
22
19
12 BAA
146.5
11,001
22
19
12 BAA
146.5
18,369
22
19
12 BBD
293
14,221
22
20
11 DBD
57.7
14,221
22
20
11 DCC
57.7
18,668
22
20
12 BCC
63
14,221
22
20
14 BAD
57.7
10,643
22
20
11 DCC
150
10,643
22
20
11 DBD
150
10,643
22
20
14 BAD
150
‡ (overlaps with #10,331 (Hodg. Co.))
Hodgeman County
Explanation: *Designates well overlap(s) with one or more wells right below it in parenthesis.
+Indicates the maximum assigned pumpage value, all the overlapping wells can pump simultaneously.
#VR = vested right or file number
Water Right Number
(VR = vested right)
Location
Pumpage
(Acre feet)
Township
Range
Section
*951
21
21W
6 W2 SW
180
(15,487)
21
21
6 (approx. 350' N of
SW corner of SW)
320+
21
21
2 SW corner SE SW
1306
21
21
6 SE SW
30
*25,759
21
21
23 NW NE SE
280+
(30,427)
21
21
23 NW NE SE
144
23,926
21
21
23 NE NE NW
278
12,519
21
21
24 SW NE NE
320
6093
21
21
25 NE NE
173
25,494
21
21
24 SE NE NW
160
VR 5
21
21
21 NW SE
320
4947
21
21
14 NW SW SW
330
VR 77
21
21
17 NW SW
140
27,435
21
21
16 NW NW SW
640
10,337
21
21
17 NW SE
302
6632
21
21
18 W2 E2
240
VR 2
21
21
18 NE NE
130
30,427
21
21
23 NW NE SE
144
4353
21
21
24 N2 SW
397
VR 8
21
21
25 NW SW
270
VR 7
21
21
25 NW SE
140
8084
21
21
133 NE SE NE
224
8698
21
21
33 SW SW SE
273
*15,985
21
21
33 SW SW SE
916+
22
21
4 NW NE NE
22
21
4 SW NE NE
22
21
4 SE SW NE
(VR 10)
21
21
33 SW SW SE
402
21
21
33 NW NE NE
22
21
4 NE NE
(8698)
21
21
33 SW SW SE
400
(6661)
22
21
4 SE SW NE
277
*10,331
21
21
13 SE Corner
694+
(28,196)
Pawnee Co.
21
20
18 SE SW SW
450
*27,554
21
21
21 SE NW SW
578+
21
21
21 NW SE SW
(VR 6)
21
21
121 SW SW NW
440
21
21
21 NC N2 NW NW
*2800
21
21
7 S2 SW
200
21
21
7 S2 SW
(9168)
21
21
7 SW (Pawnee Creek)
16
(VR 3)
21
21
18 NW NW
460
(8820)
21
21
7 SW NW NE
952
(15,613)
21
21
7 SW NW NE
1200+
21
21
7 NE NW SE
(7138)
21
21
7 SW NW NE
433
*VR 11
21
21
34 SW SW NE
470
21
21
34 SW SW SW
21
21
34 NW NW SE
(10,018)
21
21
34 SW SW NE
1104+
21
21
34 SW SW SW
21
21
34 NW NW SE
(14,138)
21
21
34 SW SW NE
746
21
21
34 SW SW SW
21
21
34 NW NW SE
*10,017
21
21
34 NW NW NE
598
21
21
34 NW NE NW
(2945)
21
21
34 NW NW NE
260
21
21
34 NW NE NW
6108
21
21
35 (Nr. Ctr. S of
NW NE SE)
28
*19,641
21
21
36 (Nr. Ctr. of
W side of NW)
296
(4618)
21
21
35 NW SW NW
400+
(578)
21
21
35 NW NE NW
279
5194
21
21
36 SE SW SW
170
21
21
1 NE NW NW
VR 12
21
21
35 SW SW
194
VR 15
21
21
36 NW NE
310
VR 14
21
21
36 NW SE
120
VR 16
21
22
1 SE NE
60
VR 17
21
22
1 NW SE
150
11,318
21
22
1 SE NE SE
38
VR 76
21
22
1 SW NW
120
15,883
21
22
1 NW SW
320
*VR 20
21
22
2 SE NW NE
80
(16,099)
21
22
2 SE NW NE
154+
*VR 18
21
22
2 NW NW
106
(14,201)
21
22
2 SE NW NW
290+
21
22
2 (Nr. Ctr. of W
side of SW NW)
17,281
21
22
2 SW NW NE
-320
*9151
21
22
3 SW NW NW
240
(17,450)
21
22
3 SW NW NW
242+
*313
21
22
11 NW NW NE
240
(23,674)
21
22
11 SW NW NE
312+
*VR 22
21
22
12
(16' from original
well SW NW)
260+
(8424)
21
22
12 NE NW NW
160
VR 23
21
22
12 NW SE
124
14,522
21
22
12 SE SE
152
*VR 21
21
22
12 NW NW SE
100
(5368)
21
22 12
NW NW SW
200+
*28,991
21
22
13 NE NE NE
312
(8,507)
21
22
13 NE NE NE
312+
9356
22
21
2 NW NW
222
VR 27
22
21
3 NW NE
144
22
21
3 NW SE
VR 26
22
21
3 NW SW NW
220
9991
22
21
4 SW NW SW
226+
(VR 28)
22
21
4 SW NW SW
60
25,354
22
21
4 NW SW SW
92
6,185
22
21
5 SW SE SE
290
*30,244
22
21
5 SE SW NW
308+
(31,625)
22
21
5 Nr. Ctr. W
of SW NW
200
21,808
22
21
5 (N. Ctr. W side
of Lot 2, NW NE)
320
22
21
5 SW SW NE
14,771
22
21
6 SW SW SE
312
14,932
22
21
6 NW SE SW
536
14,122
22
21
7 SE SW SE
122
11,865
22
21
7 SE SE
124
VR 30
22
21
7 SE NE
110
30,924
22
21
7 SE SE SE
124
*11,316
22
21
7 Nr. Ct.
S of NW NW
516+
22
21
7 NW SW
22
21
7 NW SW SW
(VR 34)
22
21
7 NW SW SW
54
6595
22
21
8 NW SW NE
244
*14,124
22
21
8 SE SE SW
360
22
21
8 Nr. Ctr. NW SW
(23,638)
22
21
8 Nr.Ctr. SW SW
276
22
21
8 SE SE SW
(8825)
22
21
8 SE SE SW
360+
(6153)
22
21
8 SE SE SW
172
*VR 35
22
21
8 NW NW NW
140
(19,201)
22
21
5 SW NW SW
314
*28,164
22
21
9 NE NE NW
260
(5931)
22
21
9 SE NW SW
220
(VR 36)
22
21
1 NW SE SW
420+
22
21
9 SW SW SW
18,320
22
22
11 NE NE SW
254
22
22
11 Nr. Ctr. SW SW
28,587
22
22
11 Nr. Ctr. W
of NW NW
85
28,088
22
22
11 SE SE NE
310
VR 40
22
22
12 NW SE
430
22
22
12 SW SE
22
22
12 SW SW
VR 42
22
22
13 NW SE
202
*VR 43
22
22
13 SW NW
100
(28,061)
22
22
13 Nr. Ctr. NW NE
325+
5665
22
22
14 SE
380
*15,255
22
22
14 Nr. Ctr. of NW
316
(16,577)
22
22
15 NE SE NE
320+
32,092
22
22
22 SE NE
38.4
VR 44
22
22
23 NE corner of SE SE
120
934
22
22
23 SE
114
VR 46
22
22
23 NE NE
214
20,062
22
22
23 SE SE SE
64
*175
22
22
23 NW SW NW
120+
(26,876)
22
22
23 NW SE NW
64
(26,877)
22
22
23 Nr. Ctr.
W of NW NW
52
*7626
22
22
26 SW NW SW
170
(25,698)
22
22
26 SW NW SW
202
22
22
26 SE NE SW
*12,011
22
22
27 SW NW SE
282+
(32,079)
22
22
27 SW SW SE
140
(VR 48)
22
22
27 SW SW SW
230
22
22
27 NE NE SW
1449
22
22
28 NE NE
135
VR 50
22
22
31 SW SW SE
200
22
22
31 SW SW
*19,130
22
22
31 SW SE SW
768+
23
22
6 NW NE NW
(VR 51)
22
22
31 NW NW SW
106
(VR 65)
23
22
6 NW NE NW
177
(28,176)
23
22
6 NW NE NE
284
27,815
22
22
32 Nr. Ctr. E2
of W2 SE
128
*4114
22
22
32 (Nr. Ctr. S
of SE SW SW) 100
128
22
22
32 Nr. Ctr. SW corner SW
(8781)
22
22
32 SE SW SW
255+
22
22
32 Nr. Ctr. SW Corner SW
VR 53
22
22
33 SW SW
110
19,669
22
22
33 SE SW SE
235
28,099
22
22
33 NW NW SE
48
*23,665
22
22
33 SE NE NE
255
(3240)
22
22
33 SE SE NE
155
(VR 57)
22
22
34 (Nr. Ctr. N2
of NW SW NW)
160
*VR 58
22
22
34 SW NW NE
120
(10,954)
22
22
34 SW NW NE
176+
22
22
34 SE SW NE
26,274
22
22
34 SW NW SE
246
22
22
34 NW SW SE
VR 59
22
22
35 SW SW
36
*VR 61
22
23
35 SE SE SE
94
(11,730)
22
23
35 SE SE
220+
23
23
1 SW NE NW
(17,819)
23
23
1 NE NE SW
80
VR 62
22
23
35 NW SE
200
22
23
35 SW NE
17,105
22
23
35 NW NW SE
150
22
23
35 SW NW SE
22
23
35 NE SW SE
8407
22
23
36 SE
120
VR 71
22
23
35 SE SE SW
130
23
23
2 NE NW
VR 63
23
22
3 CS SW SE
76
27,063
23
22
5 NE NE NE
290
23
22
5 NE NE NE
28,188
23
22
5 W2 E2 W2
102
*11,269
23
22
5 NE NW
180+
(VR 64)
23
22
15 SW NE NW
60
VR 66
23
22
11 SW SW SW
180
28,177
23
23
1 SW NE NE
160
*3529
23
23
2 NE NW NE
149
23
23
2 SE NW NE
(7032-A)
23
23
2 NE NW NE
230+
23
23
2 SE NW NE
*VR 72
23
23
3 SW SW NE
50
(28,015)
23
23
3 SE NW NE
126+
23
23
3 SW SW NE
13,426
23
23
4 NE NW SW
900
23
23
4 NE NW SW
23
23
4 NW NE SW
*848
23
23
4 Nr.Ctr. SE SE
45
(15,437)
23
23
3 NW NW NW
160+
23
23
3 NW NW NW
23
23
4 Nr. Ctr. SE NE
(847)
23
23
3 NW NW NW
69
*VR 1
23
23
6 SE NW SW
99
(1787)
23
23
6 NW NE SW
235
(28,266)
23
24
1 SW SW NE
291.4+
23
23
6 NW NE SW
5432
23
23
6 SE SW SW
40
*2018
23
23
6 SW SW SE
20
(11,259)
23
23
6 SW NE SE
208+
23
23
6 NW SE SE
*9854
23
23
8 SE NW NW
114+
23
23
8 NW NE NW
(29,062)
23
23
8 NW NE NE
88
13,413
23
23
9 Nr. Ctr. of NW
320
*5853
23
24
1 NW SW SW
114
(15,765)
23
24
1 Nr. Ctr. NE SW
246
23
24
1 NW SE SW
23
24
1 NW SE SW
23
24
1 NW SW SW
(22,821)
23
24
1 NE SE SW
530+
23
24
1 NE NW SW
23
24
1 NW SW SW
23
24
1 NW SE SW
23
24
1 NW SE SW
(4879)
23
24
11 NE SE SW
7
19,117
23
24
2 NE SE SW
160
23
24
2 NE SE SW
23
24
2 NE SW SE
*5285
23
24
4 SE SW SE
68
(28,032)
23
24
4 SW SW SE
92
*1075
23
24
5 SW SE SW
60
(2674)
23
24
5 SW SW SW
105+
23
24
5 SW SE SW
5824
23
24
5 SE
86
5201
23
24
6 SE SE SE
5
969
23
24
7 NE NW
47
16,152
23
24
8 NW SW NW
40
17,190
23
24
10 NW NE SE,
110
23
24
10 NE NW SE
*19,706
23
24
11 NW NW NE
158
(22,933)
23
24
11 NW NW NE
192
23
24
11 NE NW NW
23
24
11 NW NW NW
Ness County
Explanation: *Designates well overlap(s) with one or more wells right below it in parenthesis.
+Indicates the maximum assigned pumpage value, all the overlapping wells can pump simultaneously.
#VR = vested right or file number
Water Right Number
(VR = vested right)
Location
Pumpage
(Acre feet)
Township
Range
Section
VR 8
20
22W
19 SW SE SE
60
VR 9
20
22
19 NE SW SW
130
VR 10
20
20
20 NE SE SE
250
20
20
20 NE SE SE
20
20
20 SW NW SE
VR 11
20
22
21 NW NW SE
140
VR 12
20
22
28 NW NW SW
90
VR 13
20
22
28 NW SW SW
102
VR 14
20
22
28 SW SW SW
106
*VR 15
20
22
29 NW SE NW
150
(16,233)
20
22
29 SE SW NE
264+
*VR 16
20
22
30 NE NW SW
59
(130)
20
22
30 NE NW SW
59+
*VR 17
20
22
30 NW NW SE
80
(31,375)
20
22
30 NE NE SE
124+
VR 18
20
22
30 SE SW NW
227
20
22
30 N/C W Side NE
VR 19
20
22
32 NE NE NE
38
VR 20
20
22
33 NE NE NE
30
*VR 21
20
22
33 SE NE NE
100*
(30,780)
20
22
133 SE NW NE
76
VR 22
20
22
~34 SW SW NW
166
VR 23
20
22
35 NW SW SW
120
VR 24
20
22
35 NW NW SE
130
VR 25
20
22
35 SW SW NW
120
VR 26
20
22
36 SW SW SW
160
*VR 27
20
23
22 SW SW SW
105
(31,679)
20
22
20 NW SW SW
200*
VR 28
20
23
24 SW SW SE
72
VR 29
20
23
25 NW SW NE
400
20
23
25 NE NW SE
20
23
25 NW SW SW (2 wells)
138
20
23
28 NE SE SE
340
VR 30
20
23
132 N/C SE SW
140
VR 31
20
23
32 SW NW NW
140
*VR 32
20
23
33 NW NE NE
80+
(8011)
20
23
33 NW NE NE
34
*VR 33
20
23
33 (Nr. Ctr. N
Side SW NW)
320
(31,362)
20
23
33 SW SW NW
320+
VR 35
20
24
35 SW SW SW
240
(surface &
ground water
*VR 36
20
22
27 NW NW SW
188
(30,838)
20
22
27 SE NW NE
502+
20
22
27 Nr. Ctr. S2 SW SE
20
22
27 NW NW SW
20
22
27 SE SE SW
134
20
23
28 SE SE
170
*484
20
23
26 SE NW
100
(6448)
20
23
26 SE SE NE
150+
20
23
26 SW SE NW
529
20
22W
34 SW SW NE
150
5885
20
20W
28 SW SW NW
98
6709
20
23
23 SE SW SW
150
*6710
20
23
26 SW SW SE
240
(24,364)
20
23
26 SW NW SE
270+
*7421
20
22
33 NE NW
38
(30,780)
20
22
33 SE NW NE
76+
*7483
20
23
25 NW
220
(14,464)
20
23
25 NW NE NW
256+
20
23
25 SW SW NW
*8184
20
24
36 N2
267
(14,120)
20
24
36 NE SE NW
472+
8402
20
22
27 SW SE
64
31,361
20
23
33 SW NW SW
240
9097
20
23
35 NW NW NW
260
9962
20
22
36 NW SW SE
264
*11,044
20
23
26 E of SW corner
314
(22,991)
20
23
26 SE NW SW
314+
13,350
20
22
27 SE SW NW
100
14,465
20
22
29 NW NW SE
320
14,466
20
22
129 NW NW SW
70
17,406
20
23
27 SE SE NW
444
20
23
27 SE SE NW
17,525
20
22
26 SW SW SW
64
17,769
20
23
27 SW SE SE
148
17,770
20
23
27 NW SW SE
152
29,583
20
22
17 NW NW SE
249
29,956
20
23
16 Nr. Ctr. N Side NE
173
31,360
20
23
34 NW NE NW
240
20
23
34 SW NE NW
33,070
20
22
28 Nr. Ctr. W Side SE
312
---
Prev Page--Recommendations, References || Next Page--Model Values
Kansas Geological Survey, Hydrogeology
Placed on web Aug. 1, 2012; originally published April 1980.
Comments to webadmin@kgs.ku.edu
The URL for this page is http://www.kgs.ku.edu/Hydro/Publications/OFR80_6/09_wells.html