| | | | |
| --- | --- | --- | --- |
| | | | June 2003 Site Visit--GPS Survey |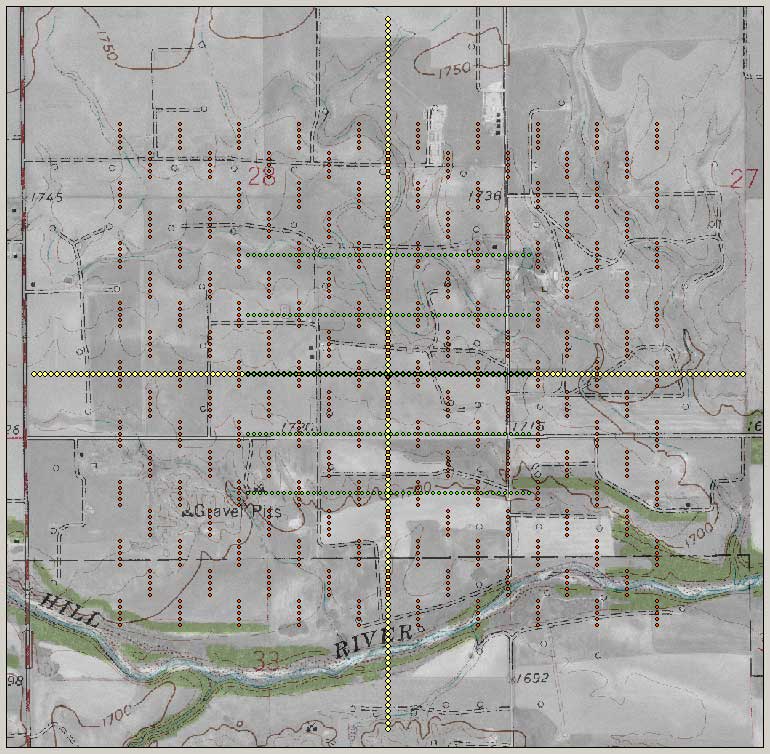 This orthophoto is from the Colliver lease southeast of Russell, Kansas. It is overlain by the current working 3-D compressional and shear wave, high-resolution seismic reflection survey to be acquired 12 times over the next six years. The center of this grid is approximately 20 ft north of the injection well. During a site visit on June 18, 2003 the grid was located with the KGS's Trimble DGPS system. With the grid centered on the CO2 injector, receiver line 4 (forth from the north) was in the center of the east/west county road and receiver line 2 crossed directly through the oil storage tanks and metal building located northwest of the injection well. Site reconnaissance has left us with the opinion that with the exception of the shot location in the river and in few of the deeper ditches (approximately 10 to 15), all shot stations should be accessible. Until the first survey this won't be known for certain.

During the June 18, 2003 visit, several key farmers were contacted who had land within the grid. Each expressed a strong interest in the project and willingness to work with us to insure we get year-around access.

After on-site discussions with a representative from Murfin Drilling (operators of this lease), a location for a semi-permanent monument was established immediately south of the injection well. Once the marker was placed it was located absolutely and will be used to definitively locate and deploy the grid each time survey data are acquired.

A smaller version of this photo is available.