Start
Ground Water
Ground Water
Development of Additional Large Ground-Water Supplies

Additional large ground water supplies of from one to several million gallons per day for municipal, industrial, or irrigation use could be developed in parts of Sedgwick County. However, where a large-scale development is contemplated, consideration should be given to existing water rights and the availability of ground water as determined by the permeability and thickness of the water-bearing deposits. Figure 30 shows the volume of existing ground water rights in the County by townships and the areas considered most favorable for developing wells yielding 500 gpm or more without unduly affecting existing water supplies. In outlining the favorable areas as shown on Figure 19, consideration was given to existing water rights and the transmissibility of the water-bearing deposits. The areas in and adjacent to T 25 S, R 3 W, T 26 S, R 1 W, and T 27 S, R 1 W, are the most favorable for development of large water supplies. South of Wichita, in T 28 S, R 1 W, and T 29 S, R 1 E, the water-bearing deposits thin and extensive development of large water supplies might lower water levels, thus causing a decline in well yields.

Figure 30--Outline map of sedgwick County, Kansas, showing volume of existing (1960) ground-water rights in acre feet by township, and areas favorable for developing additional large ground-water supplies. A larger version of this figure is available.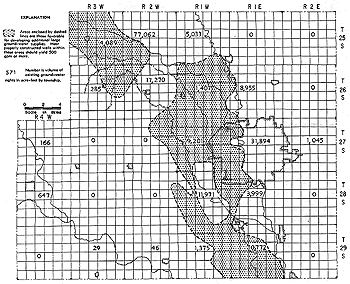 Large quantities of ground water could be developed by inducing infiltration of water from the Arkansas, Little Arkansas, and Ninnescah rivers with wells located adjacent to the river channels. Water thus derived from the Arkansas River would be inferior in quality for many uses, but it might serve as cooling water.