Kansas: Net Energy Producer
Previous Page--Article Start || Next Page--Natural Gas' Share has Risen

---
Net Energy Production in Kansas Has Dropped from 880 to 13 Trillion BTU in 30 Years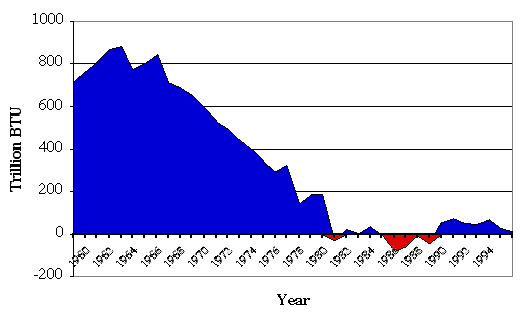 Except for a few years in the 1980's, Kansas has long been a net energy producer. That means that more energy is produced than consumed in the State. It means the same things as being a net energy exporter.
Obviously,we can see that the gap has narrowed greatly since the 1960's, as net production has dropped from 880 Trillion BTU to 13 trillion BTU in 1997. For a few years in the 1980's, more energy was consumed than produced.
Except for a Few Years in the 1980's, Kansas Has Always Been a Net Energy Producer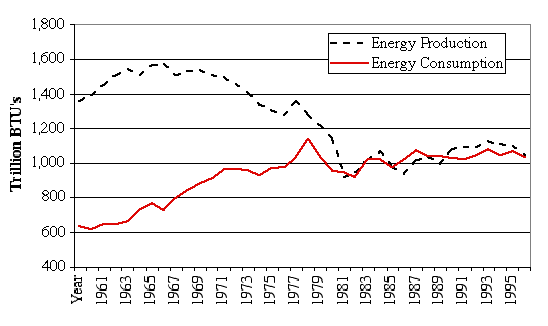 The role of production and consumption is illustrated here where we can see that energy production has decreased over time, while consumption has increased.
Lets first focus on energy production...
---
Previous Page--Article Start || Next Page--Natural Gas' Share has Risen

Energy Research Center, University of Kansas
Updated June 2000
Comments to webadmin@kgs.ukans.edu
The URL for this page is http://www.kgs.ukans.edu/ERC/Reports/2000/KsEnergy/slide2.html